27 Jan /

Video ON AURA TOUT VU "OTOHIME" Couture Spring Summer 2017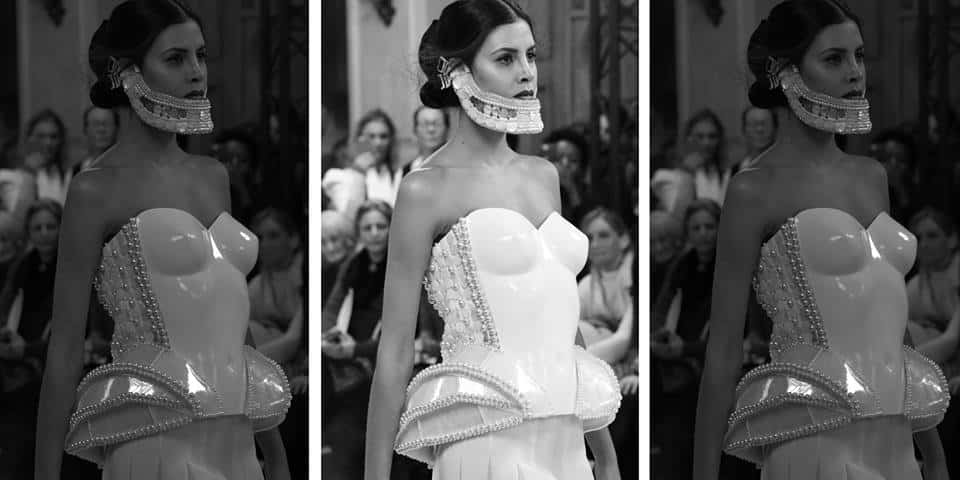 Collection OTOHIME by on aura tout vu SS17  -Haute Couture Fashion Week Paris
OTOHIME
Collection Couture printemps-été 2017,
On Aura Tout Vu procède à une manipulation génétique entre les ADN grec, japonais et britannique.
Otohime, fille de Ryujin, roi des mers, rencontre les Pearly Queens par l'intermédiaire d'Aphrodite déesse de l'amour pour une plongée au cœur de la matière : nacre tissé, perle, fibre irisée et étoffes réalisées sur mesure dans la région de Tango au Japon.
On Aura Tout Vu sculpte la silhouette d'une femme à l'attitude d'une déesse par des jeux de symétries et d'asymétries, de cols surdimensionnés en marqueterie de nacre, de tailles soulignées rehaussées d'écaille de reptiles et de coquillages.
Couture collection spring-summer 2017,
On Aura Tout Vu proceed to a genetic manipulation between the Greek, Japanese and British DNA.
Otohime, daughter of Ryujin, king of the sea, meets the Pearly Queens through Aphrodite goddess of love for a dive in the heart of the material: mother-of-pearl and abalon, iridescent fiber and fabrics made on measure in the Region of Tango in Japan.
On Aura Tout Vu sculpt the silhouette of the woman as a goddess by sets of symmetries and asymmetries, oversized collars in marquetry of mother-of-pearl, underlined sizes enhanced by scales of reptiles and shells.
By fashion, fashion, fashion shows, fashion weeks, fashion weeks, Haute couture
in
Tags > couture, Couture Spring Summer 2017, fashion, Haute Couture, haute couture fashion week, Livia Stoianova, Livia Stoianova and Yassen Samouilov, mode, modeaparis, on aura tout vu, on aura tout vu couture, pfw, pfwss17, spring summer 2017, Yassen Samouilov