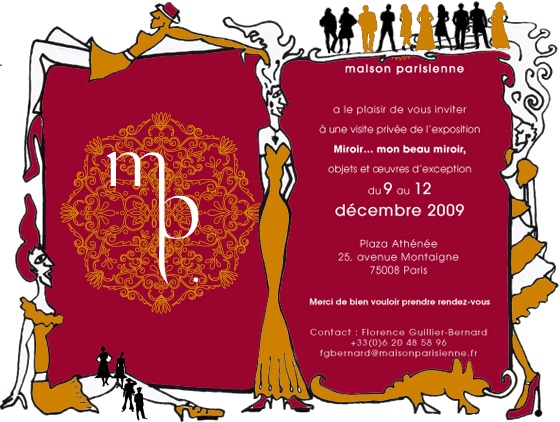 maison parisienne casts a spell over the plaza athénée from 8th to 12th december 2009 on aura tout vu will participate .you should see maison parisienne will  present  marvels… for its second major exhibition and sale at the plaza athénée, maison parisienne, an independent young business set up and managed by florence guillier-bernard and jean-marc dimanche with the aim of highlighting the expertise of france's top craftsmen and artists, has chosen the theme of "enchantment" to celebrate the exceptional nature of contemporary yet timeless luxury.
a few days before christmas, "mirror, mirror…" will present a selection of 250 rare pieces and precious items in an ephemeral display decorating one of the most famous suites in the plaza athénée. it's hardly surprising that the two businesses chose each other and are working together to stage the superb event because they share the same values – expertise, lifestyle and the art of receiving guests.
outstanding gold and silver work, contemporary gold leaf, divine marquetry, beautifully worked porcelain, steel or crystal – more than thirty rare, prestigious arts, crafts and skills will be on show in elegant surroundings given a whole new "enchanted" look for the occasion.
"mirror, mirror" combines passion and audacity with a touch of folly, and, for four days, it will be present in the most elegant of all the parisian luxury hotels to show off the rarest and most beautiful presents – a treat for yourself or a gift for somebody else. all the items reveal the exceptional skill and artistry perpetuated through the years by the men and women who are creating the heritage items of today and tomorrow.
practical information:
hotel plaza athenee – 25 avenue montaigne – 75008 paris
phone florence guillier-bernard on 06 20 48 58 96 for an
appointment from 9th to 12th december between 8.30 a.m.
and 9.00 p.m.