04 Fév /

New Perpectives Swarovski x Chris Bangle – jewelry by on aura tout vu for Spring Summer 2018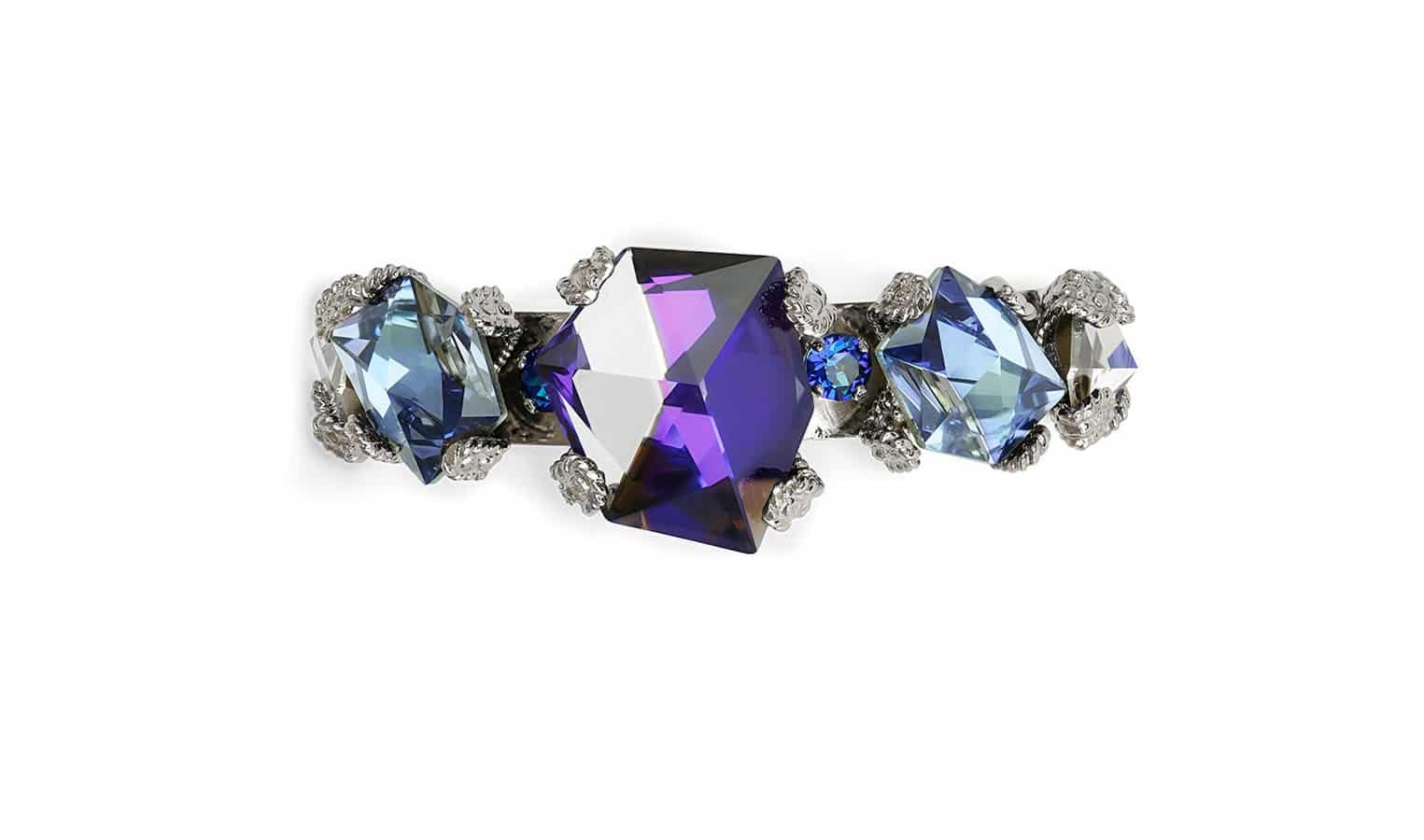 Explore the latest fashion trends
On Aura Tout Vu believes that advanced design is the future of fashion industry.
We are very grateful to Swarovski creative team asking us to illustrate the design Inspirations for this beautiful three new crystals—Tilted Chaton, Tilted Spike, and Tilted Dice which are a miniature works of art.
Necklace by on aura tout vu for Swarovski with Chris Bangle created cristals.Collier par on aura tout vu pour Swarovski avec des cristaux crée par Chris Bangle .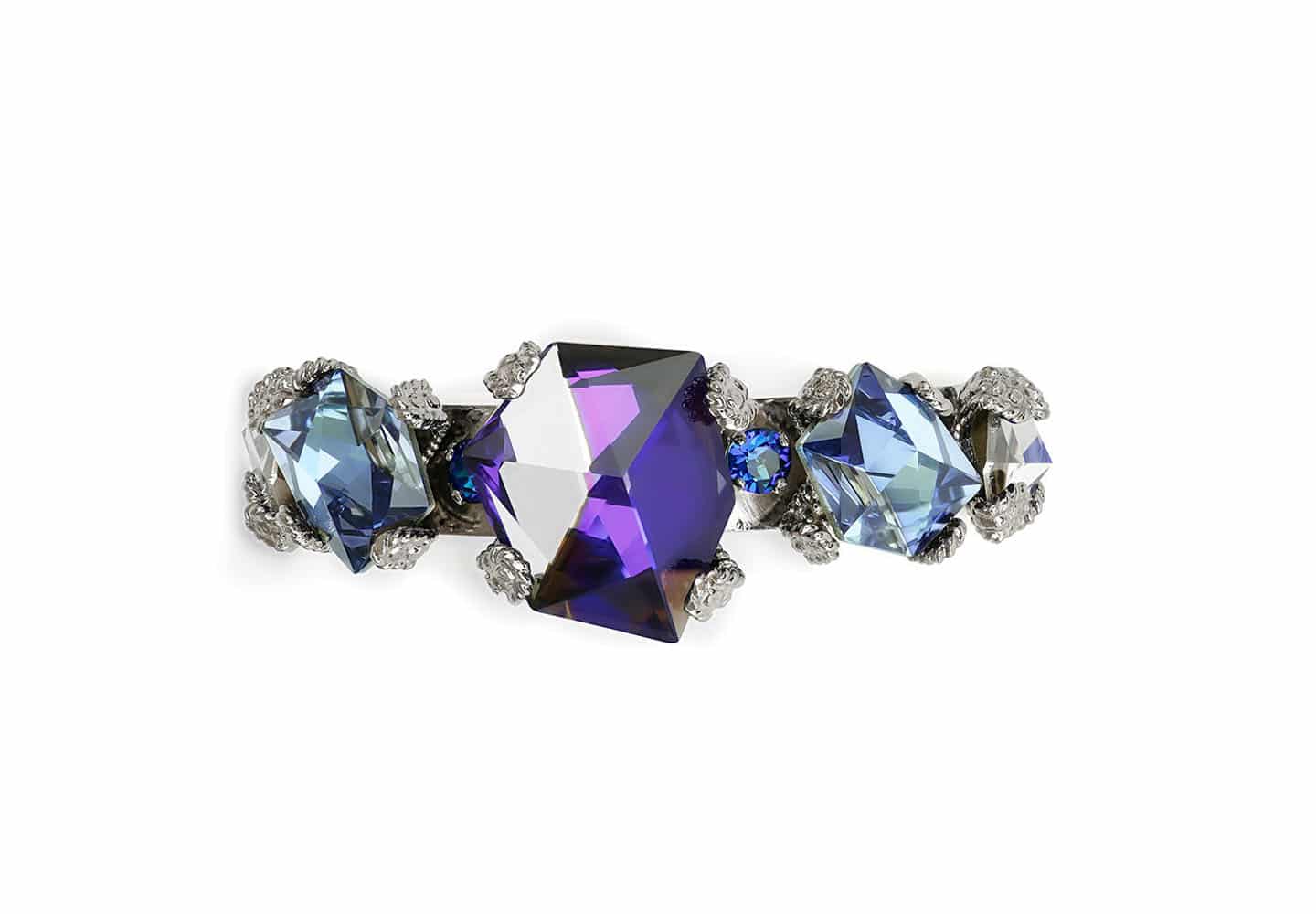 Bracelet by on aura tout vu for Swarovski with Chris Bangle created cristals.Bracelet par on aura tout vu pour Swarovski avec des cristaux crée par Chris Bangle .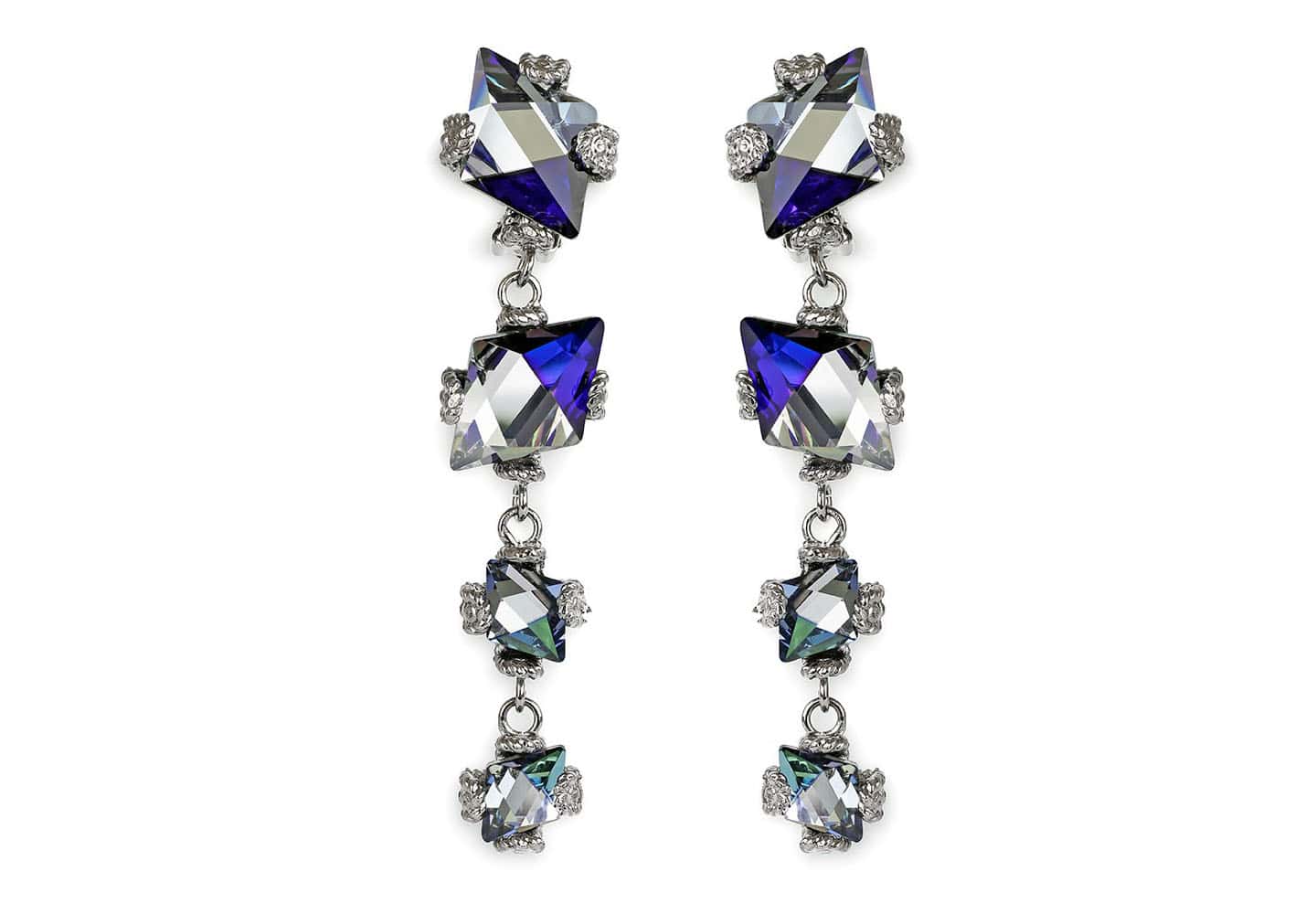 Earrings by on aura tout vu for Swarovski with Chris Bangle created cristals.Boucles d'oreilles par on aura tout vu pour Swarovski avec des cristaux crée par Chris Bangle .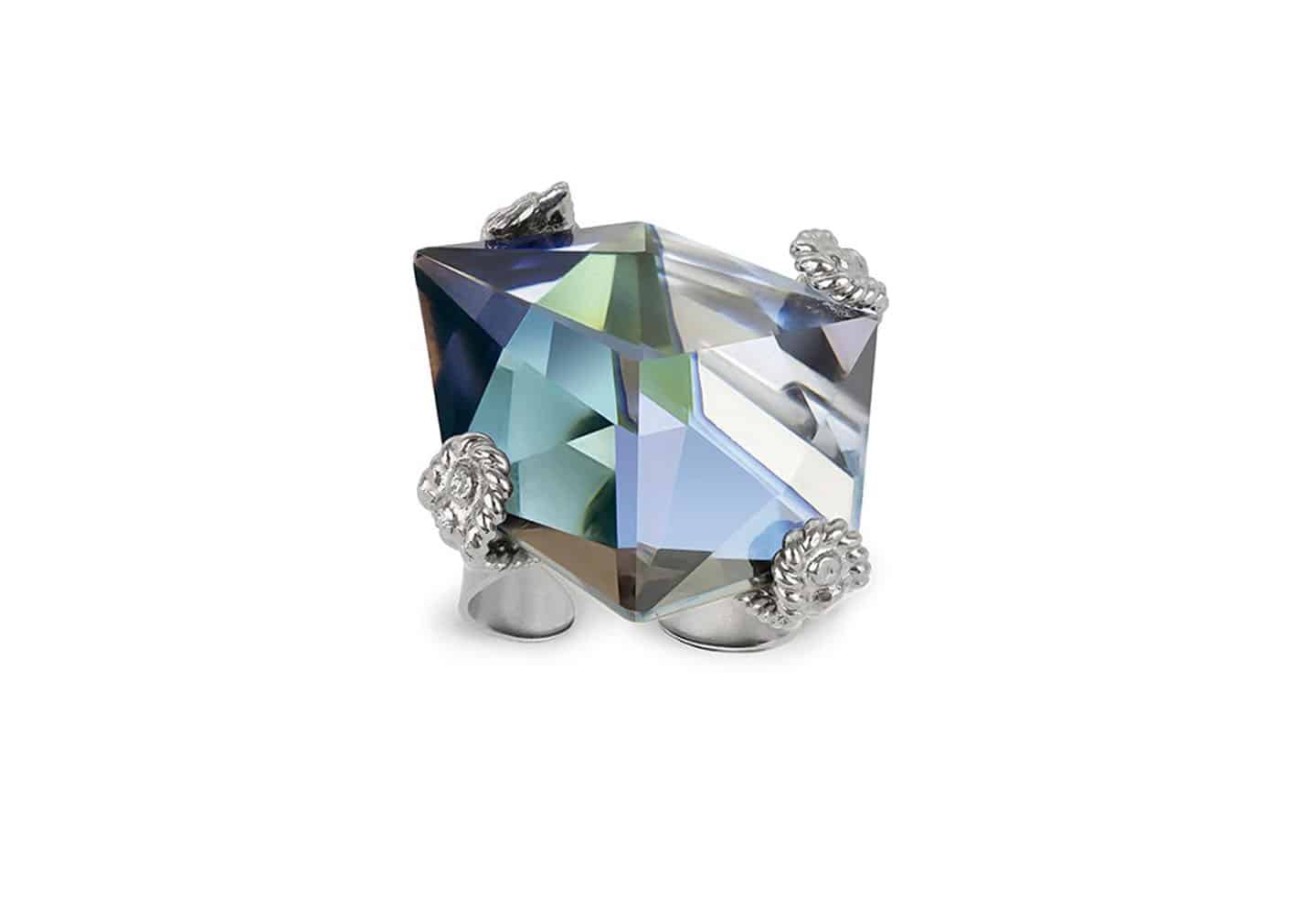 Ring by on aura tout vu for Swarovski with Chris Bangle created cristals.Bague par on aura tout vu pour Swarovski avec des cristaux crée par Chris Bangle .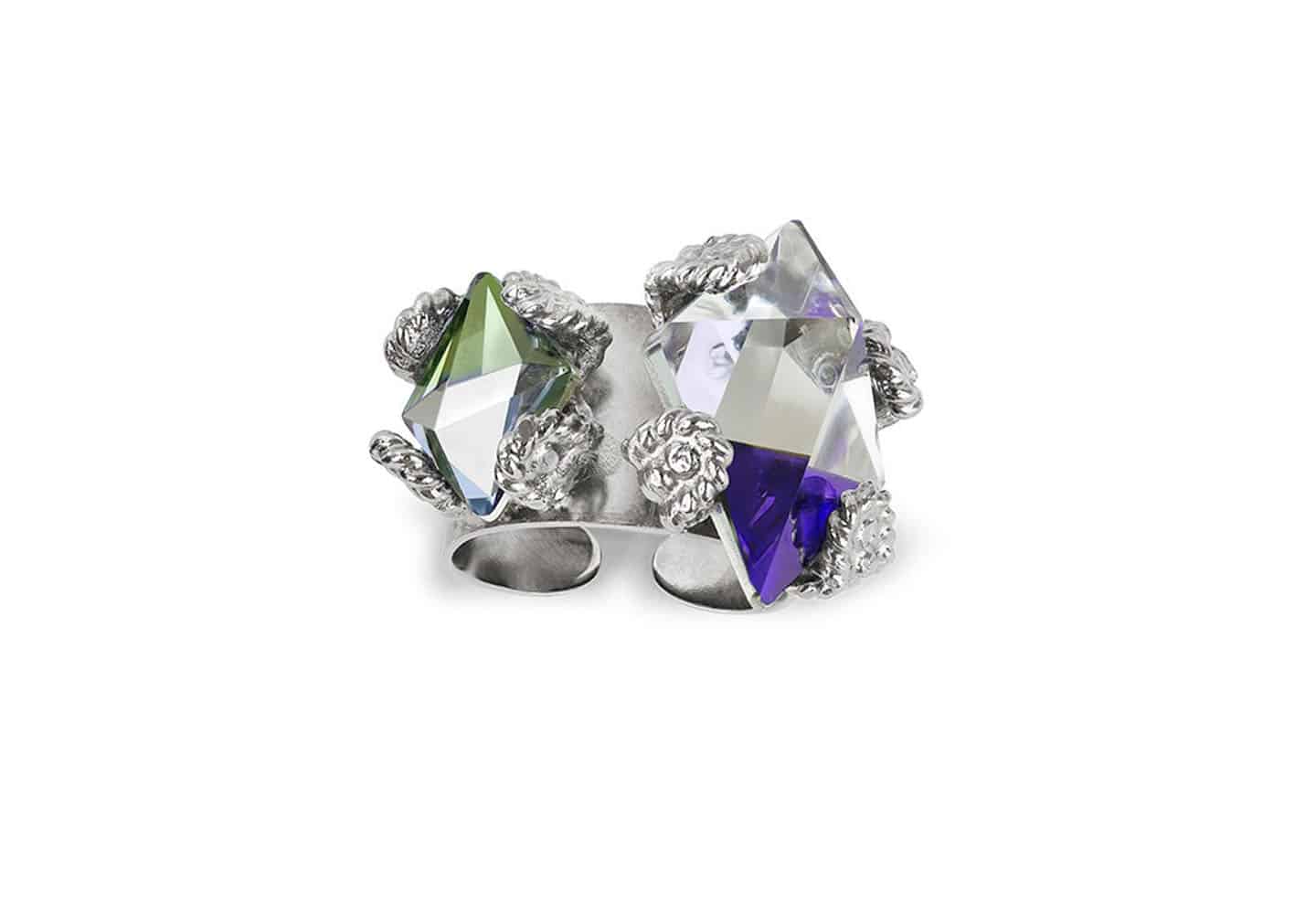 Ring by on aura tout vu for Swarovski with Chris Bangle created cristals.Bague par on aura tout vu pour Swarovski avec des cristaux crée par Chris Bangle .
New Perpectives for Spring/Summer 2018
Renowned for creating beautifully crafted crystals, Swarovski's innovations are driven by stories that capture the defining mood of the moment in ways that have meaning. Products are developed that speak, have a voice, and have relevance to the world in which we live. They offer a glimpse of a radiant future.
Swarovski's innovations tell our story, share our beliefs, and highlight our desires—this season, our story is the need for New Perspectives. We live in an age of disruption, and Spring/Summer 2018's crystal innovations reflect the value revolution that is taking place as we seek to redefine ourselves. Old dividing lines are being broken down—between luxury and street, the natural and the digital, male and female, and even between opposing belief systems. Driven by the Millennials and Generation Z, their message is loud and clear: We need a new world order.
Tired of the labels, diversity in looks and aesthetics is becoming the norm. Generation X, the first truly individualist generation to rebel against stereotypical thinking, is actively redefining middle age, pushing towards individualism and non-conformity. Generation Y and Z, meanwhile, are turning everything we held true in the past on its head, eradicating labels from fashion, lifestyles, gender, and even religions.
In our new world, women are redefining themselves and their position in society (seen in the rise of being single); men are fronting makeup campaigns for traditional women's cosmetic brands; male models showcase women's clothes in advertising and on catwalks; and the natural and the digital are merging.
This need to connect, to create, to make ourselves heard, to give ourselves a voice, to right the wrongs and repair the injustices is front and center. Fearful of the future, but dedicated to making society a better place, the desire to bring some light and color to our world is of more importance than ever before.
The story behind Swarovski's Spring/Summer 2018 crystal innovations focuses on the need for New Perspectives. Four new trends characterize the mood: Gang Star, No Normal, Hacked Nature, and Spell Bound.
Discover the Spring/Summer 2018 Trends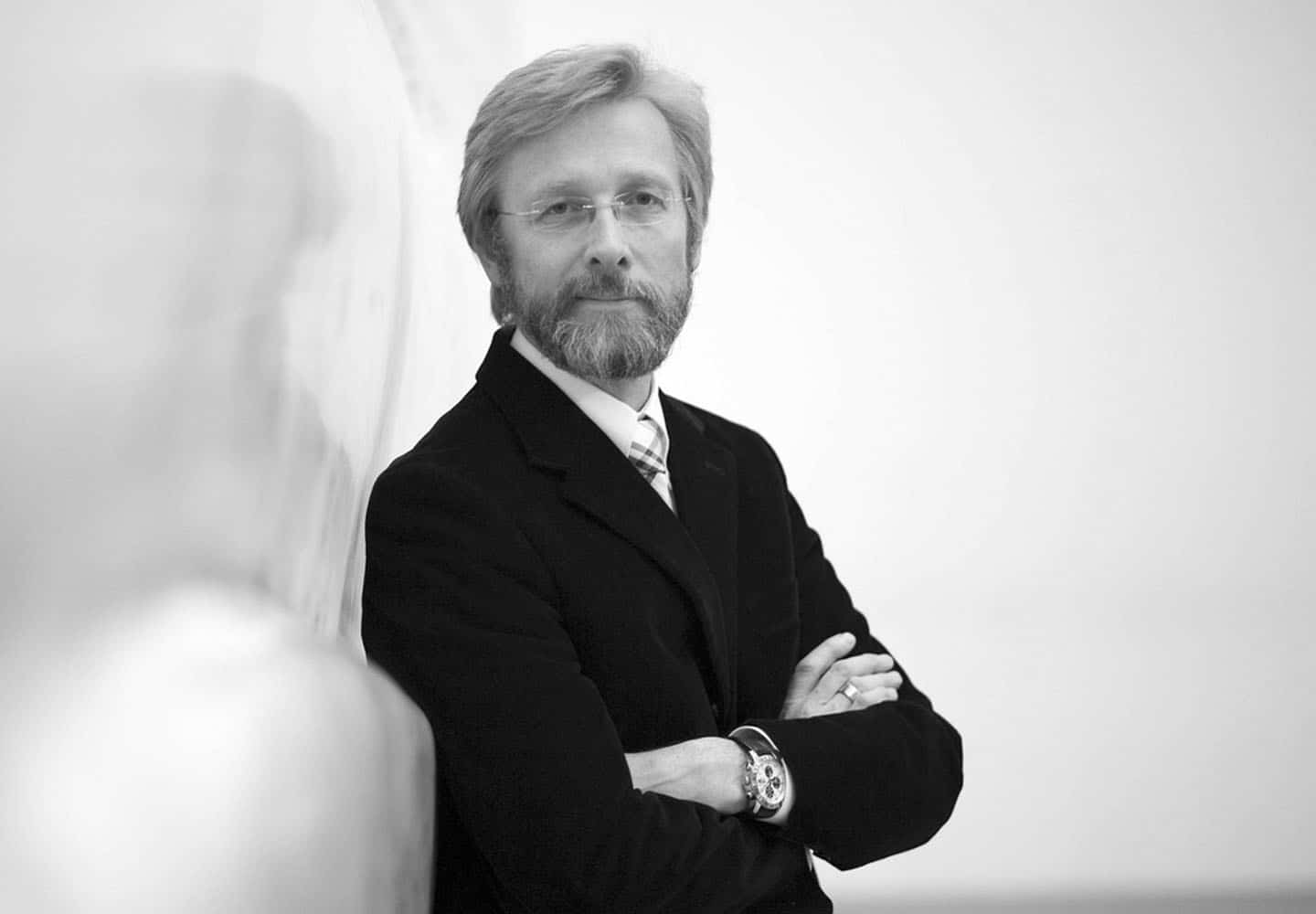 Chris Bangle
Designer Edition: Chris Bangle
Former Chief of Design at BMW Chris Bangle is no stranger to polarizing, provocative designs. Famed for his aggressive and emotional automobile designs, he understood better than anyone in the industry that car purchases are emotional decisions first.
Today, his influence is everywhere, as evidenced by the models displayed at any international car show—even cars that he designed over a decade ago still look contemporary.
In 2009, Bangle left the company to pursue other design passions. Since then, he has launched his own collaborative design studio, Chris Bangle Associates Srl., in Piemonte, Italy.
He once commented: "A car designer is really a sculptor." Indeed, the grounds of the Piemonte estate feature numerous large-scale sculptures designed by Bangle and his associates. It is this background that made him the perfect candidate to imagine crystals for Swarovski's Designer Edition Series.
ndeed, the sculptures served as his inspiration for the new fancy stones that are collectively called Illusions. The outcome is an evocative, dimension-defying, tilted take on crystal geometry. By compressing the third dimension along its axis, he has produced crystals with a 2.5D feel that still give a feeling of volume, space and dimension, even while appearing intrinsically flat.
The three new crystals—Tilted Chaton, Tilted Spike, and Tilted Dice—are miniature works of art beautifully suited to jewelry pieces. The multilayered cut combines partly coated effects with precision-cut surfaces, creating a fascinating optical illusion. It's an ultra-contemporary look that is perfect for a variety of elaborate patterns.
Nouvelles perspectives Swarovski x Chris Bangle – bijoux par on aura tout vu pour le printemps été 2018
Découvrez les dernières tendances de la mode
Aura Tout Vu croit que la conception avancée et le design sont l'avenir de l'industrie de la mode.
Nous sommes très reconnaissants envers l'équipe créative de Swarovski qui nous demande d'illustrer les inspirations  bijoux de ces nouveaux cristaux – Chaton Incliné, Spike Tilted et Dices Inclinées qui sont des œuvres d'art miniatures.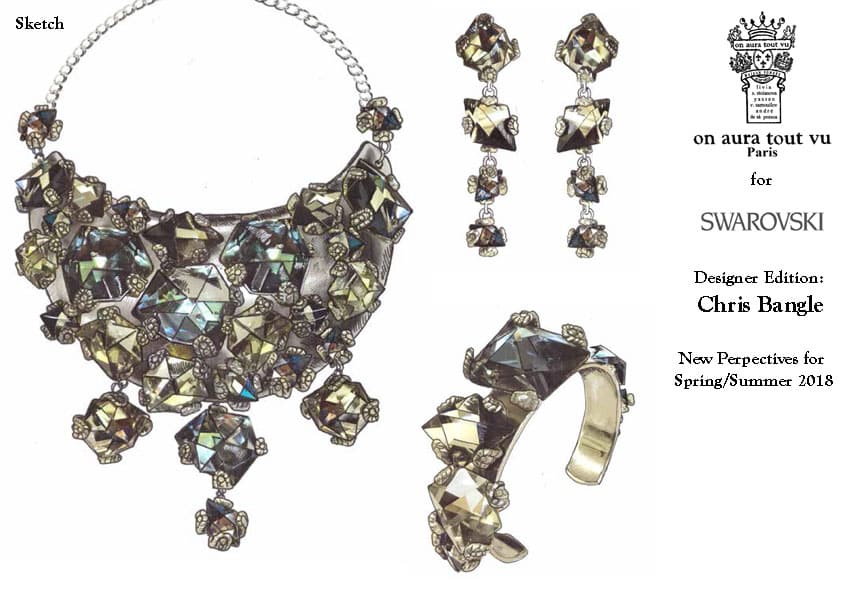 Nouvelles perspectives pour le printemps / été 2018
Reconnues pour la création de cristaux magnifiquement travaillés, les innovations de Swarovski sont conduites par des histoires qui captent l'ambiance du moment de manière à avoir un sens. Les produits développés ont une voix, et ont une pertinence pour le monde dans lequel nous vivons. Ils offrent un aperçu d'un avenir radieux.
Les innovations de Swarovski racontent notre histoire, partagent nos croyances et soulignent nos désirs – cette saison, notre histoire est la nécessité de nouvelles perspectives. Nous vivons à une époque de perturbations et les innovations en cristal du printemps / été 2018 reflètent la révolution des valeurs qui se produit alors que nous cherchons à nous redéfinir. Les anciennes lignes de division sont en train de se décomposer – entre le luxe et la rue, le naturel et le numérique, entre hommes et femmes, et même entre systèmes de croyances opposés. Poussés par les Millennials et la génération Z, leur message est fort et clair: nous avons besoin d'un nouvel ordre mondial.
Fatigué des étiquettes, la diversité dans les regards et l'esthétique devient la norme. La génération X, la première génération vraiment individualiste à se rebeller contre la pensée stéréotypée, redéfinit activement l'âge mûr, poussant vers l'individualisme et la non-conformité. La génération Y et Z, en attendant, tournent tout ce que nous tenions vrai dans le passé, l'éradication des étiquettes de la mode, les modes de vie, le sexe et même les religions.
Dans notre nouveau monde, les femmes se redéfinissent et se positionnent dans la société (vu la montée de l'être célibataire); Les hommes font des campagnes de maquillage pour les marques de cosmétiques pour femmes traditionnelles; Les modèles masculins présentent des vêtements pour femmes dans la publicité et sur les podiums; Et le naturel et le numérique se fusionnent.
Ce besoin de se connecter, de créer, de se faire entendre, de se donner une voix, de redresser les injustices et de réparer les injustices est au centre. Craignant l'avenir, mais dédiés à faire de la société un meilleur endroit, le désir d'apporter un peu de lumière et de couleur à notre monde est plus important que jamais. L'histoire derrière les innovations en cristal de Swarovski Printemps / Eté 2018 se concentre sur la nécessité de nouvelles perspectives. Quatre nouvelles tendances caractérisent l'ambiance: Étoile des gangs, Pas de normal, Nature piratée et Sort de sorts.Découvrez les tendances Printemps / Été 2018
Créateur de l'Edition: Chris Bangle
Ancien chef de la conception chez BMW Chris Bangle n'est pas étranger à la polarisation, les dessins provocateurs. Célèbre pour ses conceptions automobiles agressives et émotives, il a compris mieux que quiconque dans l'industrie que les achats de voiture sont des décisions émotionnelles d'abord.Aujourd'hui, son influence est omniprésente, comme en témoignent les modèles présentés à n'importe quel salon automobile international, même les voitures qu'il a conçues il y a plus de dix ans sont encore contemporaines.En 2009, Bangle a quitté la société pour poursuivre d'autres passions de design. Depuis, il a lancé son propre studio de design collaboratif, Chris Bangle Associates Srl., En Piemonte, en Italie.
Une fois, il a commenté: «Un concepteur de voiture est vraiment un sculpteur.» En effet, les motifs de la propriété Piemonte comportent de nombreuses sculptures à grande échelle conçu par Bangle et ses associés.
C'est pour ca que ses créations font que il est la personne idéale pour imaginer des cristaux pour « Swarovski's Designer Edition Series ».Les sculptures ont servi d'inspiration pour les nouvelles pierres de fantaisie qui sont collectivement appelées « Illusions ». Le résultat est une prise évocatrice, dimension-défiante, incliné sur la géométrie de cristal. En comprimant la troisième dimension le long de son axe, il a produit des cristaux avec une sensation 2,5D qui donnent encore une sensation de volume, d'espace et de dimension, même en apparence intrinsèquement plane. Les trois nouveaux cristaux-Tilt Chaton, Tilt Spike, et Tilted Dice-sont des œuvres d'art miniature joliment adapté aux bijoux. La coupe multicouche combine des effets partiellement recouverts avec des surfaces de précision, ce qui crée une illusion d'optique fascinante. C'est un look ultra-contemporain qui est parfait pour une variété de motifs élaborés.
From Swarowski : New Perpectives for Spring/Summer 2018
By Accessoires, architecture & design, automobiles, Business, fashion, fashion, News, News, partners, partners @en, Tendances & inspirations
in
Tags > accessoires de mode, bijoux, BMW Chris Bangl, Chaton, crystal, Fashion Trends, gender, Generation X, illusion, jewelery, lifestyles, Livia Stoianova, new crystals, on aura tout vu, on aura tout vu fashion, On aura tout vu pour Swarovski, Première Vision, professionel, Spring/Summer 2018, swarovski, Tilted Chaton, Tilted Dice, Tilted Spike, ultra-contemporary, Yassen Samouilov