02 Sep /

ON AURA TOUT VU pop up store à Naoussa Paros Cyclades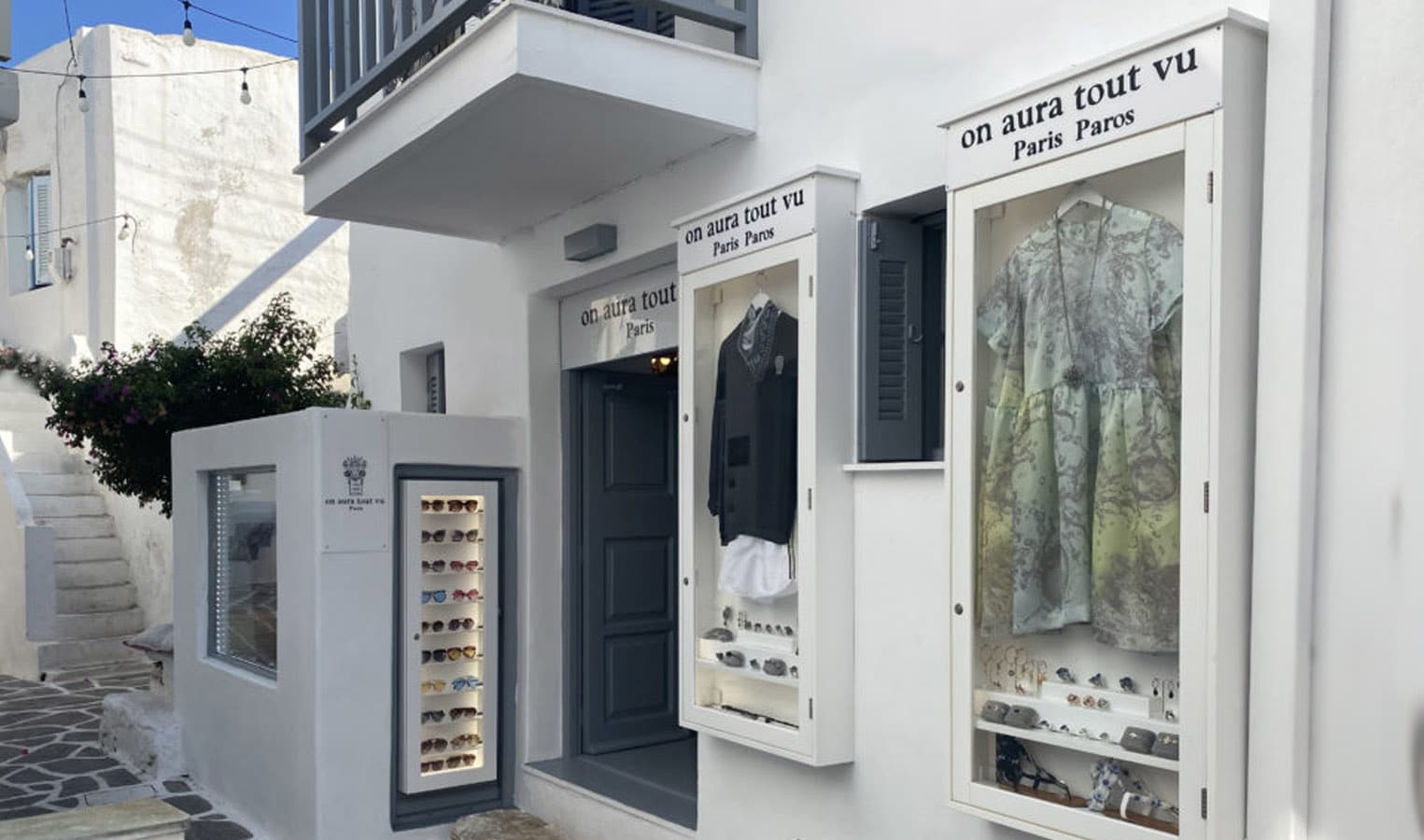 ON AURA TOUT VU Resort collection 2020 Paros Naoussa Cyclades Greece
Une tendance se dessine pour les marques de luxe les plus aventureuses
Chanel, Loewe, Isabel Marant, Balenciaga, Burberry, Celine ouvrent leurs boutiques éphémères à Saint-Tropez.
Dior à Ibiza, Bodrum, Mykonos, Capri, Forte dei Marmi et Cortina d'Ampezzo.
Mais pourquoi aller là où tout le monde va ? S'il est parfois difficile d'innover dans ce domaine, cela est encore possible.
Alors que Paros a été décernée comme la plus belle île d'Europe 2020, et depuis toujours celle préférée des Français dans les Cyclades. Elle est donc le lieu idéale pour y poser ses collections.
« Fais de ta vie un rêve, et d'un rêve, une réalité ». Antoine de Saint-Exupéry
C'est à Naoussa, dans une maison traditionnelle cycladique, au cœur d'un écrin de soleil, de blanc et de bleu infini, que la maison Parisienne On Aura Tout Vu ouvre, pour la deuxième année consécutive, son pop-up store. Inspiré par les codes de la marque, le décor fou et fantasque accueille une clientèle internationale ravie de découvrir les produits tant prisés des stars américaines.
Les collections de mode/ homme femme /, de maroquinerie, d'accessoires, d'objets de maison, ainsi que la ligne de bijoux Moulin Rouge by On Aura Tout Vu sont présentées dans un décor blanc aux lignes pures. Deux majestueux chandeliers recouverts de cristal et de trophées de chasse, façon cabinet de curiosité, ainsi que deux squelettes humains en cristal, tels deux gardiens de temple, viennent jouer le contraste. Au centre de la boutique, une table de présentation renferme un squelette de dauphin recouvert de nacre et de cristal. La marque propose ainsi une expérience immersive au cœur de ses inspirations les plus profondes. Un lieu de prestige atypique et de rêve qui ravit petits comme grands.
Les clientes peuvent découvrir, une sélection de T-shirts logo et d'accessoires ainsi qu'une ligne développée exclusivement pour Paros où les pièces sont estampillées On Aura Tout Vu Paris Paros. Une capsule de robes éditées en série limitée fait écho à l'esprit couture.
Sont également présentes, les collections masculines avec des T-shirts, des bijoux, des casquettes ainsi que du Beachwear (chemises et shorts logotypes) et la ligne solaire
Pour les adeptes des objets insolites, les galets des plages de Paros « Stoneart » avec l'œil protecteur dessiné à la main, et signés d'un cristal, sont des cadeaux parfaits et uniques.
La boutique est ouverte de mi avril à fin septembre.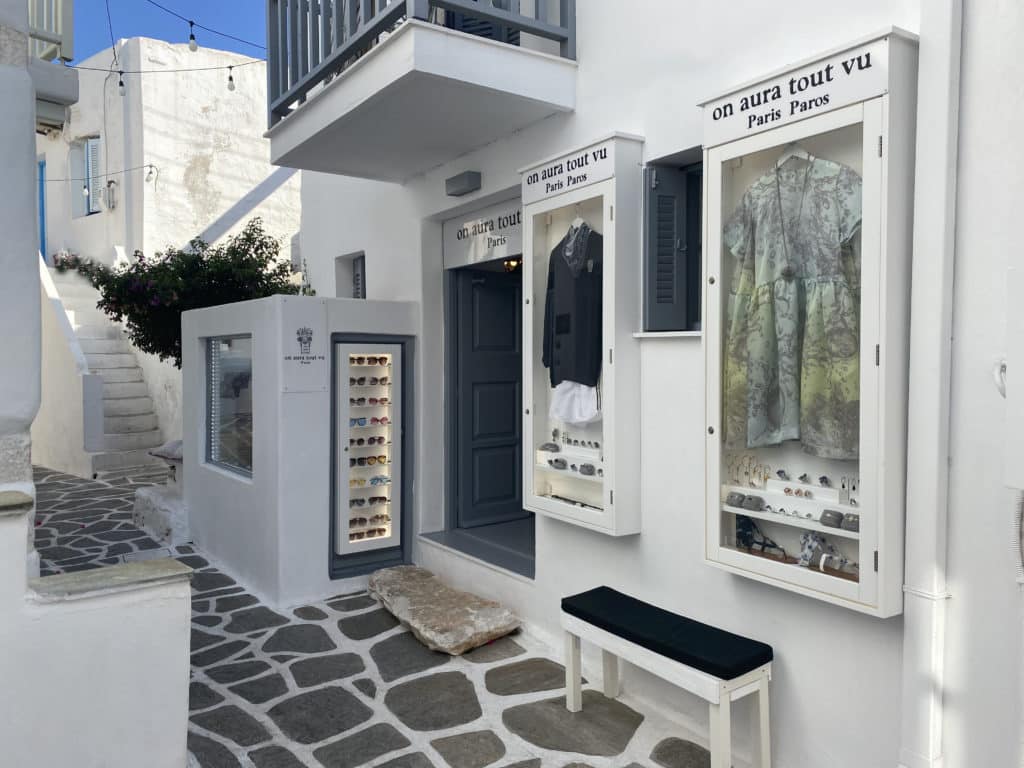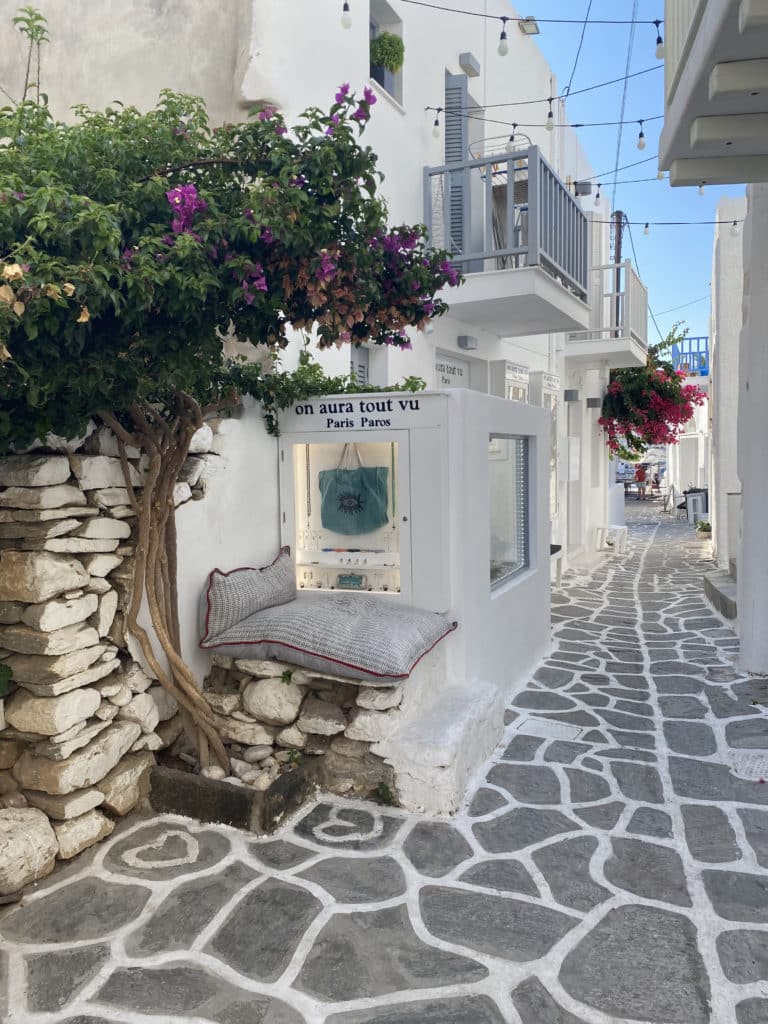 On Aura Tout Vu Paros Naoussa Cyclades store from onauratoutvu on Vimeo.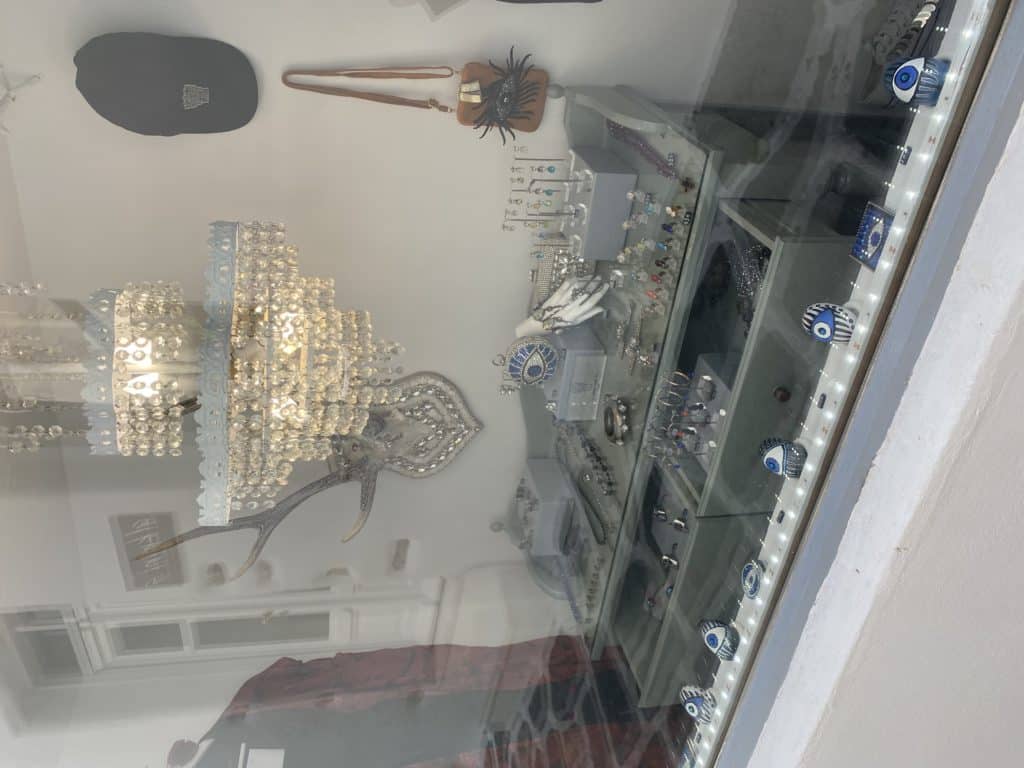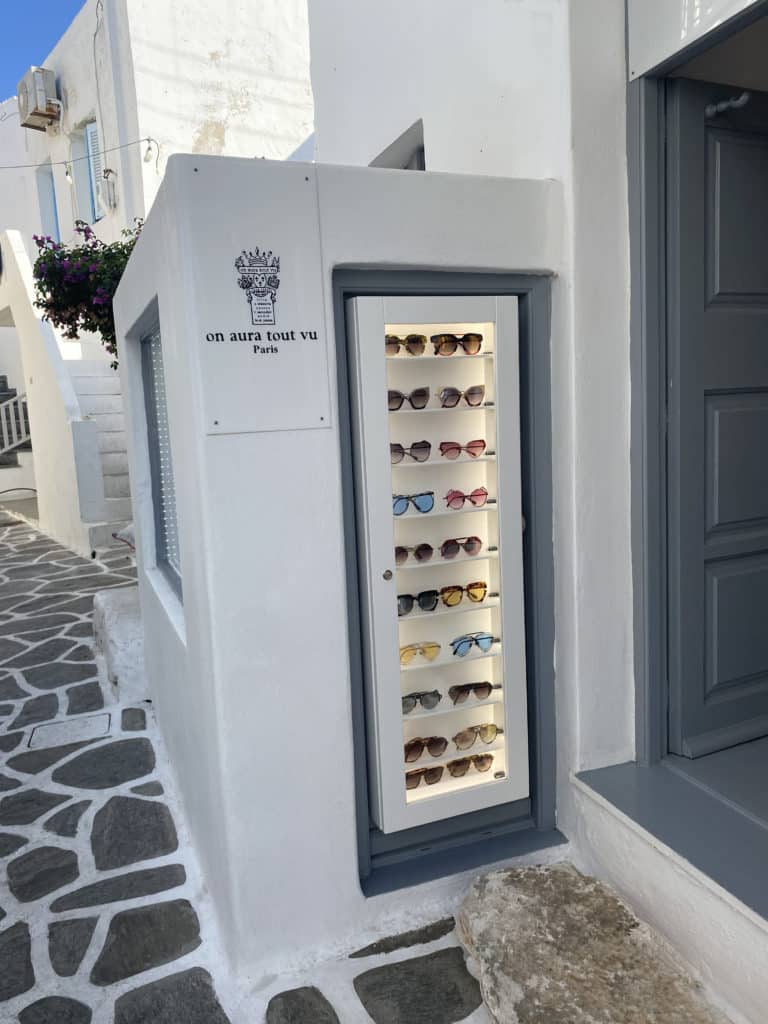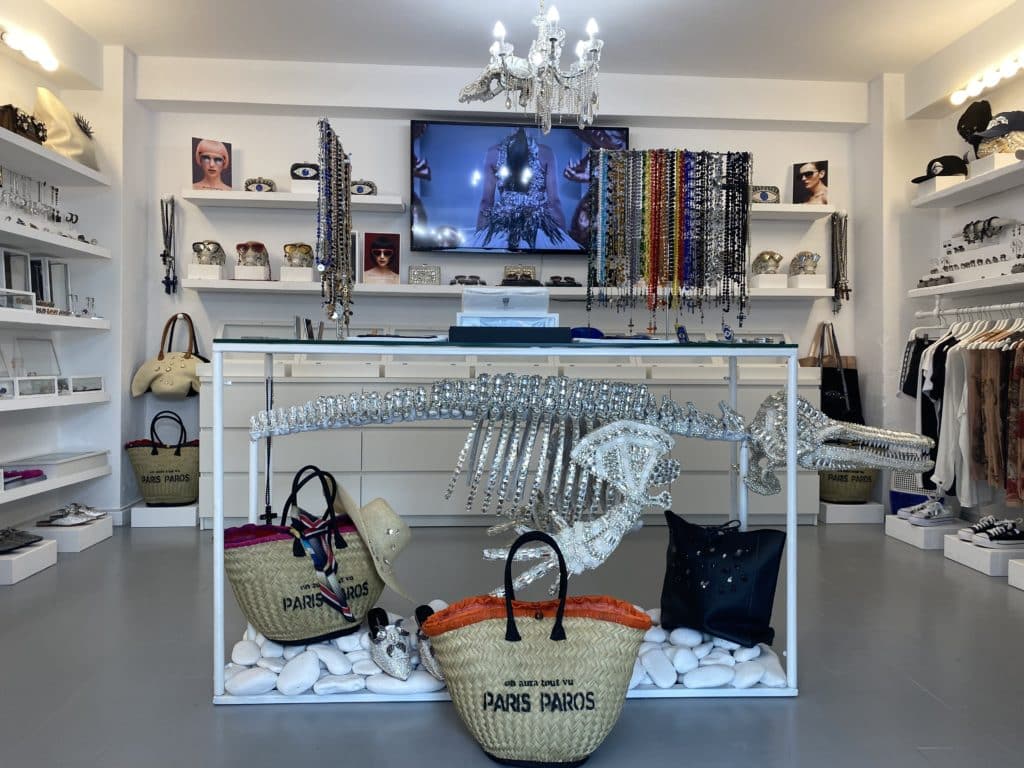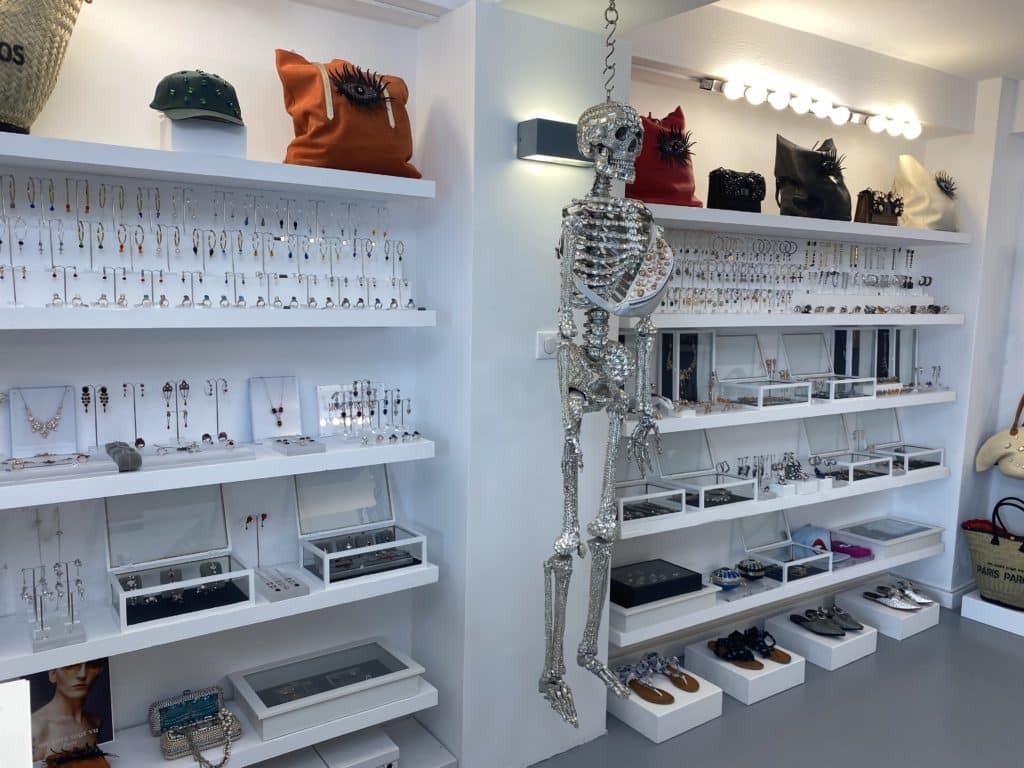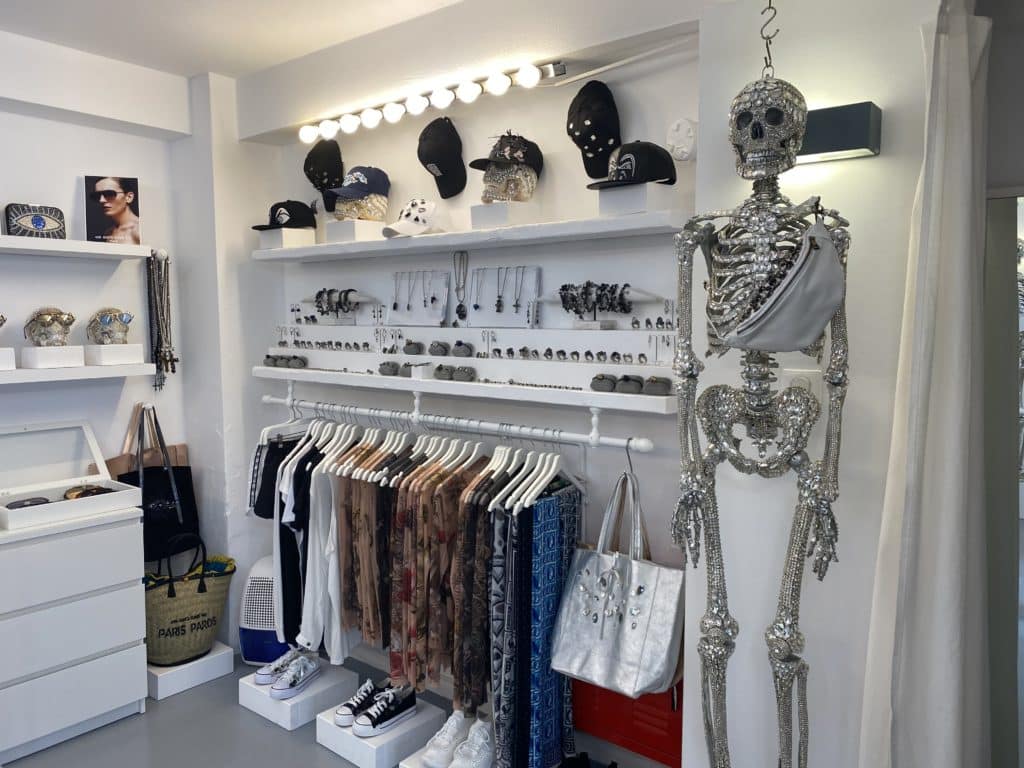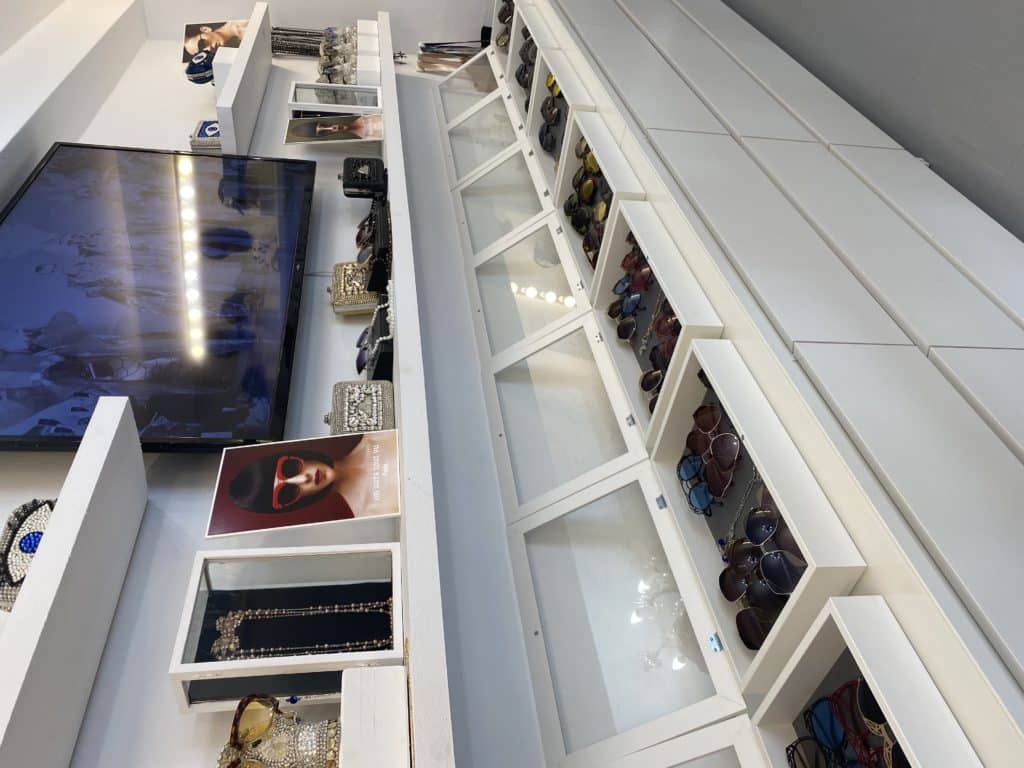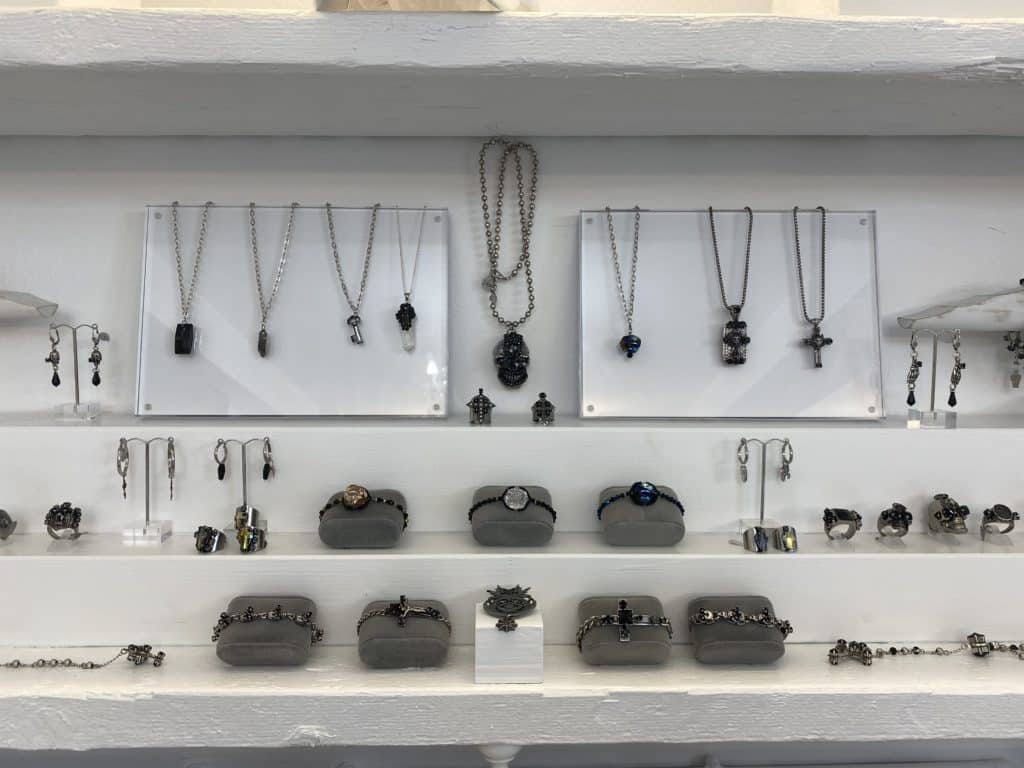 A trend is emerging for the most adventurous luxury brands Chanel, Loewe, Isabel Marant, Balenciaga, Burberry, Celine are opening their ephemeral stores in Saint-Tropez.
Dior in Ibiza, Bodrum, Mykonos, Capri, Forte dei Marmi and Cortina d´Ampezzo. But why go where everyone else is going? While it is sometimes difficult to innovate in this area, it is still possible.
While Paros has been awarded as the most beautiful island in Europe 2020, and always the favorite of the French in the Cyclades. It is therefore the ideal place to present On Aura Tout Vu collections there.
"Make your life a dream, and the dream a reality". Antoine de Saint-Exupéry
It is in Naoussa, in a traditional Cycladic house, in the heart of a setting of sun, white and infinite blue, that the Parisian house On Aura Tout Vu is opening, for the second consecutive year, its pop-up store. Inspired by the brand's codes, the crazy and whimsical decor welcomes an international clientele delighted to discover the products so popular with American stars. The fashion / man's / woman's /, leather goods, accessories and household items collections, as well as the Moulin Rouge by On Aura Tout Vu jewelry line are presented in a white decor with pure lines. Two majestic chandeliers covered with crystal and hunting trophies, like a cabinet of curiosities, as well as two human crystal skeletons, like two temple guardians, play out the contrast. In the center of the shop, a presentation table contains a dolphin skeleton incrusted with mother-of-pearl and crystal. The brand offers an immersive experience at the heart of its deepest inspirations.
A place of atypical prestige and dream that delights young and old alike. Customers can discover a selection of logo T-shirts and accessories as well as a line developed exclusively for Paros where the pieces are stamped On Aura Tout Vu Paris Paros.
A capsule of dresses produced in limited series echoes the couture spirit. Also present are men's collections with T-shirts, jewelry, caps as well as Beachwear (logo shirts and shorts) and the solar eyewear line.
For fans of unusual objects, the stones of the beaches of Paros "Stoneart" with the protective evil eye drawn by hand, and signed with a crystal, are perfect and unique gifts.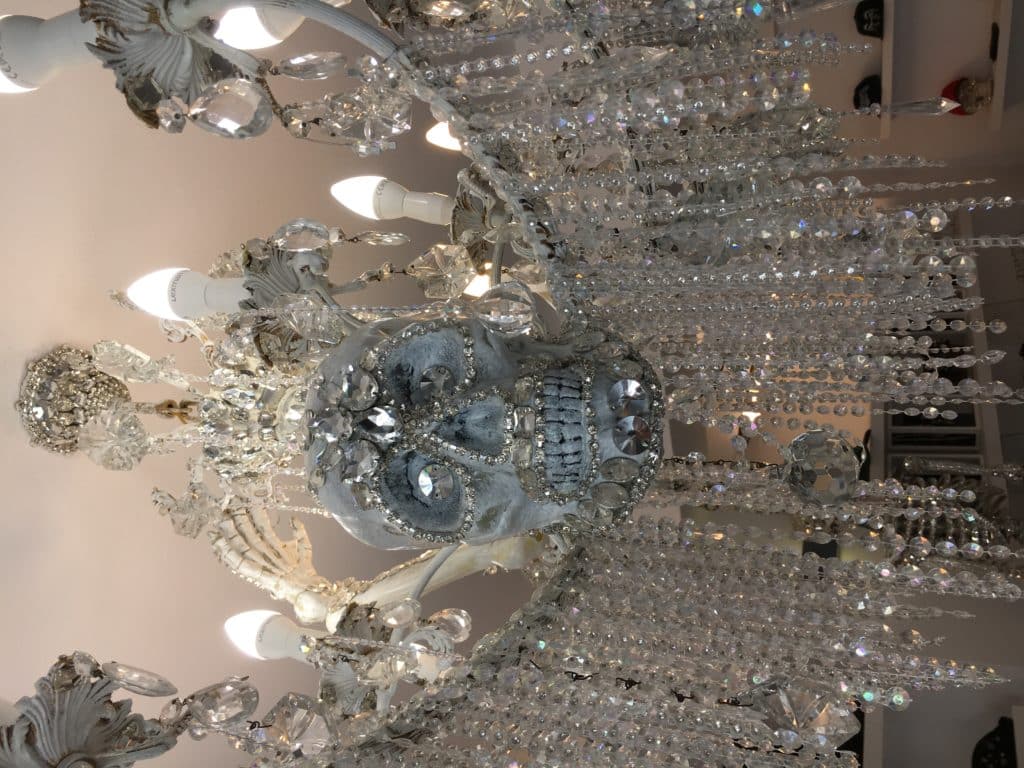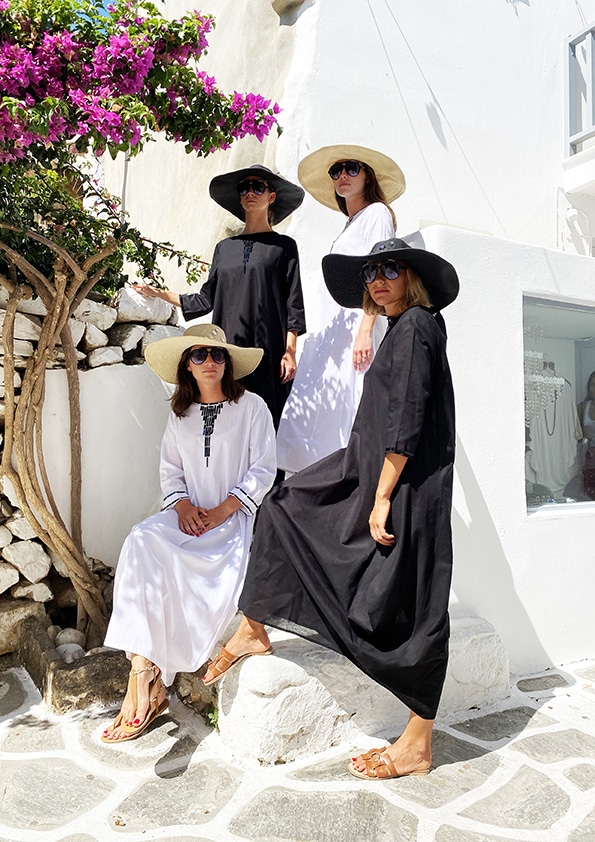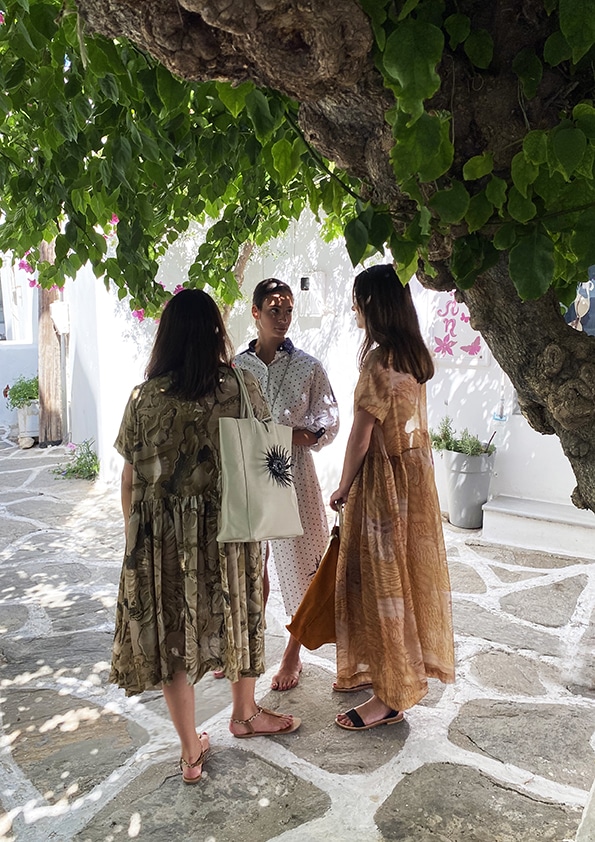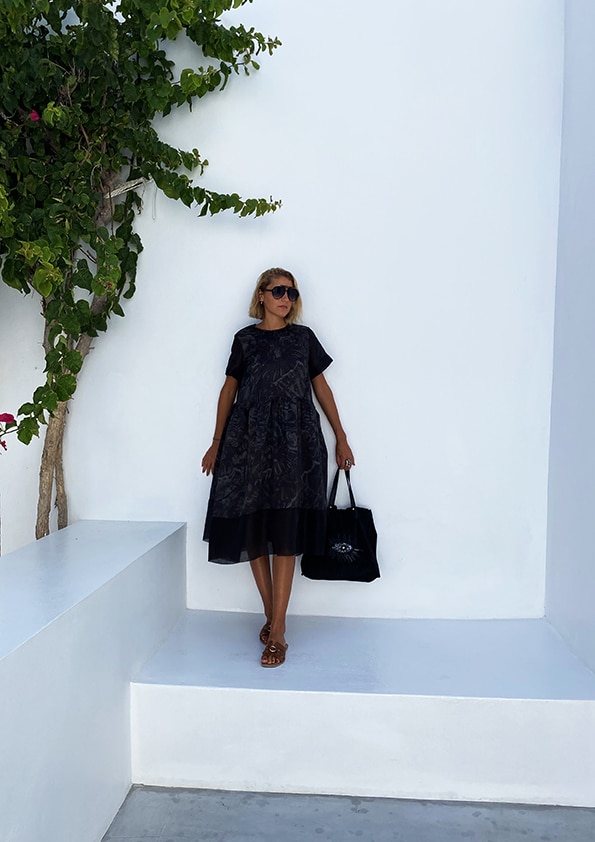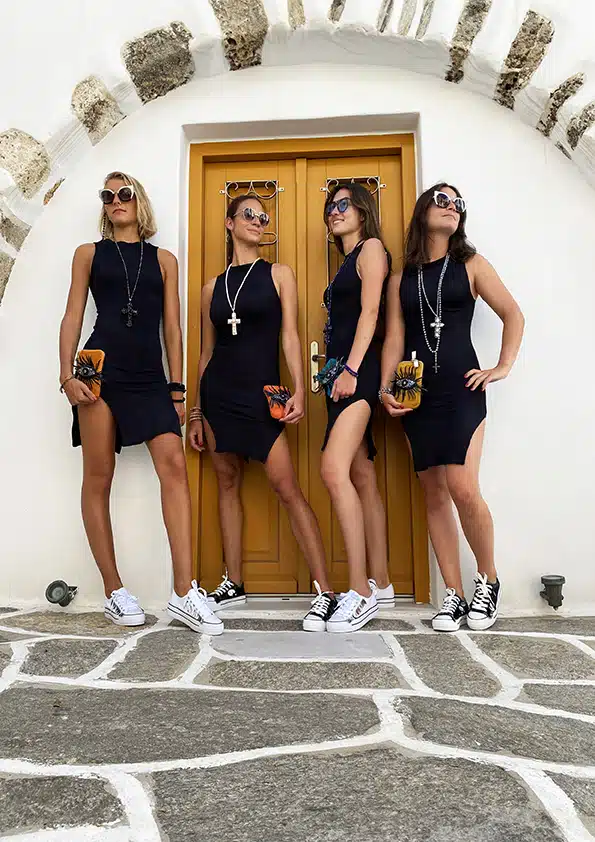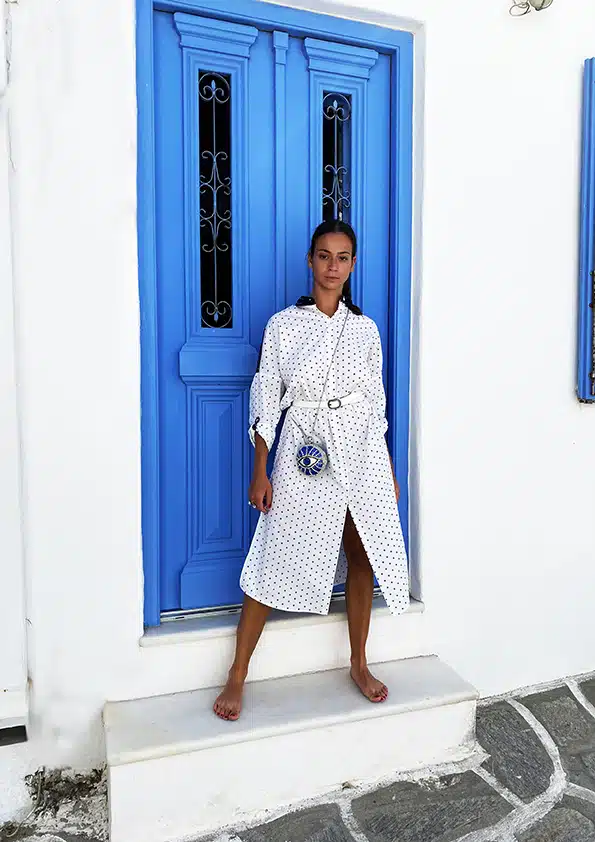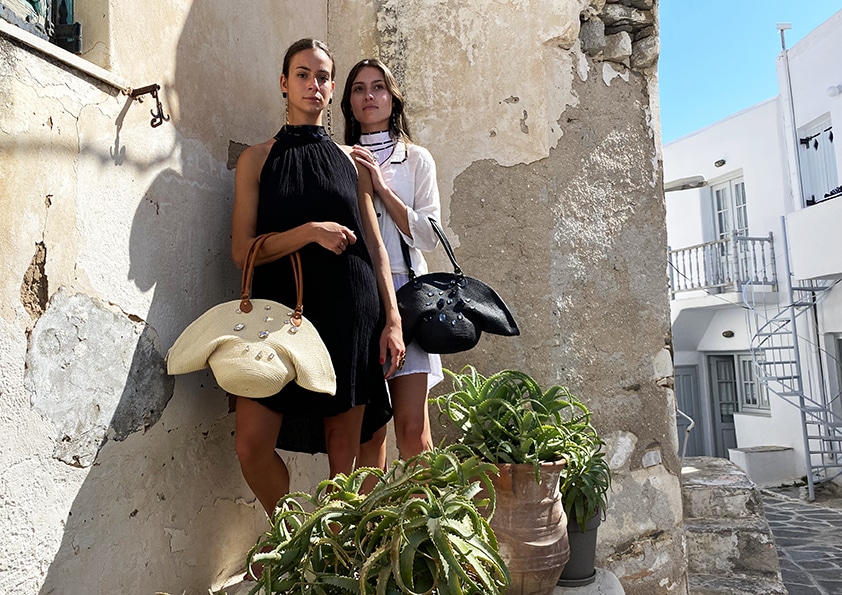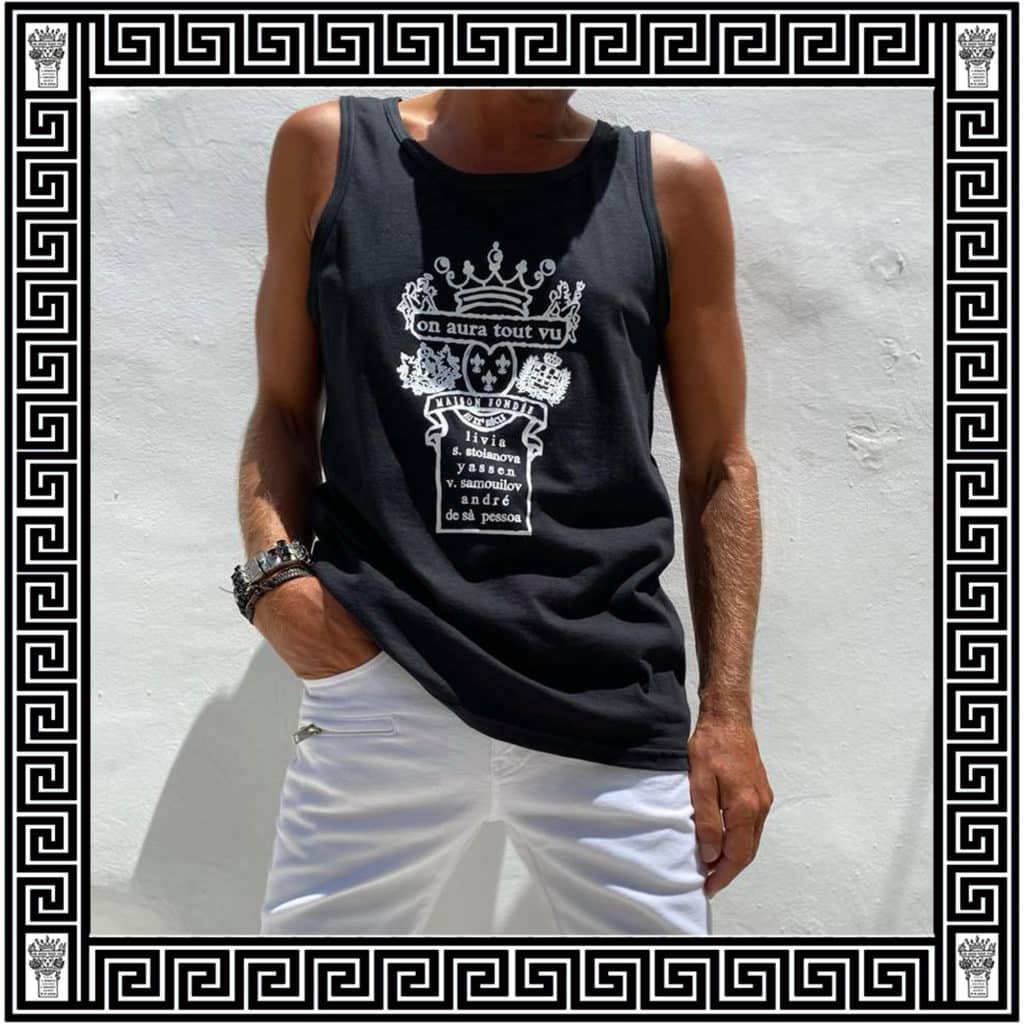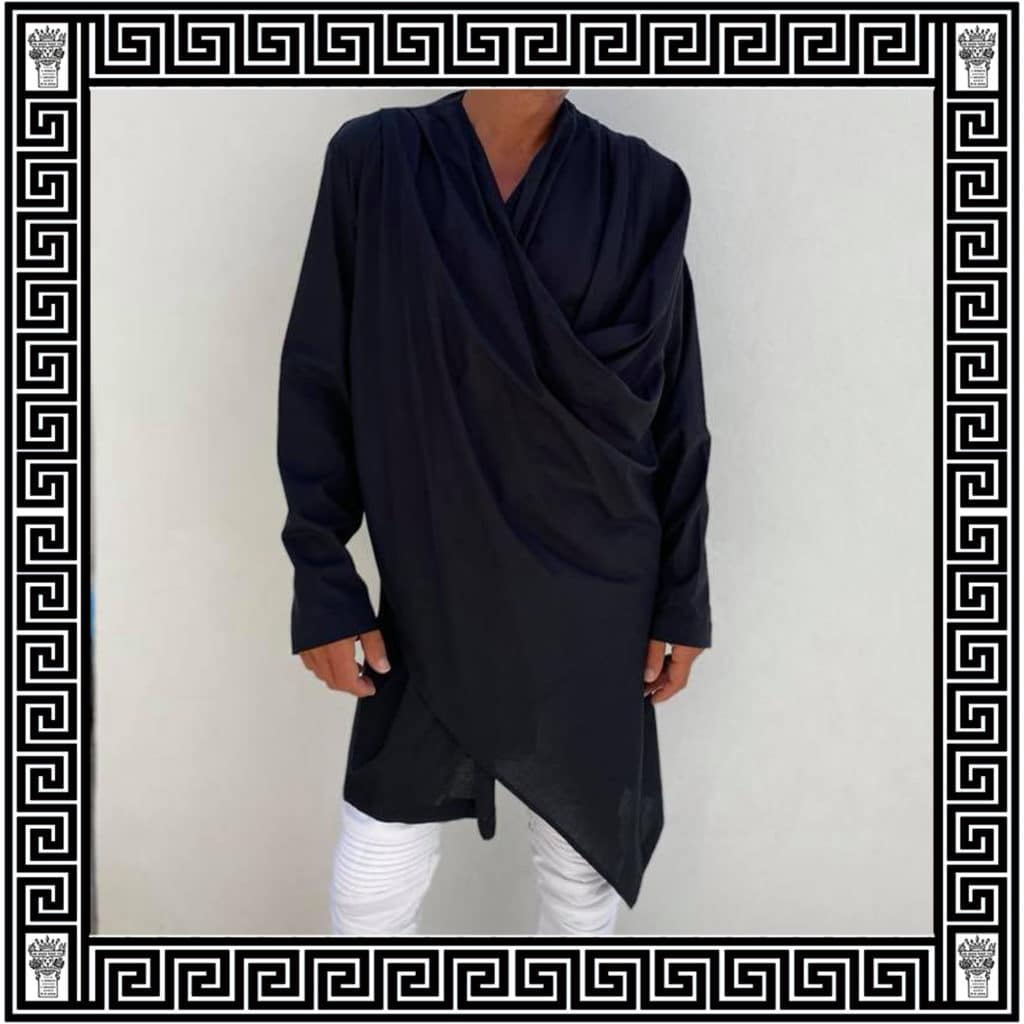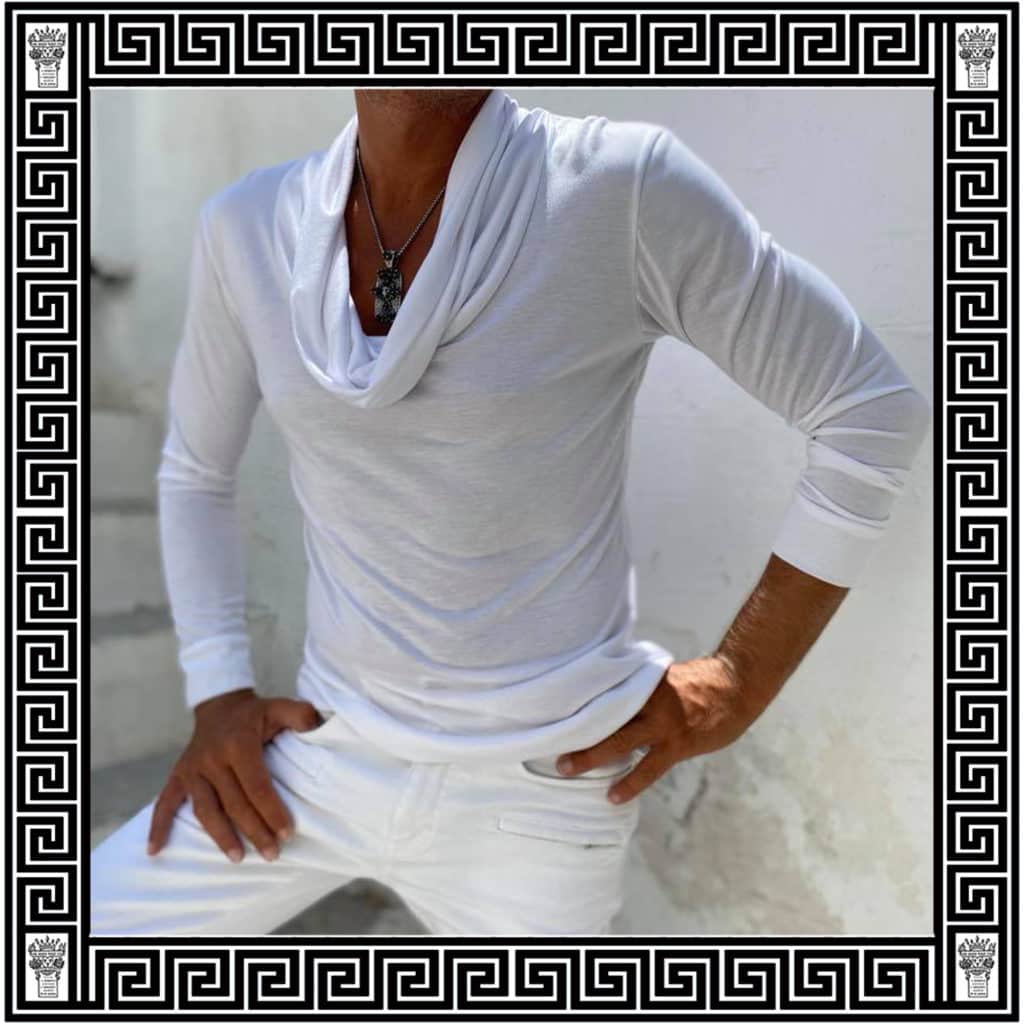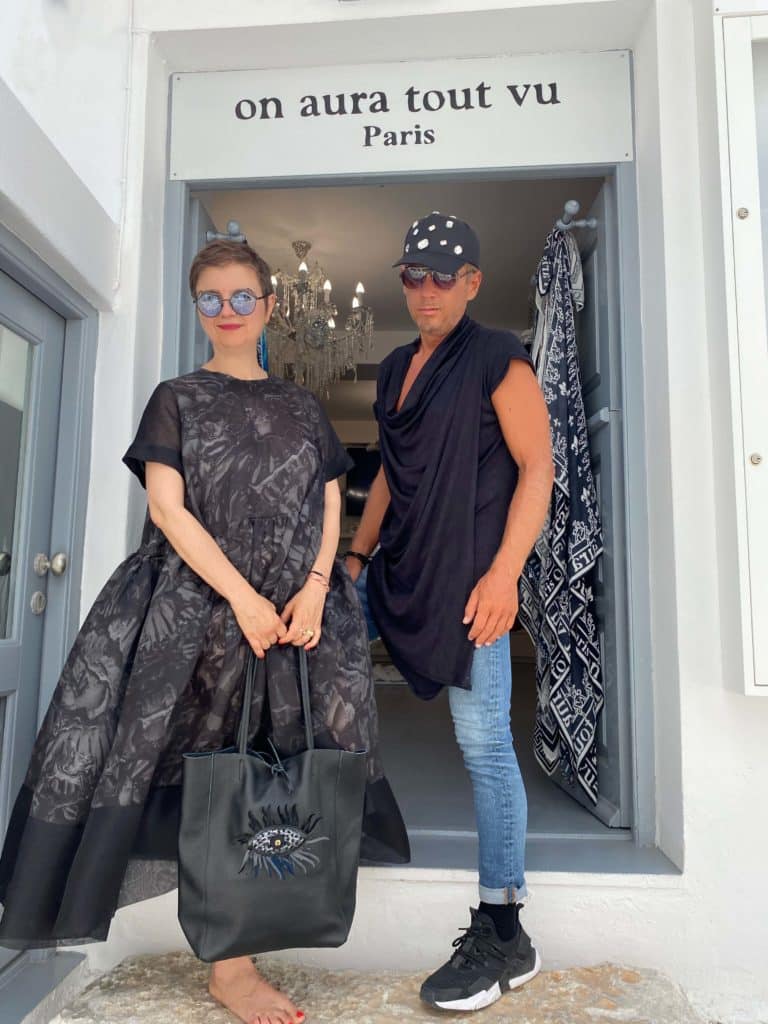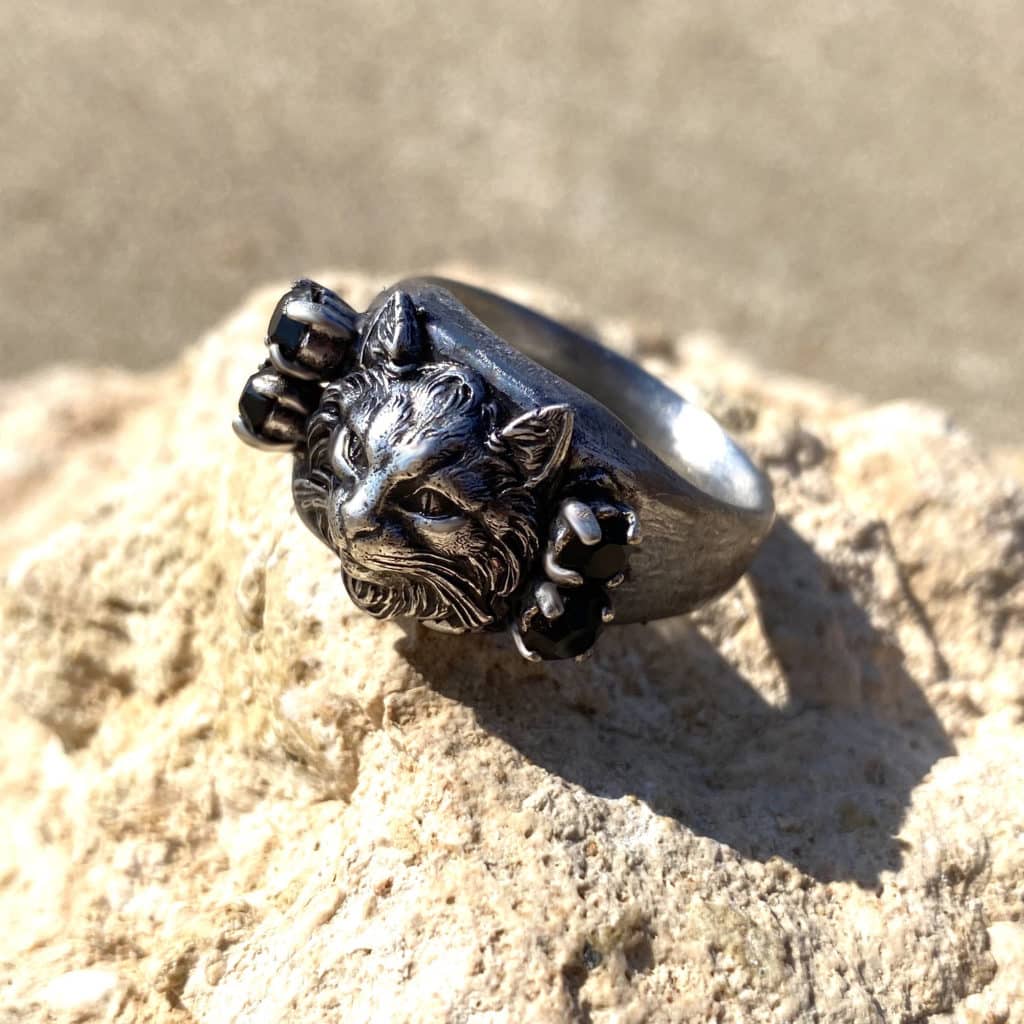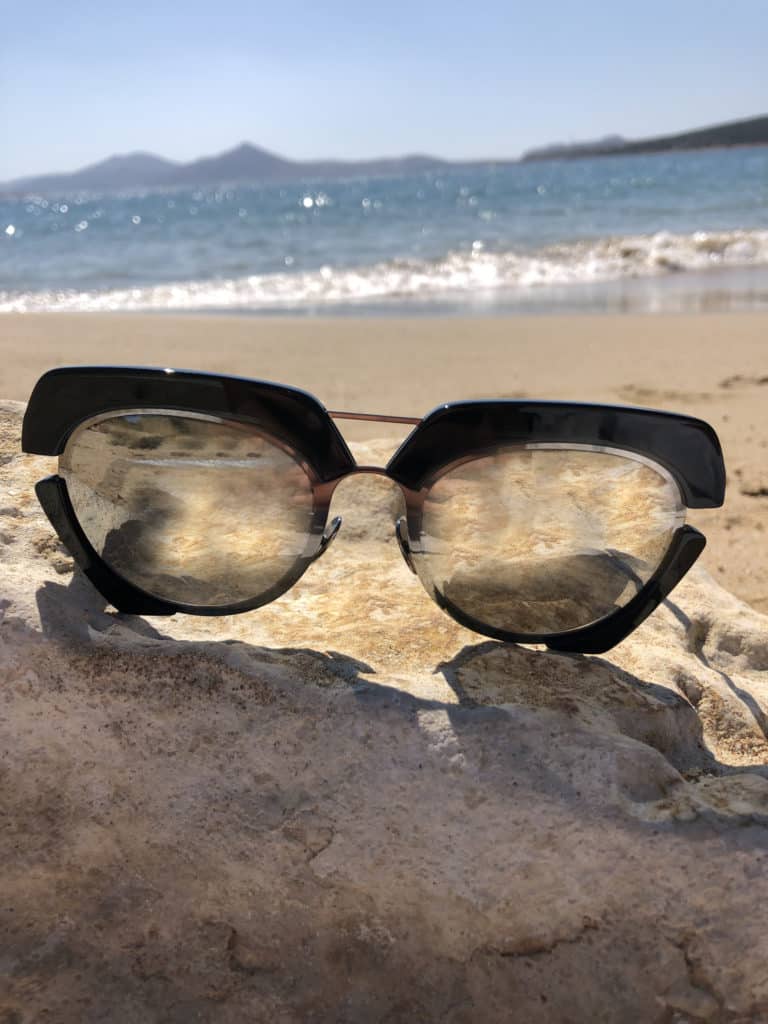 jhkhhkh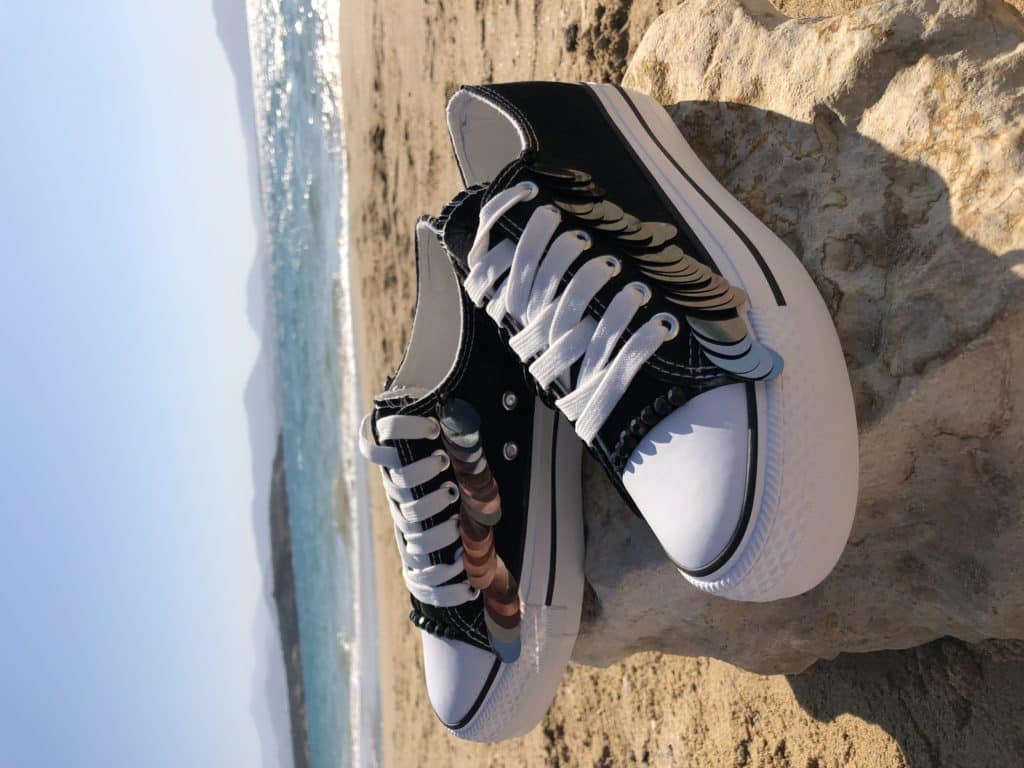 By Accessoires, Collector, fashion, fashion, Life style, News, News, shops, shops @en, travel @en
in
Tags > bags, Bodrum, Capri, Celine, Chanel, concept store, cyclades, cycladesislands, decor, dior, fashion, Forte dei Marmi, Ibiza, Isabel Marant, jewellery on aura tout vu, kikladhes, Loewe, luxury accessories, mensfashion, Mykonos, naoussa, onauratoutvu, paros, pop up store, ressort, Saint-Tropez, shopping, shoppingparos, summer, travel, Yassen Samouilov et Livia Stoianova