19 Mar /

Quand couture et parfumerie se rencontrent CARON X ON AURA TOUT VU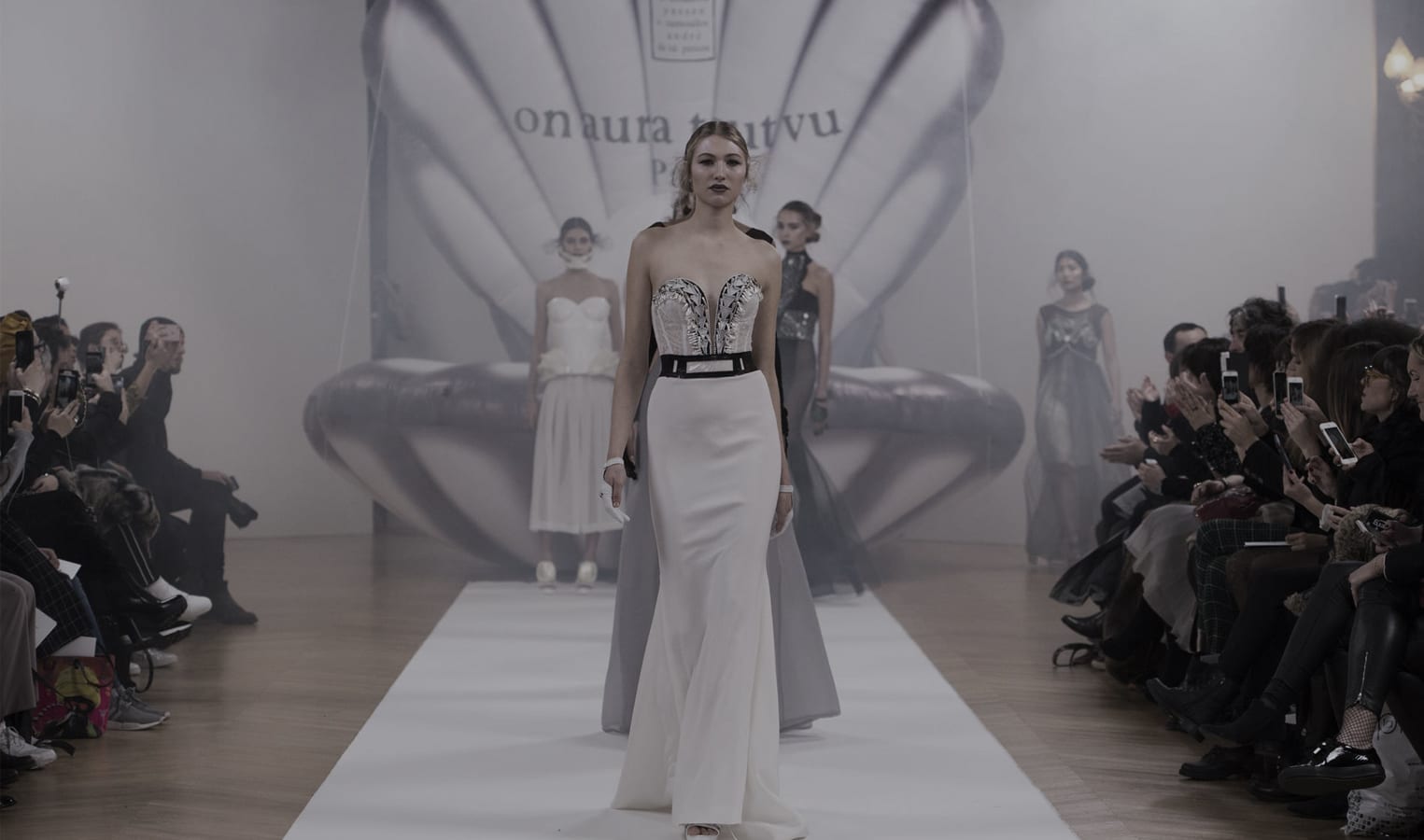 ON AURA TOUT VU et CARON :
Quand Couture et Parfumerie se rencontrent
Comment imaginer une femme portant une robe couture sur-mesure et unique sans un parfum subtil qui l'enveloppant ? Cela est impossible, bien évidement. C'est pourquoi, la maison de mode ON AURA TOUT VU  et le parfumeur Caron ont lié leur destin au travers d'un co-branding afin d'imaginer des pièces d'exception comme des flacons, des miroirs, des poudriers… transformant ainsi des accessoires féminins en oeuvres d'art couture.
Devenues des indissociables du monde de la haute parfumerie, les lignes CARON par ON AURA TOUT VU  sont aujourd'hui de réelles pièces de collection pour de nombreuses clientes des deux maisons. Afin de satisfaire leurs envies toujours plus pressantes de nouveautés, les designers, Livia Stoainova et Yassen Samouilov ont imaginé en collaboration avec Roman Ales, Président de CARON, la ligne Isadora à l'allure Art Déco célébrant ainsi 8 ans d'amitié sans faille.
En clin d'œil au fondateur de CARON, Ernest Daltroff, qui avait imaginé un jus en l'honneur d'Isadora Duncan en 1910, cette nouvelle ligne dont le point central est le Flacon mythique de la maison se pare d'un émail noir brillant, parachevé de métal dans les tons or ou argent. Un miroir de sac assorti permettant les retouches de maquillage en toute élégance vient accompagner ce somptueux flacon.
Comme à son habitude, la maison CARON est venue assister à la présentation « Otohimé » Printemps-été 2017 et s'est amusée avec surprise à découvrir une collection aux sonorités marines dont la nacre présente sous toutes ses coutures lui a rappelé la ligne « Nacre » sortie en 2012 par la Maison de couture ON AURA TOUT VU.
Collector "Isadora" Miroir émaillage noir CARON par ON AURA TOUT VU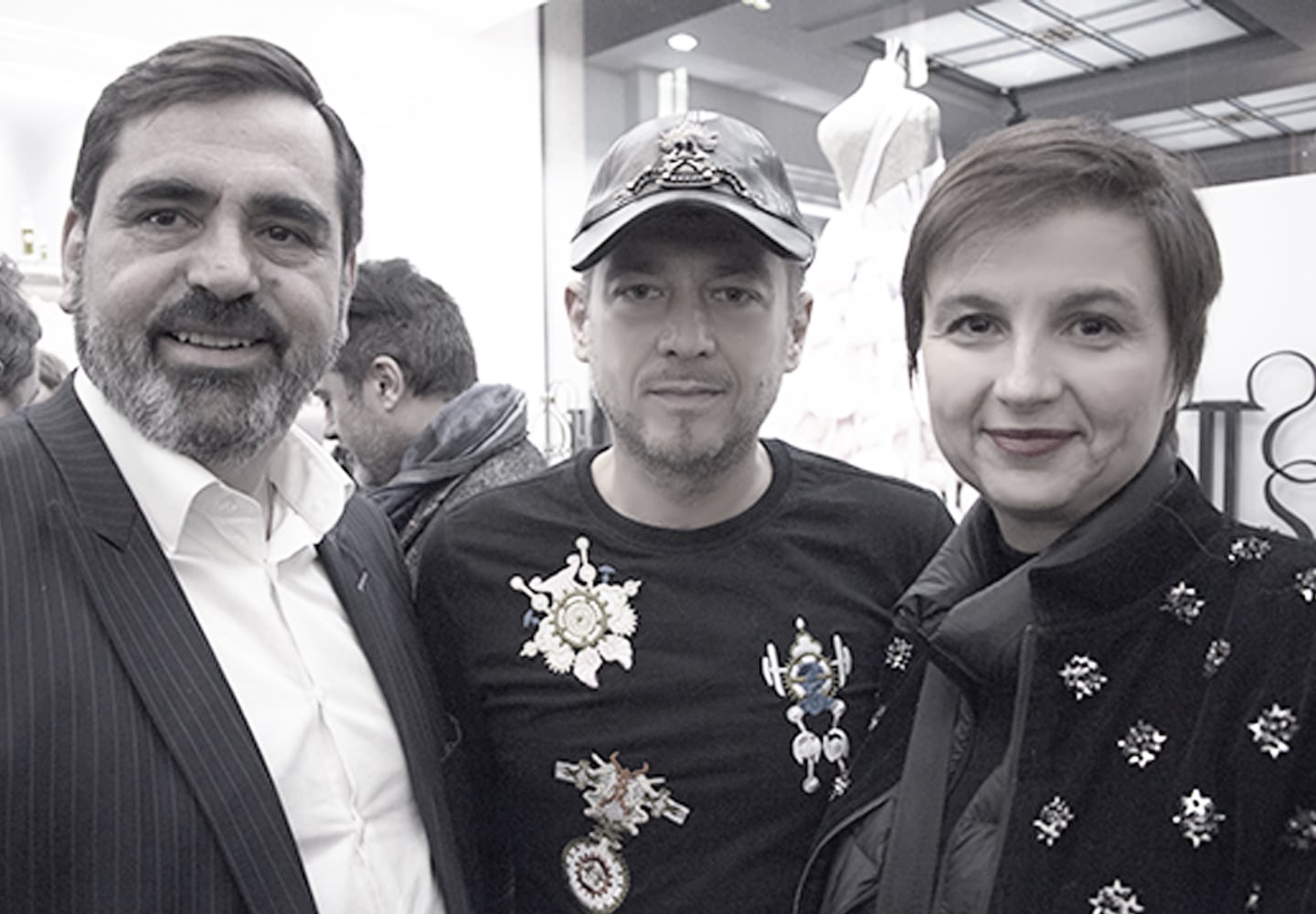 Romain Ales president de Caron et Yassen Samouilov et Livia Stoianova designers de ON AURA TOUT VU
ON AURA TOUT VU AND CARON:
When Couture and Perfumery meet.
How to imagine a woman wearing a custom-tailored and unique couture dress without a subtle perfume that wraps it? This is impossible, of course. For this reason, the couture fashion house ON AURA TOUT VU and the perfumer CARON have linked their destiny through co-branding in order to imagine exceptional pieces such as sent bottles, mirrors, compacts pawder boxes … transforming Women's accessories in works of art in couture spirit.
Become indissociable from the world of high perfumery, the CARON lines by ON AURA TOUT VU are now real collectors' pieces for many customers of both houses. In order to satisfy their ever more pressing desires for new products, the designers Livia Stoainova and Yassen Samouilov, together with Roman Ales, President of CARON, designed the Isadora line with the Art Deco look and celebrating 8 years of unfailing friendship.
In a nod to the founder of CARON, Ernest Daltroff, who had imagined a parfum in honor of Isadora Duncan in 1910, this new line whose central point is the mythical bottle of the house is adorned with a brilliant black enamel, finished with metal in gold or silver tones. A matching bag mirror for elegant make-up touches comes with this sumptuous bottle.
As usual, Maison CARON came to attend the "Otohimé" presentation Spring-Summer 2017 and discover a collection with marine sounds whose mother-of-pearl presents in all its seams reminded her the line "Mother-of-pearl "Released in 2012 by the couture house ON AURA TOUT VU .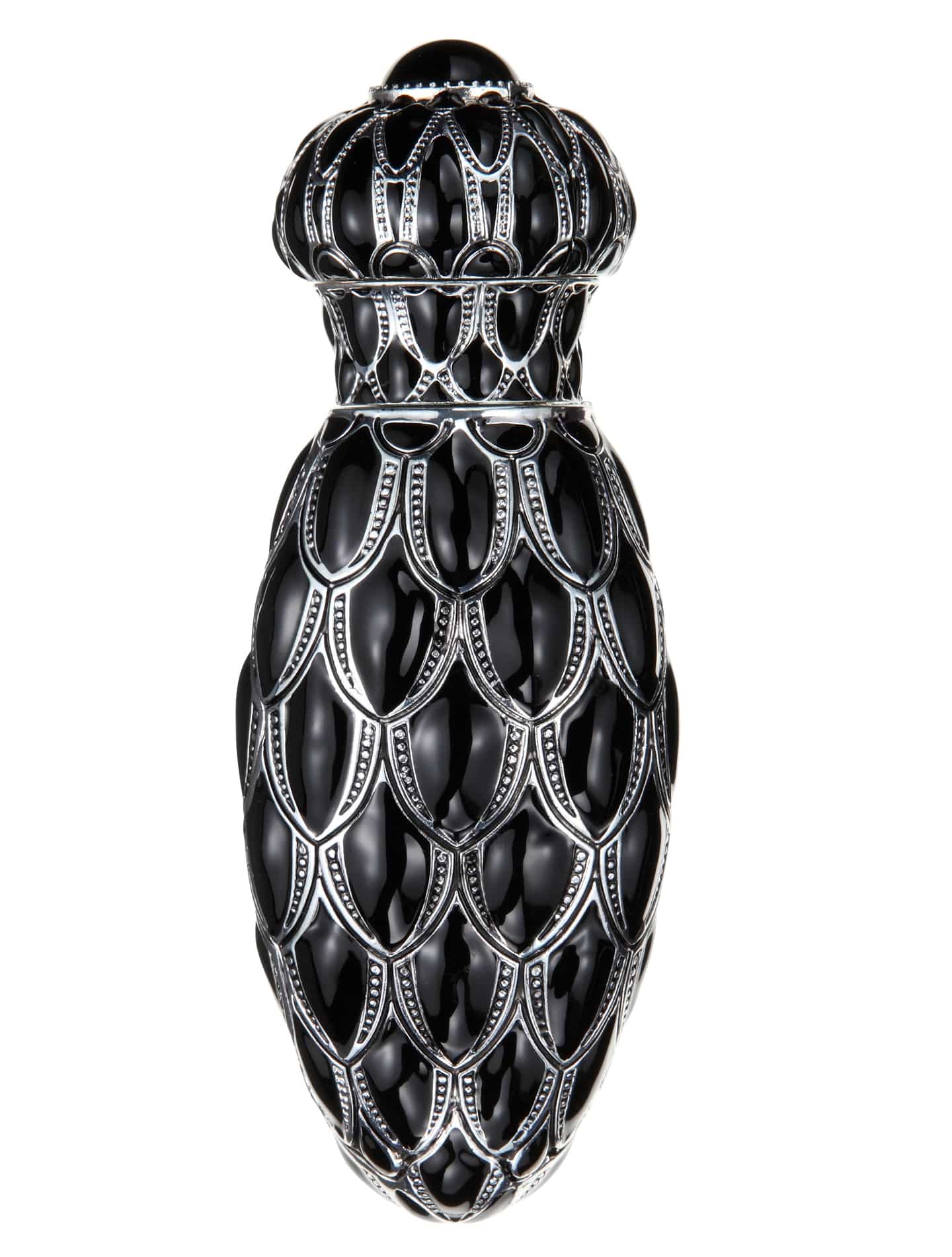 By Accessoires, Beauté, co-branding @en, Collector, fashion, fashion, fashion shows, fashion weeks, fashion weeks, Haute couture, Maquillage, News, News, partners, partners @en, perfumes
in
Tags > ales groupe, Art Déco, caron, Caron by on aura tout vu, caron par on aura tout vu, des miroirs, des poudriers, Ernest DALTROFF, fashion week, Flacons, Haute Couture, haute parfurmerie, ISADORA, Isadora DUNCAN, Livia Stoianova, Mother-of-pearl, mypfw, perfumery, pfwss17, Roman Ales, Yassen Samouilov