19 Mar /

Wolford – ON AURA TOUT VU Couture mood SS17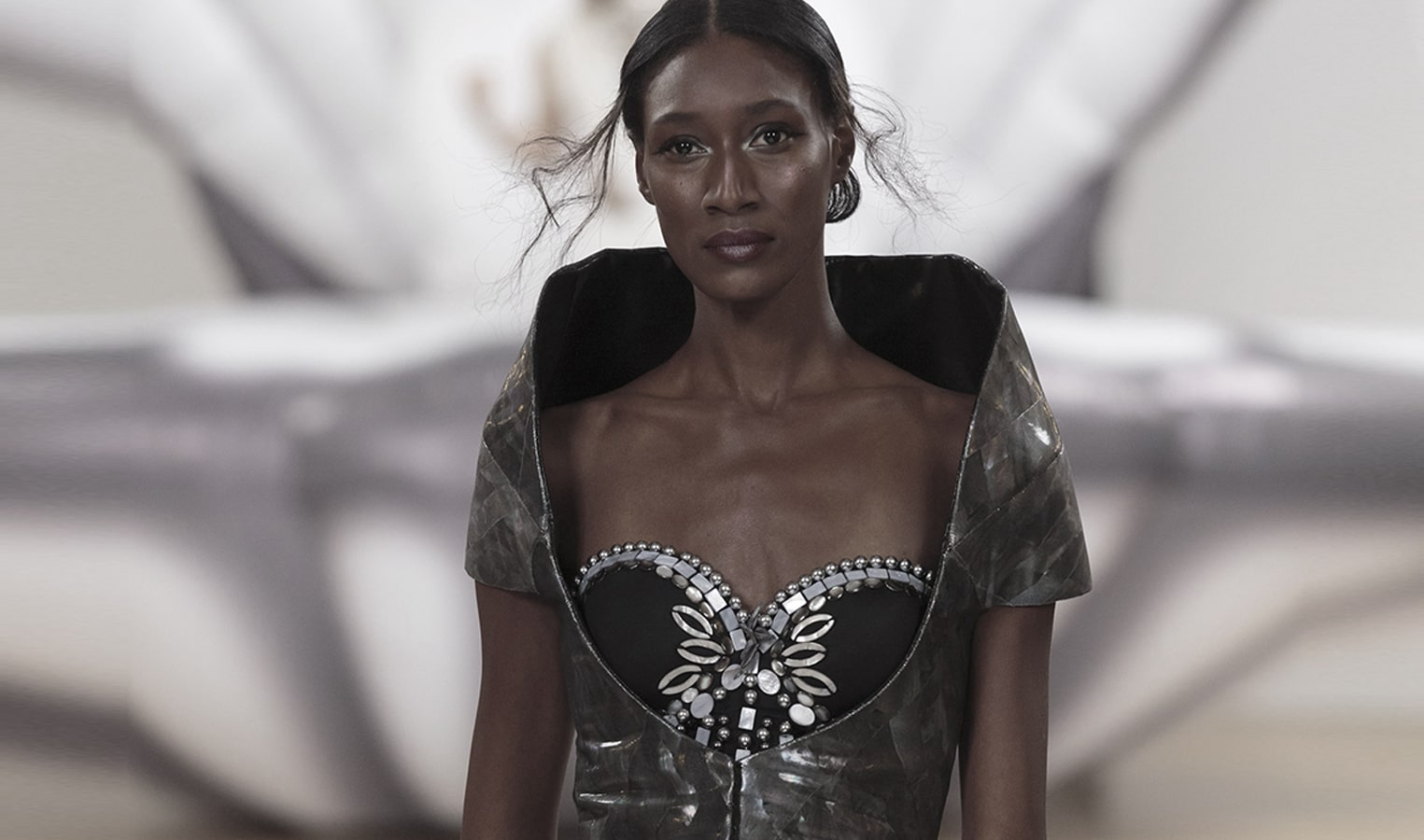 Wolford s'invite au défilé couture ON AURA TOUT VU
Impossible d'imaginer un vestiaire de luxe sans une lingerie de qualité à la renommée internationale. Réservés à l'origine à l'intimité, les dessous s'affichent depuis des saisons au grand jour et se revendiquent même comme des éléments incontournable du prêt-à-porter pour une séduction tout en raffinement.
Parmi les marques les plus prestigieuses, Wolford a su devenir au fil des années une des maisons prépondérantes des fashion weeks aussi bien pour sa lingerie que pour ses collants à la qualité exemplaire.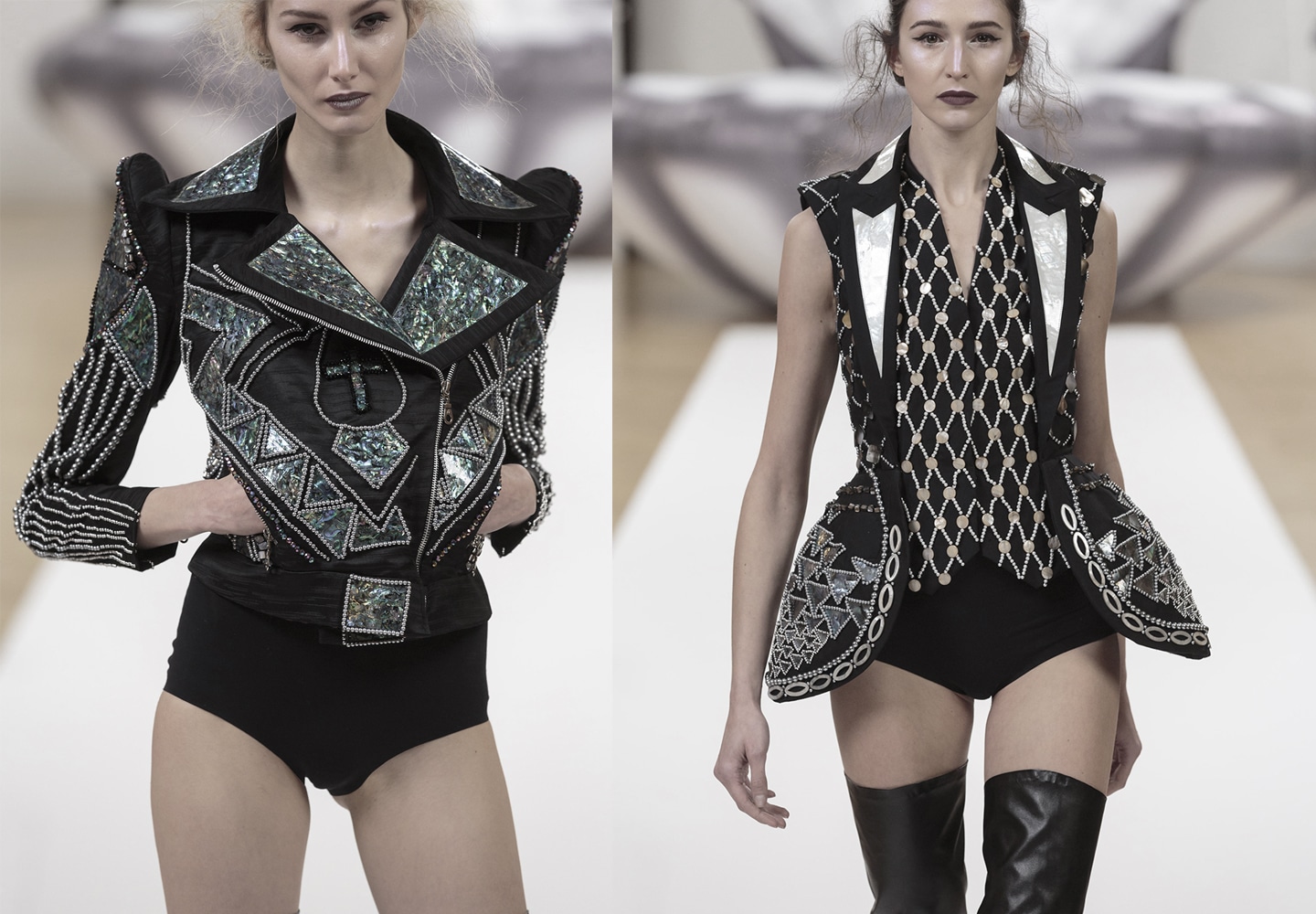 Blouson et Veste gilet en marqueterie nacre et perles-Body noir gainant Wolford
Pour Livia Stoianova et Yassen Samouilov, les deux designers de la maison de couture ON AURA TOUT VU, la lingerie faisant partie intégrante de leurs dernières créations couture printemps-été 2017, dédiées à Otohimé, la fille du Roi des Mers du Japon, s'associer une fois de plus avec Wolford était une évidence pour mettre encore plus en avant le corps sculptural des mannequins rendant ainsi hommage à la féminité.
Toute femme se glissant dans une lingerie de qualité, respectant la morphologie du corps additionnée aux qualités techniques des nouvelles matières utilisées pour des dessous toujours plus gainants et confortables dont les studios Wolford se sont dotés, pour enfin enfiler une des robes du soir ON AURA TOUT VU avec un travail de broderies en nacre rappelant les célèbres Pearly Queens de Londres est assurée d'une allure digne d'une Vénus sortie des profondeurs des Océans.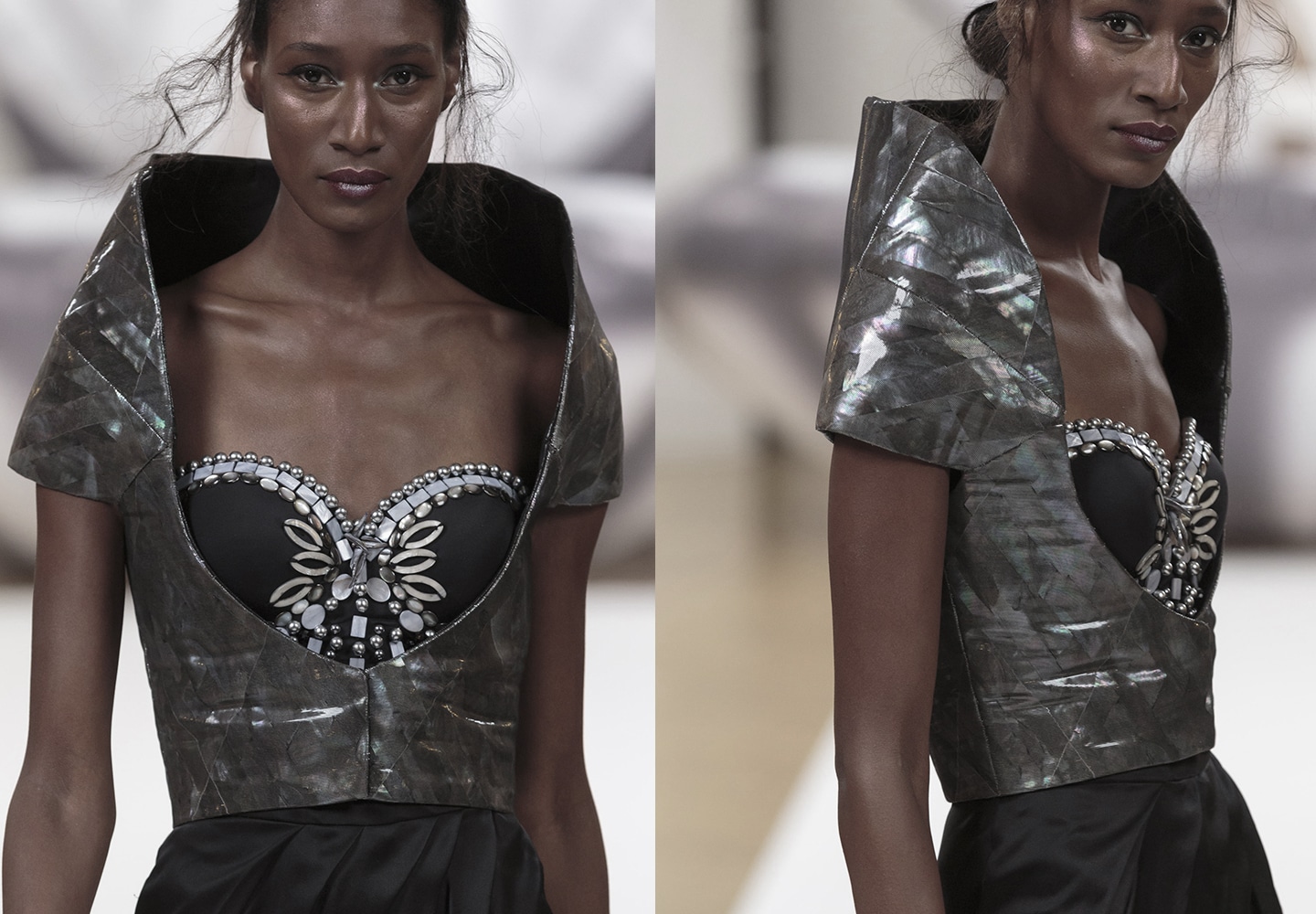 Veste en nacre tissée, body strech Wolford by ON AURA TOUT VU- Broderie nacre et perles Swarovski
Wolford invites to the ON AURA TOUT VU fashion show Impossible to imagine a luxurious wardrobe without a precios lingerie from internationally renowned quality. Originally reserved for intimacy, the underwear are displayed for seasons in the open and even claim to be essential elements of ready-to-wear for a seduction while refinement. Among the most prestigious brands, Wolford has become over the years one of the predominant houses of fashion weeks as well for its lingerie as for its exemplary quality. For Livia Stoianova and Yassen Samouilov, the two designers of the couture house ON AURA TOUT VU , the lingerie being an integral part of their latest creations spring-summer 2017, dedicated to "Otohime", the daughter of the Japan King of the Seas.
Combining once more with Wolford was a no-brainer to put even more emphasis on the sculptural body of models thus paying homage to femininity. Any woman jumping into a lingerie of quality, respecting the morphology of the body added to the technical qualities of the new materials used for the ever more comfortable and cozy underwear that the studios Wolford have endowed to finally put on one of the evening dresses from ON AURA TOUT VU collection.
Wolford and ON AURA TOUT VU present a work made with mother-of-pearl embroidery reminiscent of the famous Pearly Queens of London is assured of a look worthy of a Venus out of the depths of the Oceans.
By fashion, fashion, fashion shows, fashion weeks, fashion weeks, Haute couture, News, News, Tendances & inspirations
in
Tags > body, collaboration, designers, Haute Couture, haute couture fashion week, japon france, lingerie, Livia Stoianova, luxurious wardrobe, mypfw, on aura tout vu, otohime, partenaire, Pearly Queens, pfw, pfwss17, prestigious brands, swarovski, Tango textiles, underwear, Wolford, Yassen Samouilov