19 Mar /

Swisstulle et ON AURA TOUT VU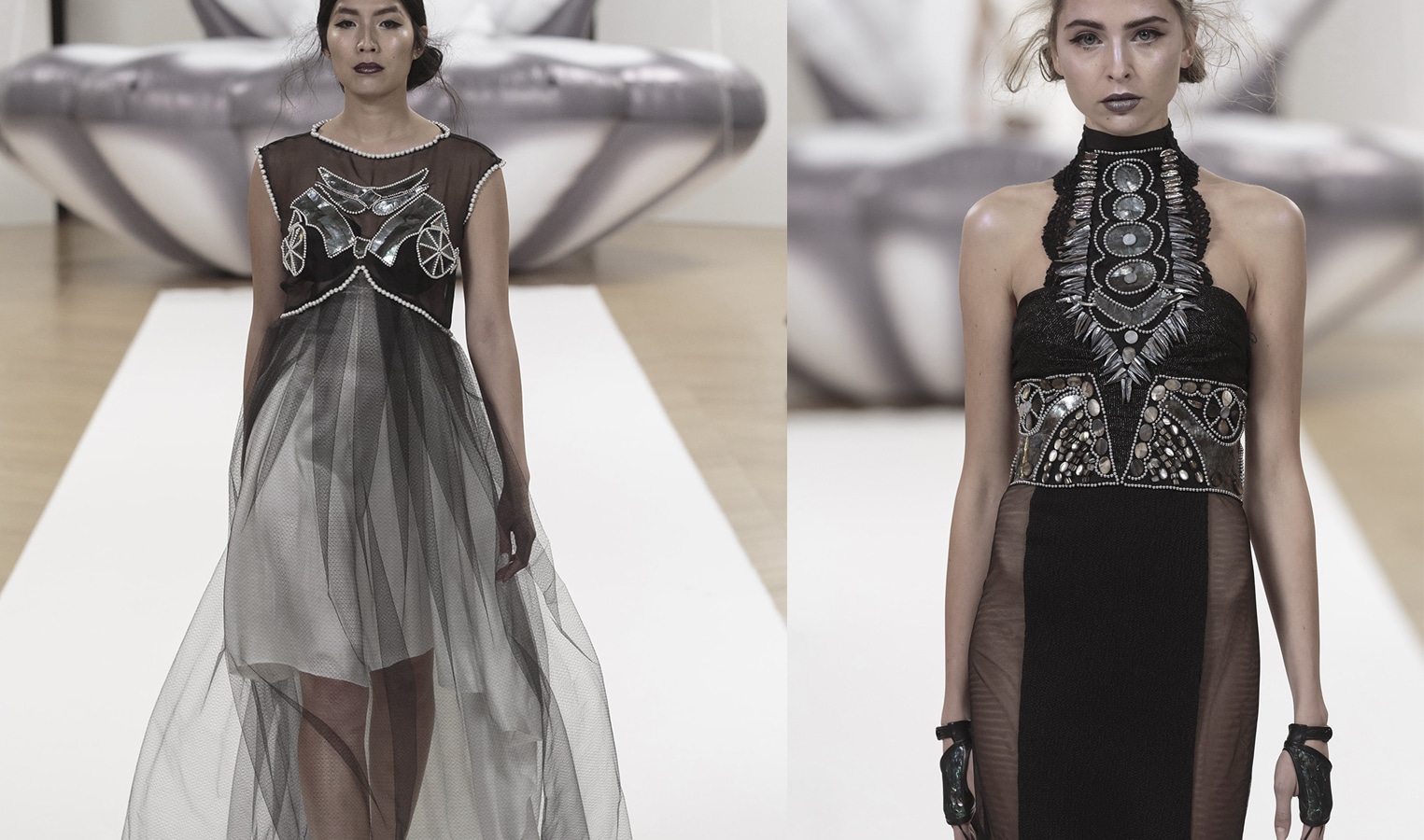 Swisstulle apporte un souffle de légèreté à la collection On Aura Tout Vu
Pas de tenue couture sans matière d'exception. Les tissus font partie intégrante de ces pièces qui font rêver les clientes et pourtant si tout le monde connaît les marques de mode, les fabricants d'étoffes restent plus confidentiels et cependant indispensables à la création.
Pour sa collection printemps été 2017, la maison de couture ON AURA TOUT VU continue son partenariat avec le leader du tulle Européen, la maison Swisstulle. Fournisseur de nombreuses maisons de Couture au savoir-faire unique, il est devenu une référence mondiale.
Pour la collection « OTOHIME" », la maison française a fait appel au talent notoire de cette entreprise. L'utilisation de cette étoffe délicate a permis de créer des silhouettes féminines jouant sur les contrastes entre opacité et transparence, modernité et tradition pour des looks où le corps joue à un « cache- cache » tout en séduction.
Telle une écume de mer, en parfaite adéquation avec l'esprit du thème rendant hommage aux déesses des profondeurs marines, le tulle recouvre avec délicatesse les jambes des mannequins dont celles de Miss Japon, venue tout spécialement à Paris pour défiler en exclusivité pour la Maison de couture.
Des jeux de transparences sont également mis en lumière grâce à cette étoffe mutine pour des jeux de décolletés d'un raffinement extrême.
Ultra souples ou semi-rigides, les étoffes de Swisstulle permettent des effets complexes de couture aidant aussi bien à la réalisation des pièces où le tulle est mis en avant, ou bien d'autres, dans lesquelles il se fait plus discret, mais est indispensable à la réalisation d'un tombé plus volumineux d'une jupe évasée.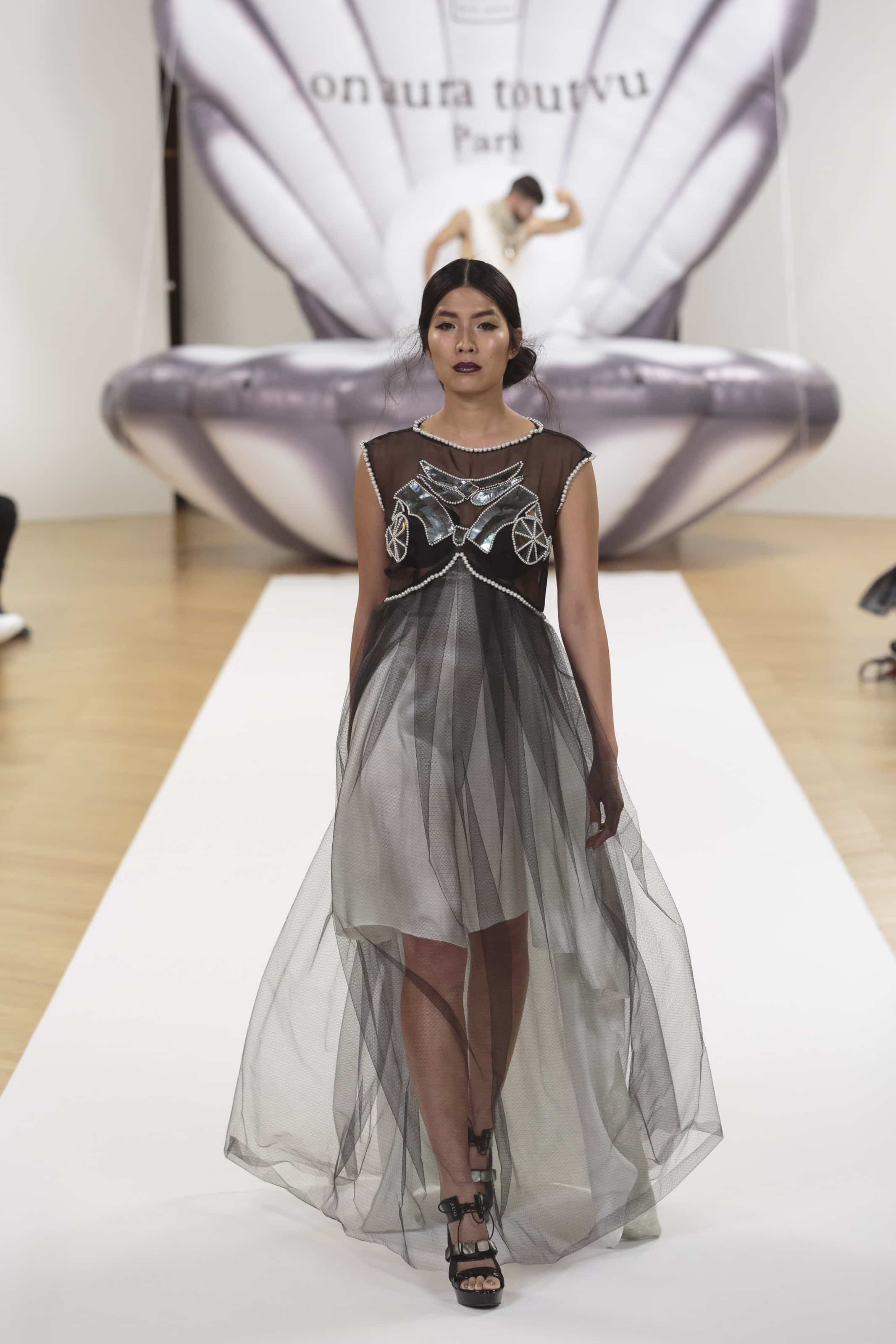 Swisstulle -Robe en Tulle et satin de soie défilé "OTOHIME"couture SS17 par ON AURA TOUT VU 
Swisstulle brings a touch of lightness to the On Aura Tout Vu collection
No couture clothes without exceptional textiles. Fabrics are an integral part of these pieces that make people dream and yet if everyone knows the fashion brands, fabric manufacturers remain more confidential and yet indispensable to the creation.
For his collection spring summer 2017, the couture house ON AURA TOUT VU continues the partnership with the leader of the European tulle, the house Swisstulle AG. Supplier of many Couture houses with unique know-how, Swisstulle become a world reference. For the collection "OOHIME", the French house ON AURA TOUT VU has appealed to the notorious talent of this company. The use of this delicate fabric allowed to create feminine silhouettes playing on the contrasts between opacity and transparency, modernity and tradition for looks where the body plays a hide-and-seek while seduction. Like a sea foam, perfectly suited to the spirit of the theme paying tribute to the goddesses of the deep sea, the tulle delicately covers the legs of the models.
Miss Japan, especially come in Paris exclusively for the show of the ON AURA TOUT VU couture house. Transparency sets are also highlighted thanks to this delicate fabric. Ultra flexible or semi-rigid, Swisstulle's fabrics allow complex sewing effects to assist in the creation of the pieces where the tulle is put forward, or others in which it is more discreet but is essential to the realization of a more voluminous fall of a flared skirt.