23 Nov /

Alicia Aylies dressed by On Aura Tout Vu for Miss Universe election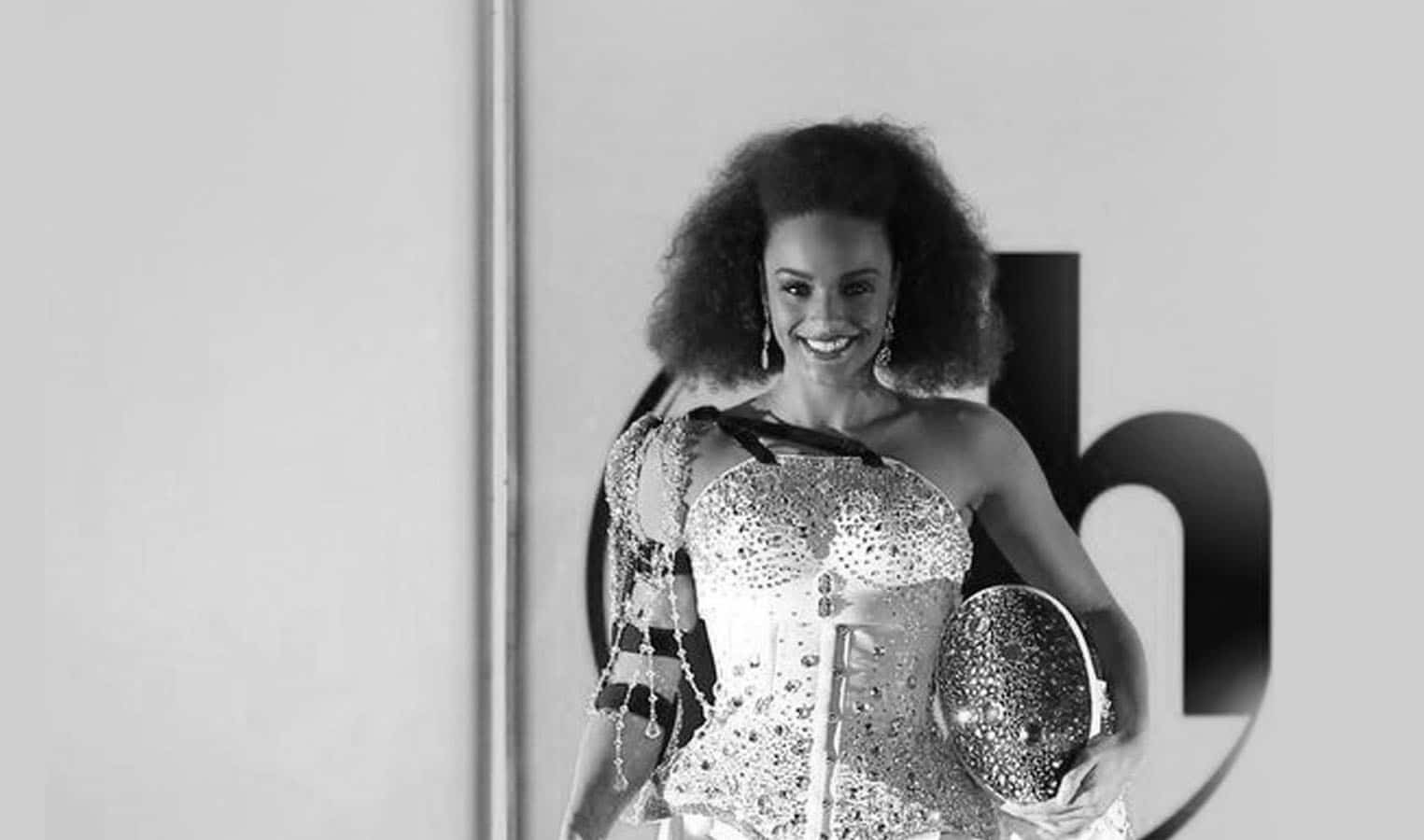 Alicia Aylies habillée par On Aura Tout Vu à l'élection de Miss Univers
Miss France 2017, Alicia Aylies, va représenter la France à l'élection Miss Univers, le 26 novembre 2017 à Las Vegas.
Parmi les passages incontournables des 93 candidats, celui mettant en avant les costumes chargés de la rédaction de leur mémoire, leur passion fait partie des moments forts de la cérémonie.
Alicia Aylies, en accord avec le comité Miss France, a choisi le sur mesure en faisant appel à la maison de couture On Aura Tout Vu, réputé pour habiller les étoiles du show-business international, une tenue reflétant sa vraie personnalité.
Sportive la championne d'escrime guyanaise a souhaité mettre en avant sa passion pour ce sport et y apportant une touche de glamour et de féminité.
Yassen Samouilov et Livia Stoianova, de la Maison On Aura Tout Vu, des personnages célèbres dans le détournement d'objets et de créations atypiques, réalisés dans le respect du savoir-faire couture.
Revue et corrigée, par les deux créateurs et leur équipe, la tenue d'escrimeuse prend des allures d'armure conquérante pour une ambassadrice de la mode française.
Elle se compose d'une cuirasse et d'un bras d'armure entièrement rehaussés de pierres facettées, d'un corps corset blanc rebrodé de cristaux Swarovski et d'une jupe à traîne en chiffon blanc . Elle est complétée par un casque et une épée de la maison Prieur-sports, entièrement retravaillés par les ateliers On Aura Tout Vu.
Le casque fait référence au drapeau tricolore français avec l'incrustation de cristaux Swarovski bleu, blanc et rouge.
L'épée est entièrement ouvragée avec des cristaux Swarovski aussi bien sur le manche que sur la lame. Autre clin d'œil à l'allure sportive, de grandes chaussettes blanches, retravaillées avec des éléments du drapeau national.
La réalisation de cet ensemble nécessite un mois de travail et plus de 2000 cristaux ont été utilisés en partenariat avec la maison Swarovski.
En pleine adéquation avec la tendance sportswear du moment, les créateurs de On Aura Tout Vu on voulut imaginer une tenue d'escrime Couture.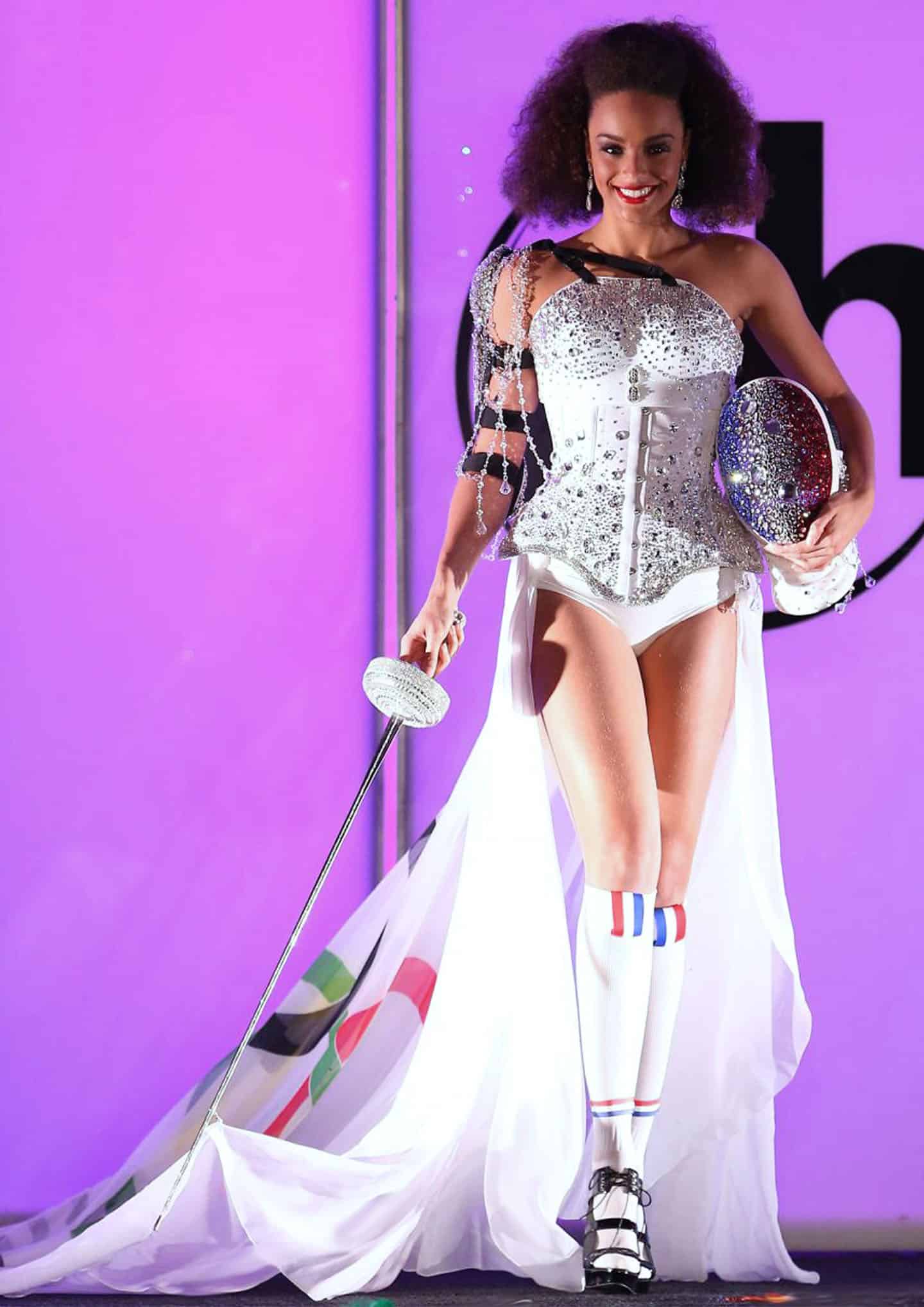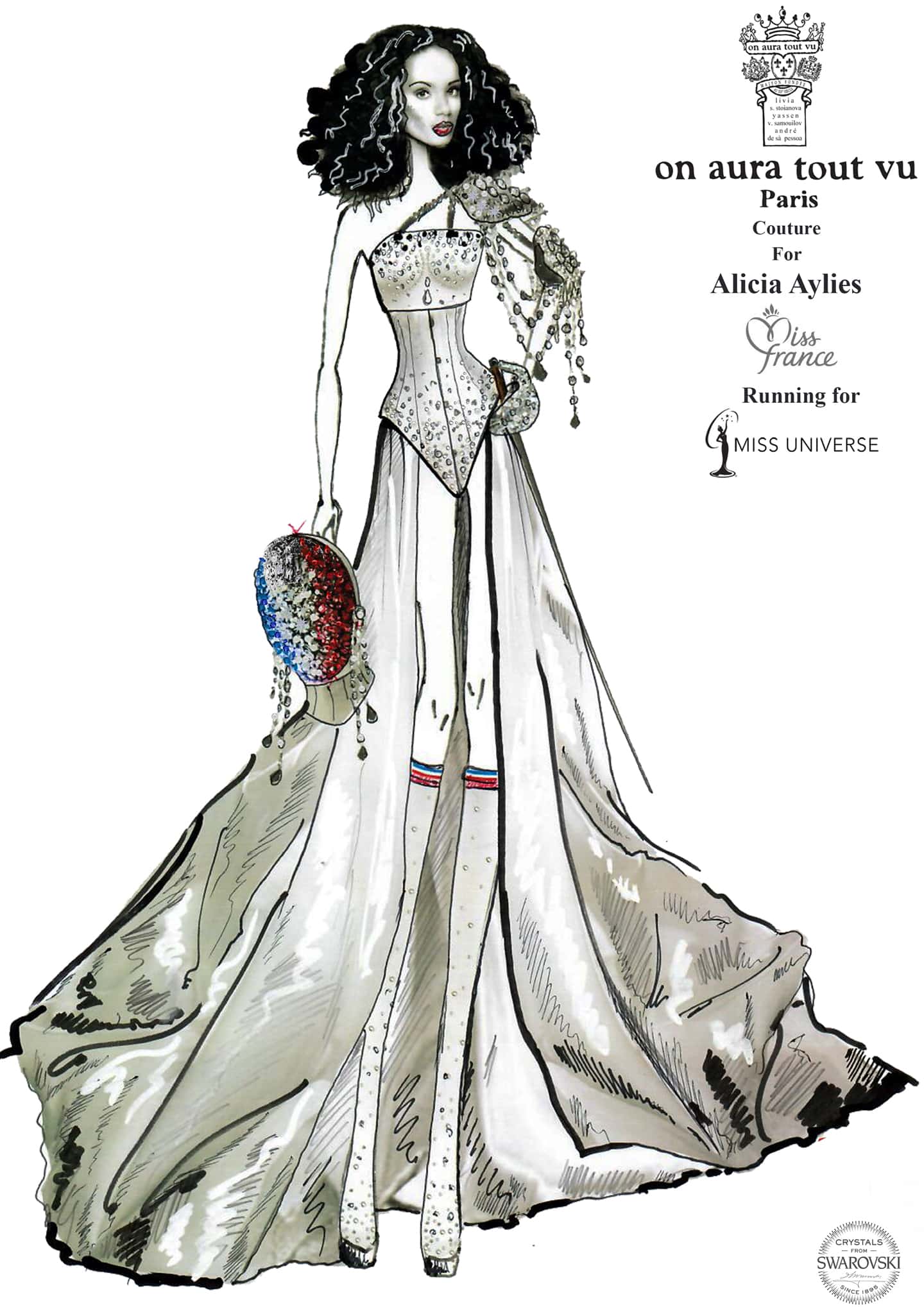 Alicia Aylies dressed by On Aura Tout Vu for Miss Universe election.
This year, France will be represented by Alicia Aylies, Miss France 2017, for Miss Universe 2018. The election will take place in Las Vegas on November 26th. Among the essential passages of the 93 candidates, the outfit inspired by their country and personal passion is part of the highlights of the ceremony.
Alicia Aylies, in agreement with the Miss France committee, chose the french couture house On Aura Tout Vu, to custom made this special outfit reflecting her true personality. On Aura Tout Vu is famous for dressing international celebrities.
The Guyanese fencing champion wanted to highlight her passion for sports and bring a touch of glamor and femininity by introducing fencing symbols. Yassen Samouilov and Livia Stoianova, designers of the couture house On Aura Tout Vu, famous characters in the diversion of objects and atypical creations, deigned her outfit in respect of the French couture "savoir-faire".
Reviewed by the two designers and their team, the fencer's outfit takes on the appearance of a conquering armor for a French fashion ambassador. It's composed by an authentic fencing breastplate and armor arm entirely embellished with faceted stones. A white body corset embroidered with Swarovski crystals and a white chiffon trailing skirt. It is completed by a helmet and a sword from the house Prieur-Sports, entirely reworked by On Aura Tout Vu atelier.
The helmet refers to the French tricolor flag with the encrustation of blue, white and red Swarovski crystals.
The sword is fully crafted with Swarovski crystals on both neck and blade.
An other twist to the sporty look, a pair of long white socks are embellished with the french national flag elements. The realization of this set requires a month of work and more than 2000 crystals, in partnership with Swarovski.
In full adequation with the sportswear trend, On Aura Tout Vu designers wanted to create a very Couture Fencing outfit.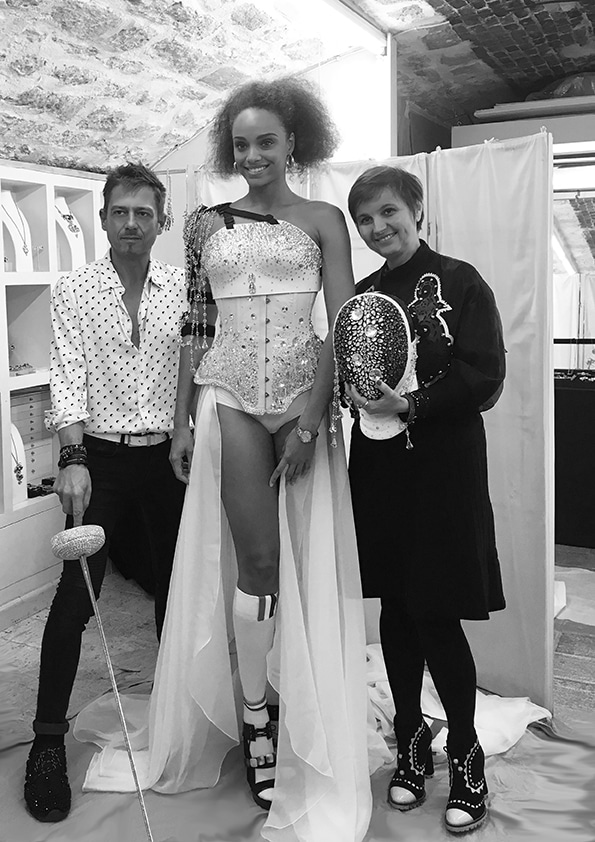 Livia Stoianova ,Yassen Samouilov and Alicia Aylies, Miss France 2017
Making off couture house ON AURA TOUT VU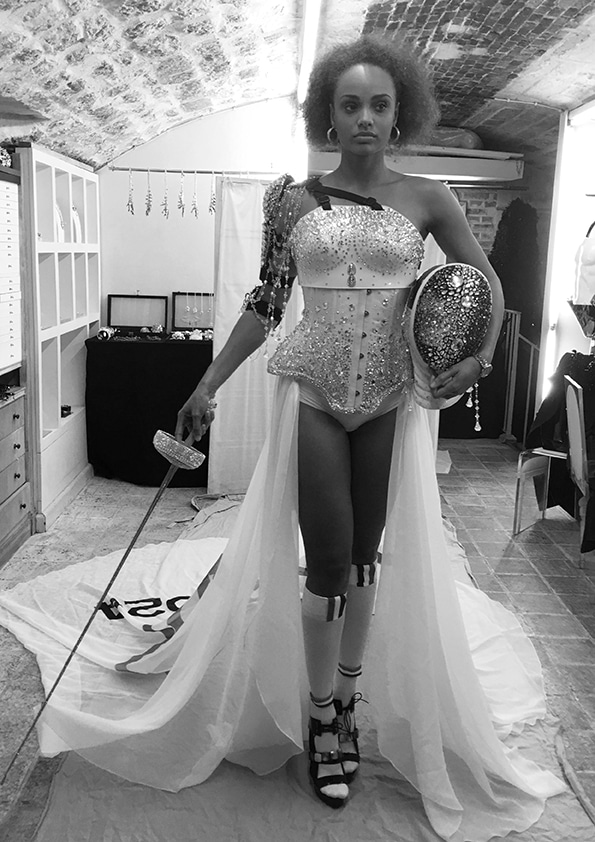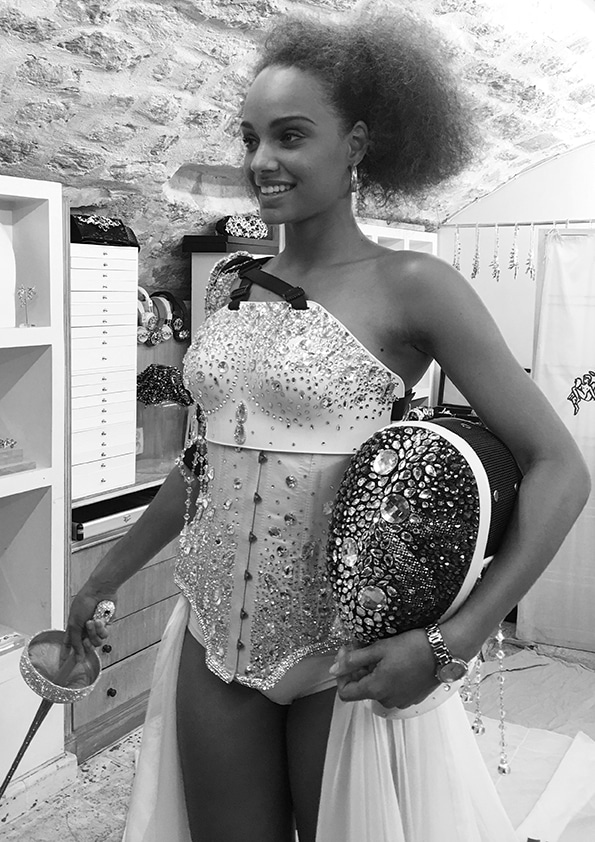 Fittings at ON AURA TOUT VU
We thanks to Alicia and all partners and on aura tout vu staff….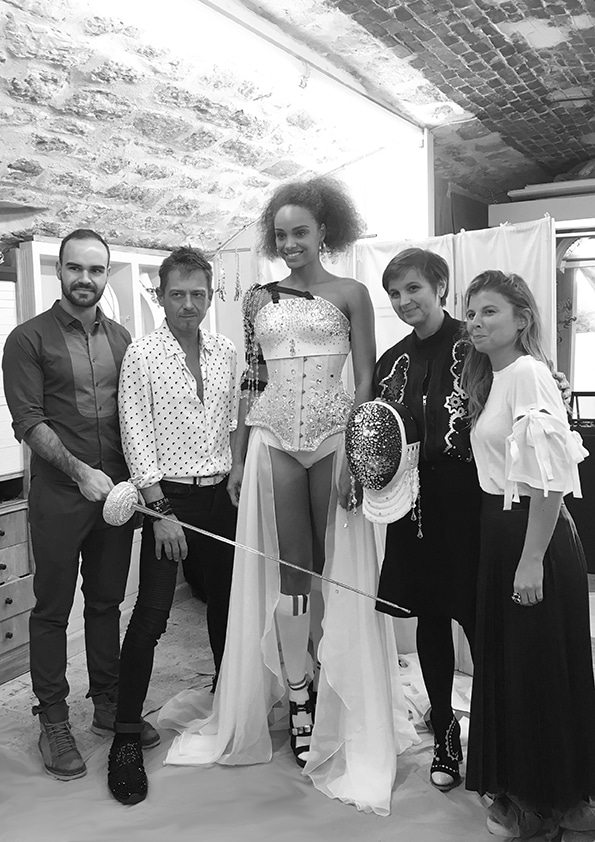 By events, events @en, fashion, fashion, fashion weeks, News, News, partners, people & night life @en, Seleb's, Seleb's, Seleb's & OATV, Soirées & VIP
in
Tags > 2000 crystals, Alicia Aylies, armure conquérante, blanc, bleu, corset embroidered, custom made, drapeau national, fencer, france, French tricolor flag, helmet, international celebrities, Las Vegas, Miss France, Miss Univers, on aura tout vu, Prieur-Sports, rouge, savoir-faire, sportswear, sporty look, swarovski, Yassen Samouilov et Livia Stoianova