14 Nov /

DELICATE MOUVEMENT Collection ON AURA TOUT VU Accessories SS18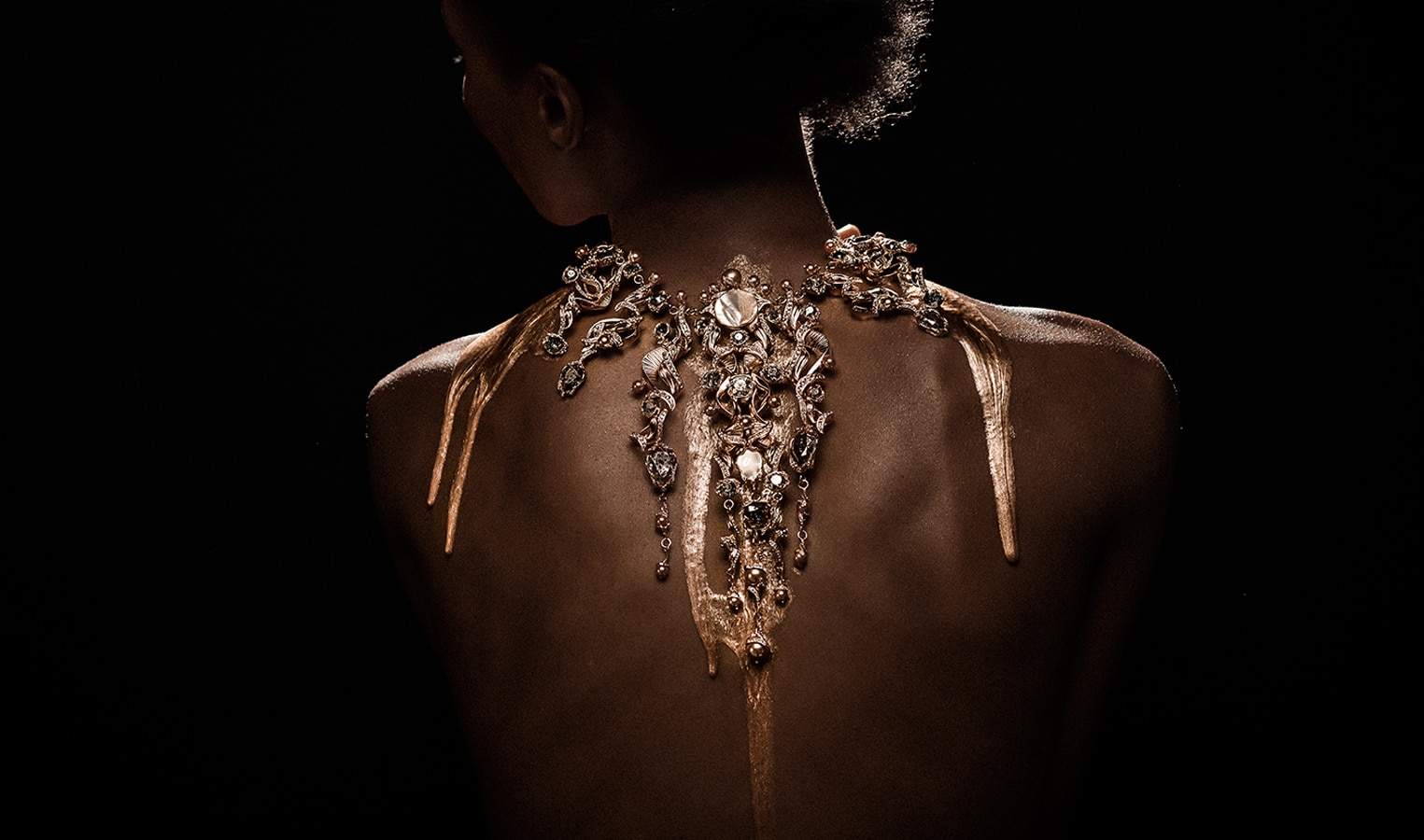 DELICATE MOUVEMENT
Formes fluides
 SS18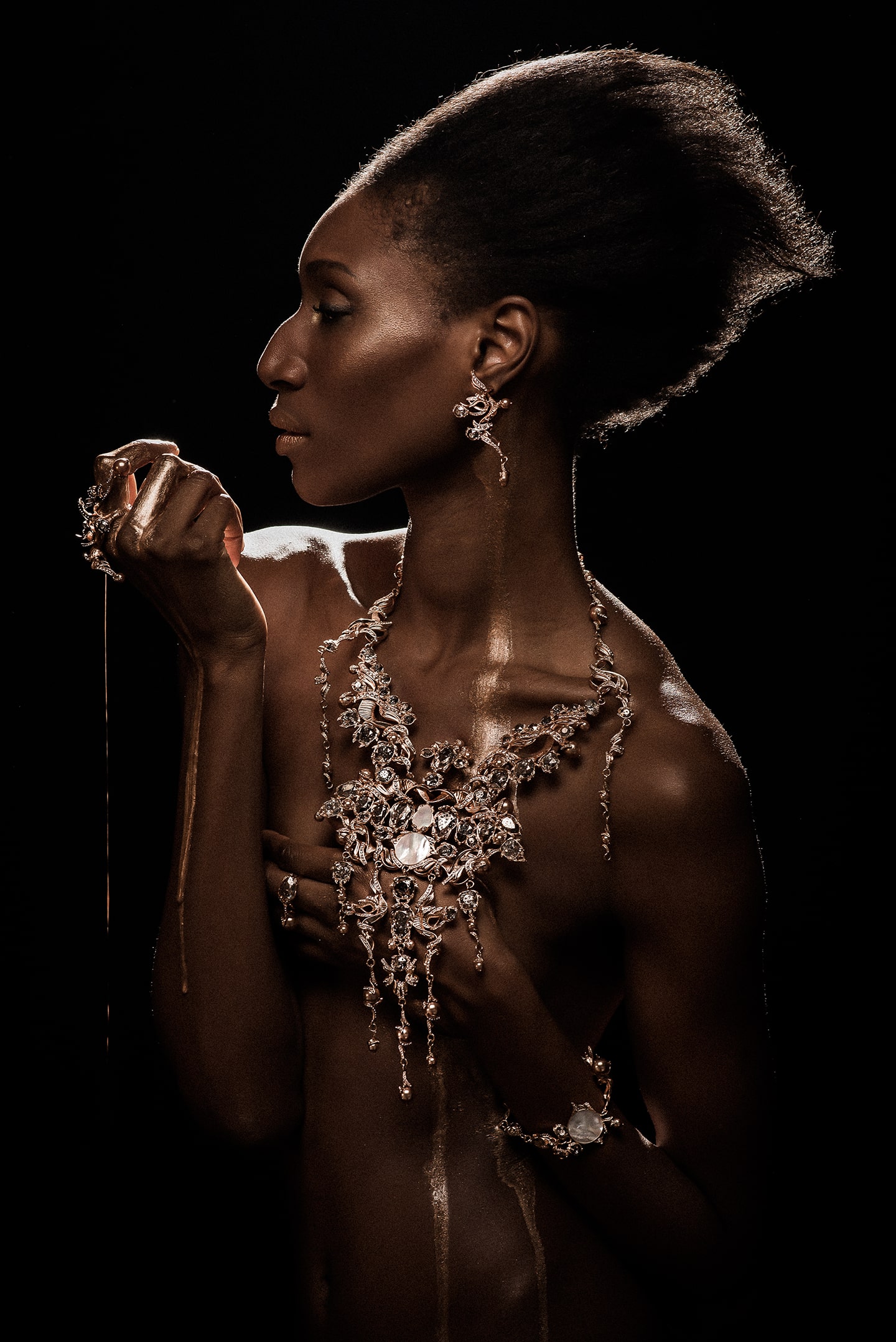 Les anciennes règles sont rejetées, les stéréotypes sont morts, le genre et les rôles ne sont plus définis, et les dessins ne parlent que de beauté. Transformations…….
ON AURA TOUT VU explore une nouvelle approche des accessoires et des bijoux pour des bagues, des manchettes, des pendentifs, des boucles d'oreilles et des sacs du soir avec des lignes fluides, irrégulières avec des métaux précieux inspirés des tissus couture et des éléments graphiques.
Style : La direction émergente de la collection ON AURA TOUT VU se caractérise par des styles linéaires, ainsi que par des modèles en rose gold ressemblant à la nacre …
Matériaux : En utilisant des effets de rose gold hautement polis, les formes ondulées et courbées de ces pièces offrent une alternative aux constructions traditionnelles. Les pierres rondes, carrées et poires sont de couleur silk, champagne mélangées aux teintes cristallines.
Les perles sont utilisées avec un nouvel effet, . Les couleurs ne présentent plus une seule teinte, mais fusionnent intelligemment plusieurs tons reflétant la redécouverte de l'excentricité et l'individualité.
Éléments clés : Ces formes fluides sont particulièrement présentes dans les manchettes, les bagues, les boucles d'oreilles et les colliers xxl – les bijoux les plus importants du moment.
Les fondations en métal fluide sont soulignées de nacres, de pierres rondes et de couleurs rose gold mais aussi avec des cadres pavés plus délicats.
Cette collection présente des structures métalliques fines avec des silhouettes ondulées offrant une alternative aux profils linéaires plus traditionnels.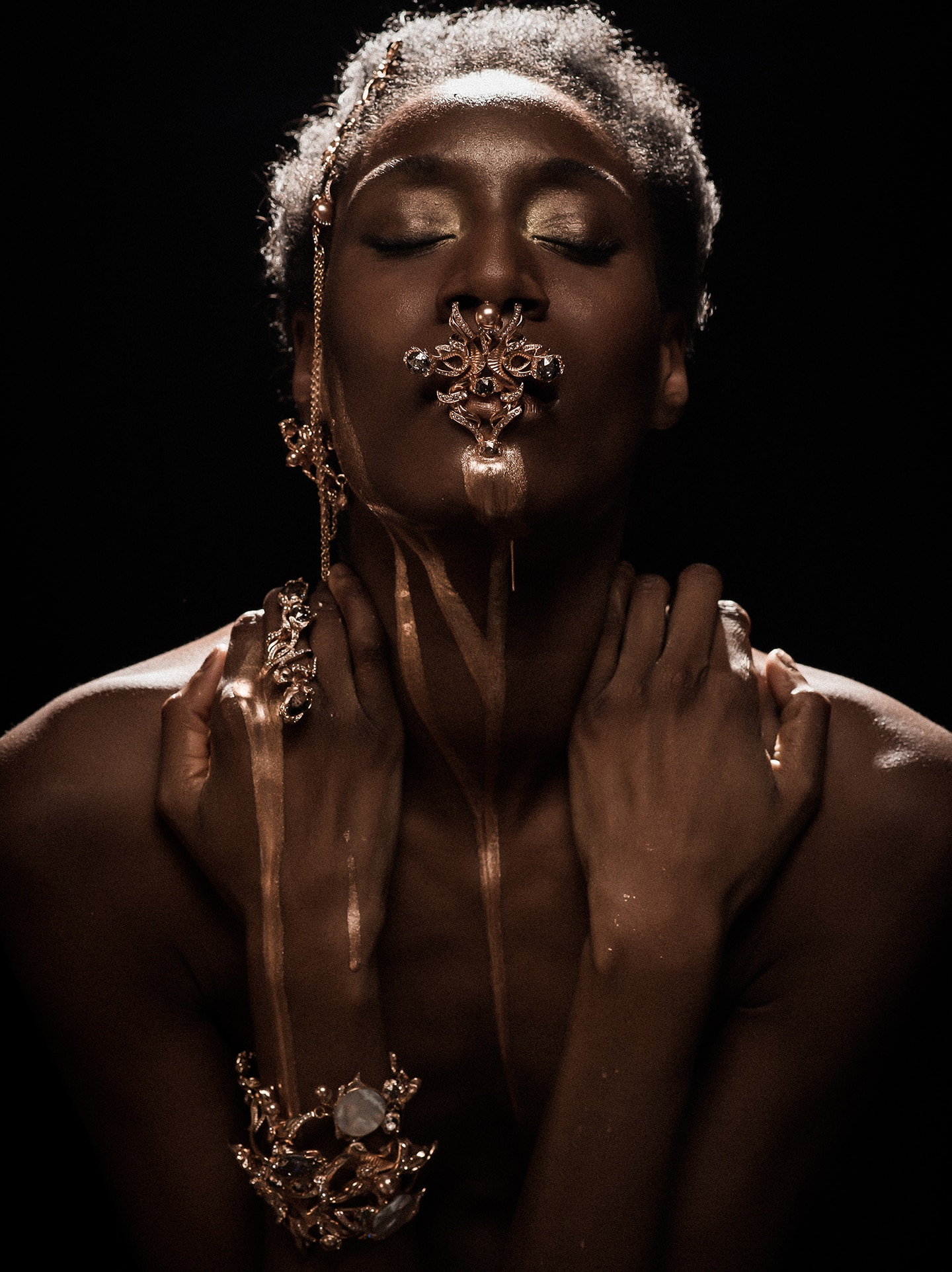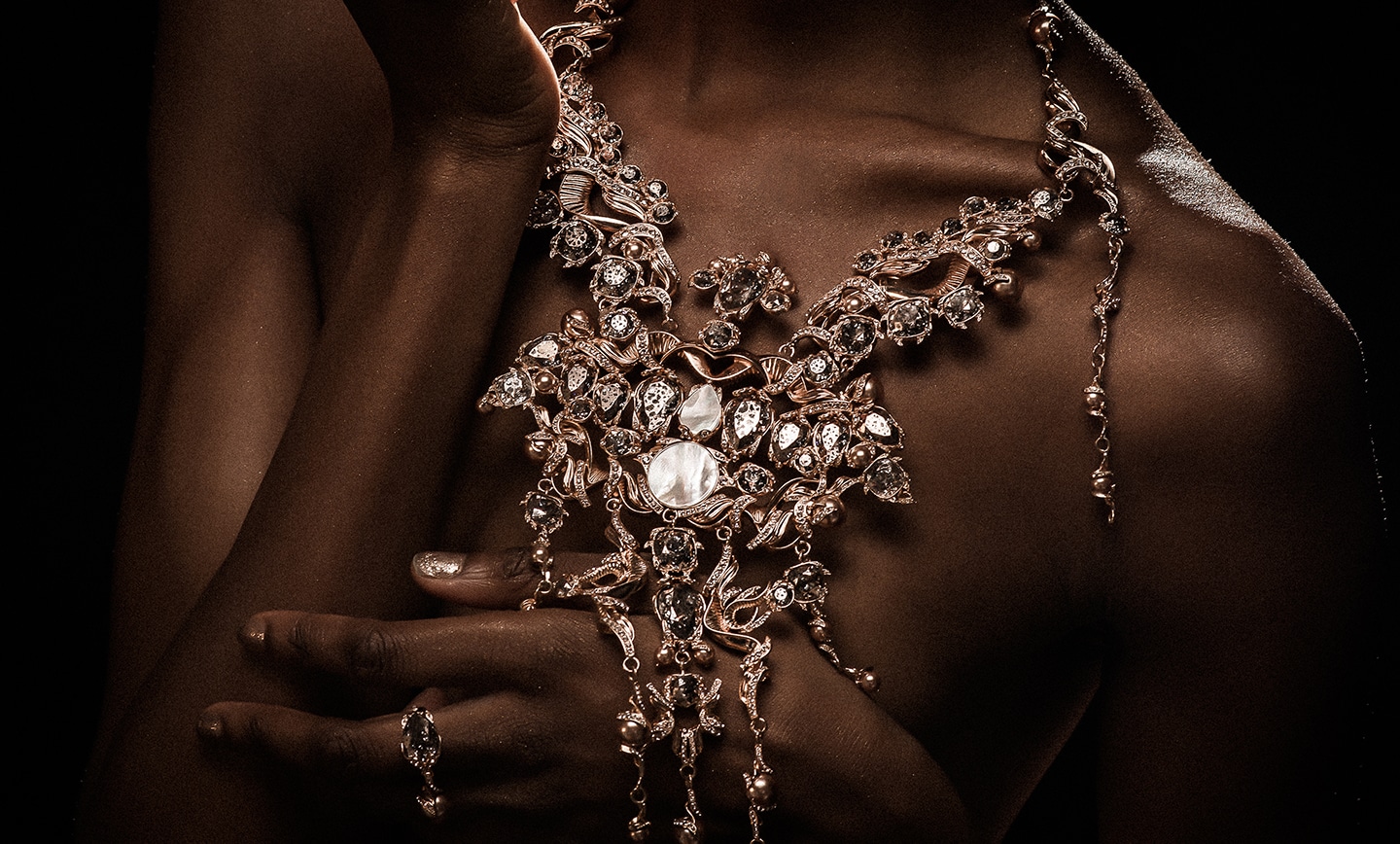 DELICATE MOVEMENT
Fluid Forms
SS2018
Old rules are being thrown out, stereotypes are dead, genders and roles are no longer defined. Designs speak only about beauty and changeability…
ON AURA TOUT VU is exploring a new approach to accessories and jewelries. Rings, cuffs, pendant earrings and clutches are made in fluid, irregular, and precious metals finishes inspired by couture fabrics and linear graphic patterns.
Styling: The emerging direction in the ON AURA TOUT VU collection is characterized by minimal and maximal linear styles as well as rose gold looks like mother of pearl…
Materials: Using highly polished rose gold effects, the squiggled, undulating shapes of these pieces offers an alternative direction to traditional constructions. The xirius chaton round stones, pear fancy stones, square cushion cut fancy stone are in Silk Champagne color mixed to clear color crystals.
Beads are used in Crystal Cream and Crystal Rose Gold pearl which is a new trend. Colors are no longer just featured in a single hue but cleverly merged together in multiple tones. Reflecting a rediscovered love for eccentricity and individuality.
Key Items: These fluid forms are best showcased in cuffs, statement rings and hoop earrings – the most important fine jewelry items of the moment: big statement necklaces.
Fluid metal foundations are emphasized with mother of pearls and round-cut stones and sublime rose gold colors, or with more delicate pave stone settings.
A more subtile take on this collection features fine metal structures with waves and squiggles silhouettes offering an alternative to more traditional linear profiles.
Style: ON AURA TOUT VU, Model: Irya Cissé, Photographe : Samir Bahrir, Hair & Make Up: Kim Chincholle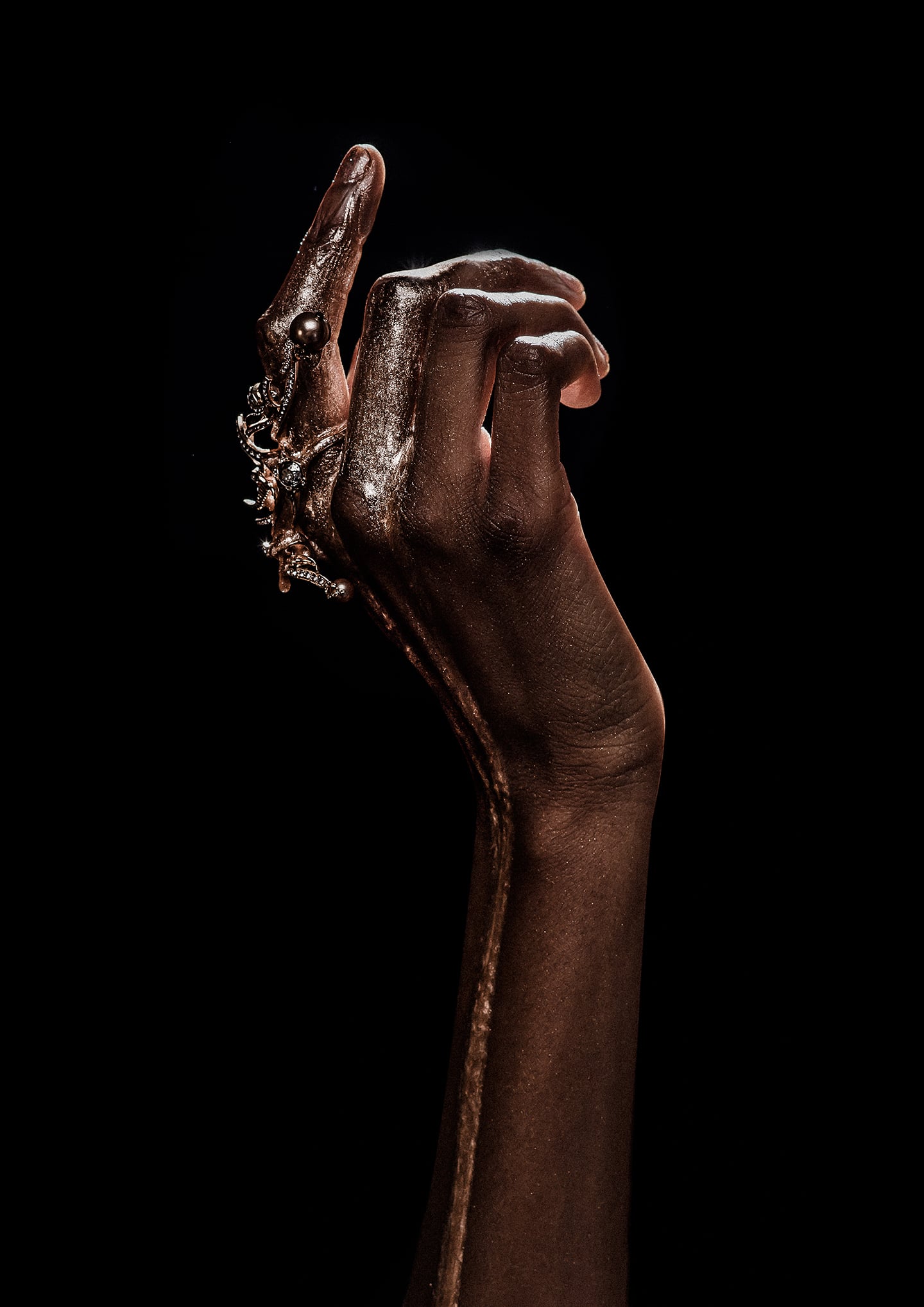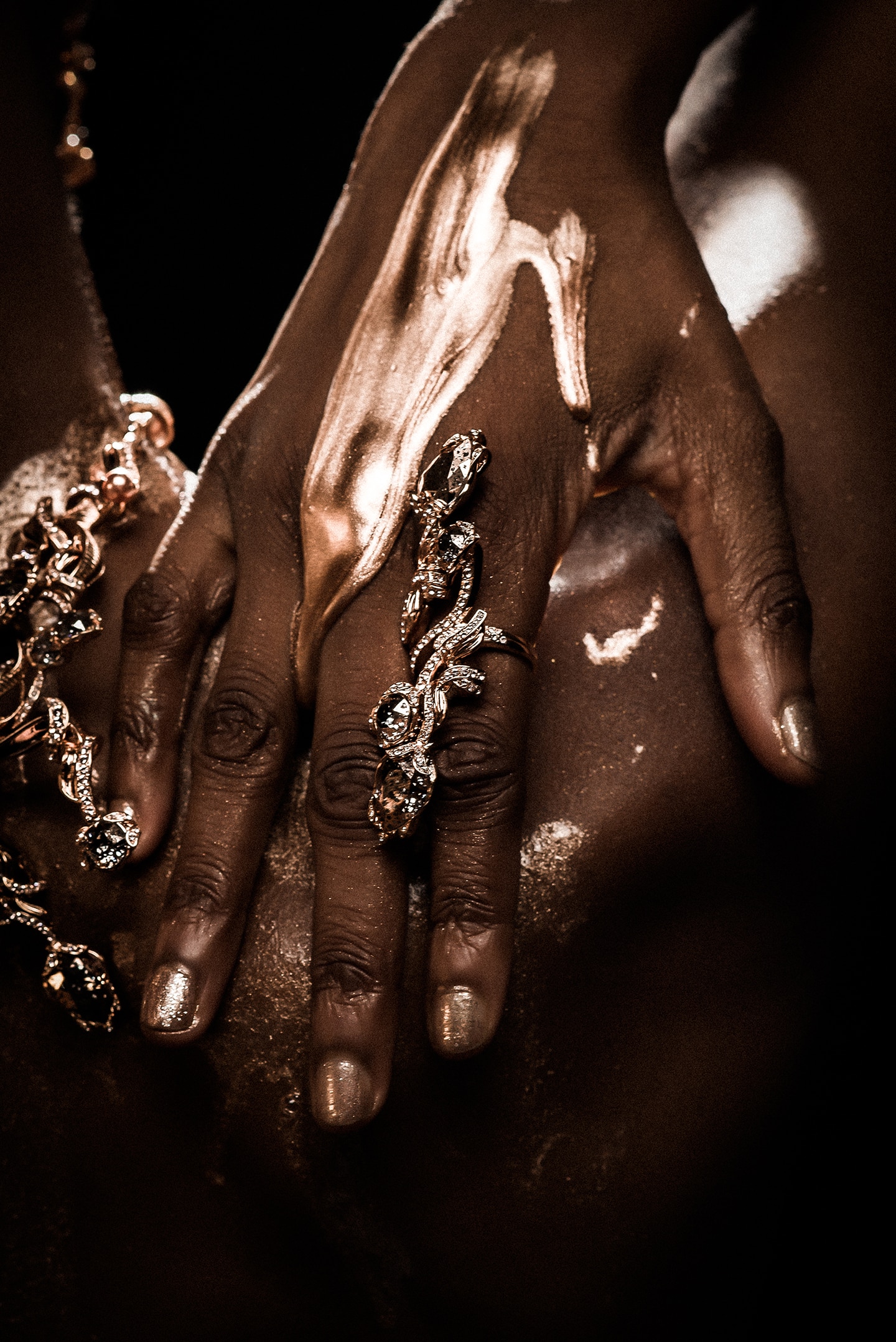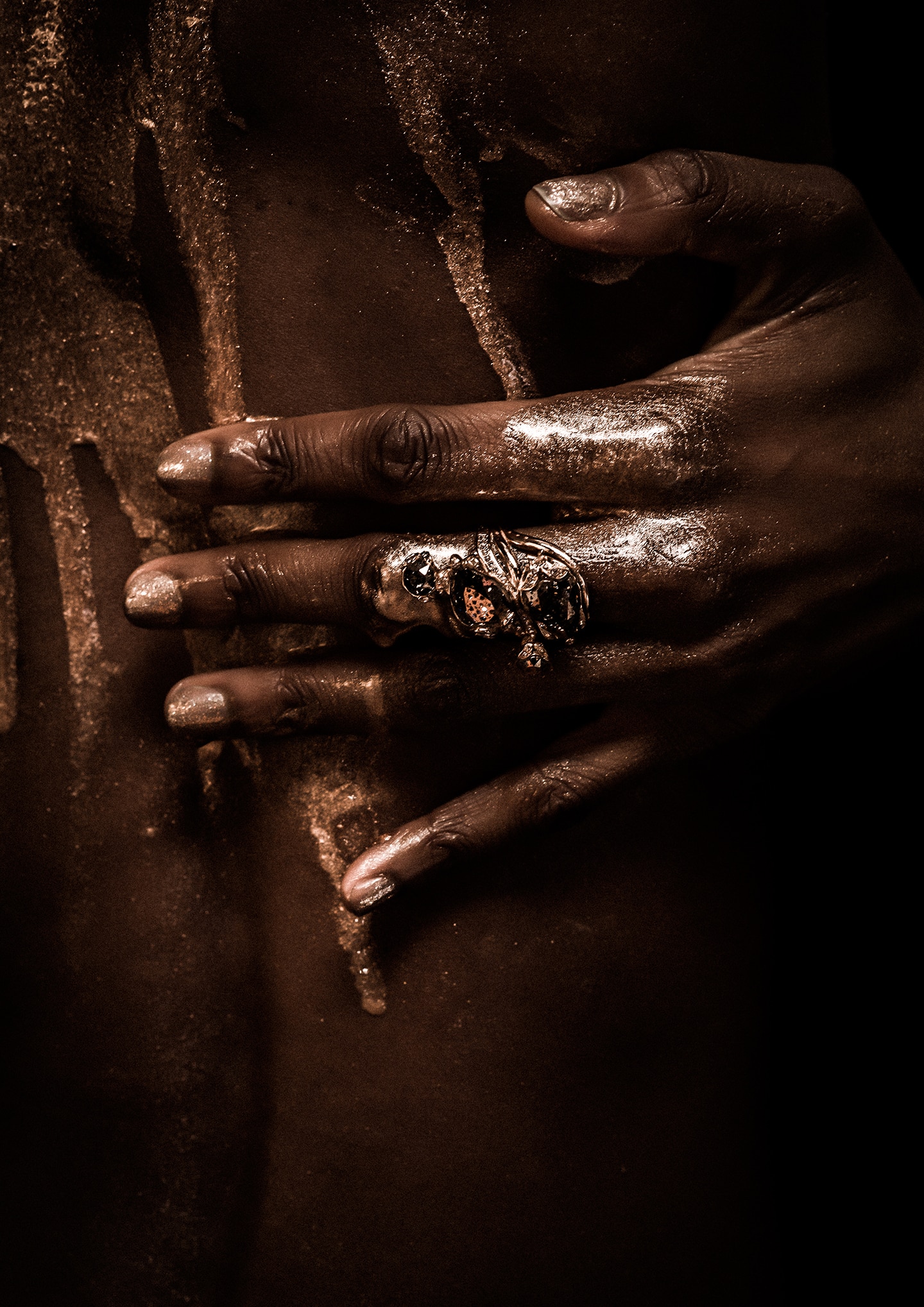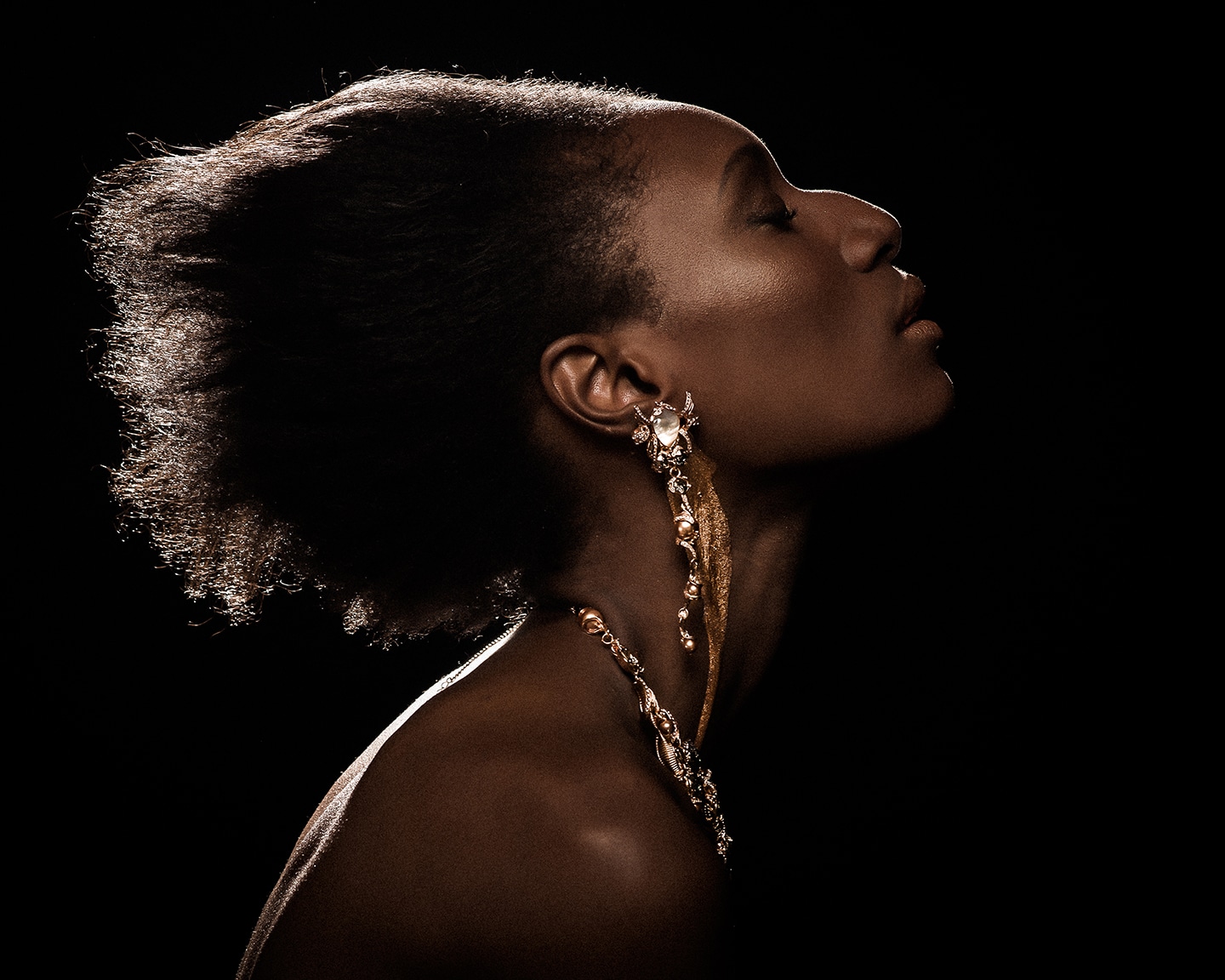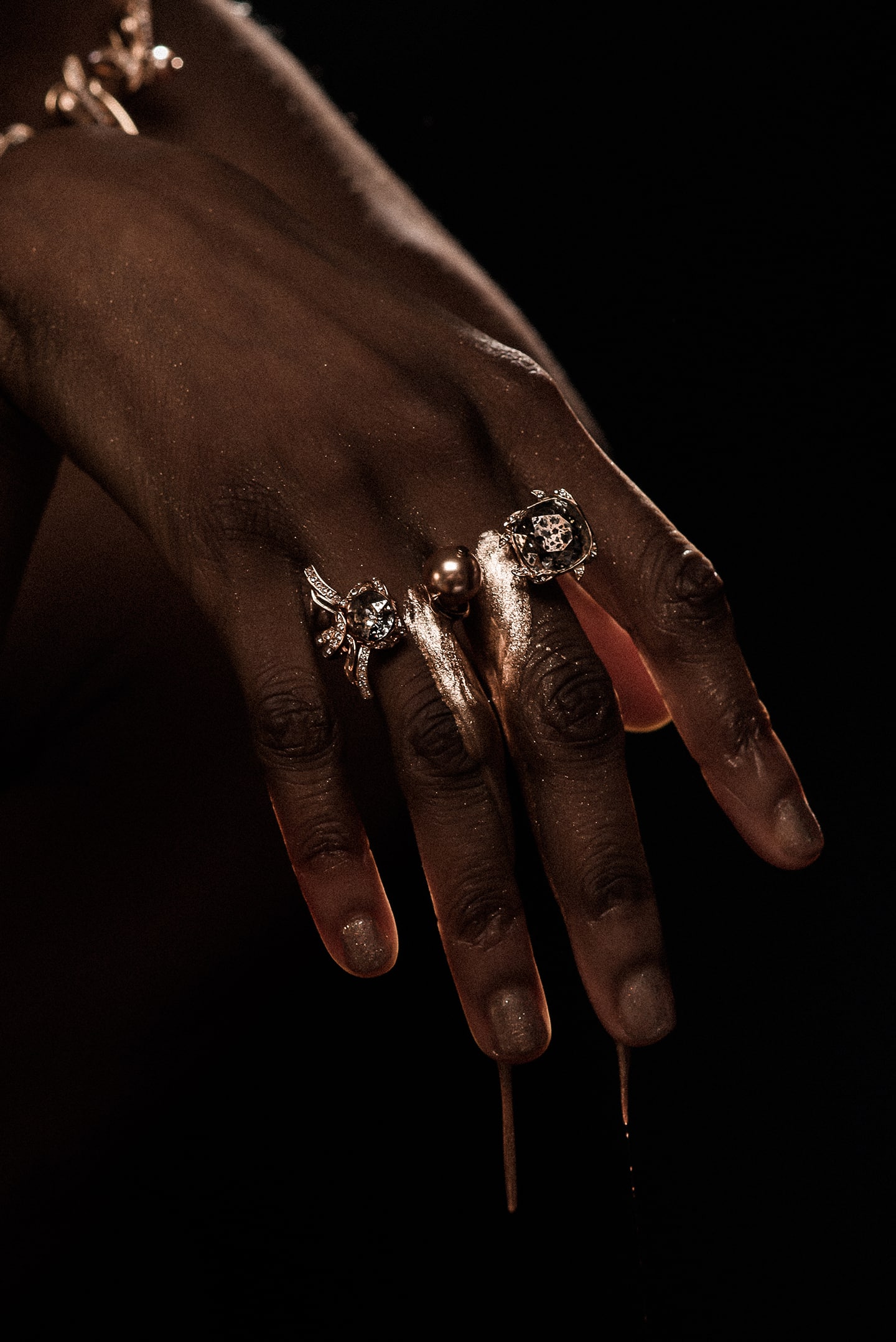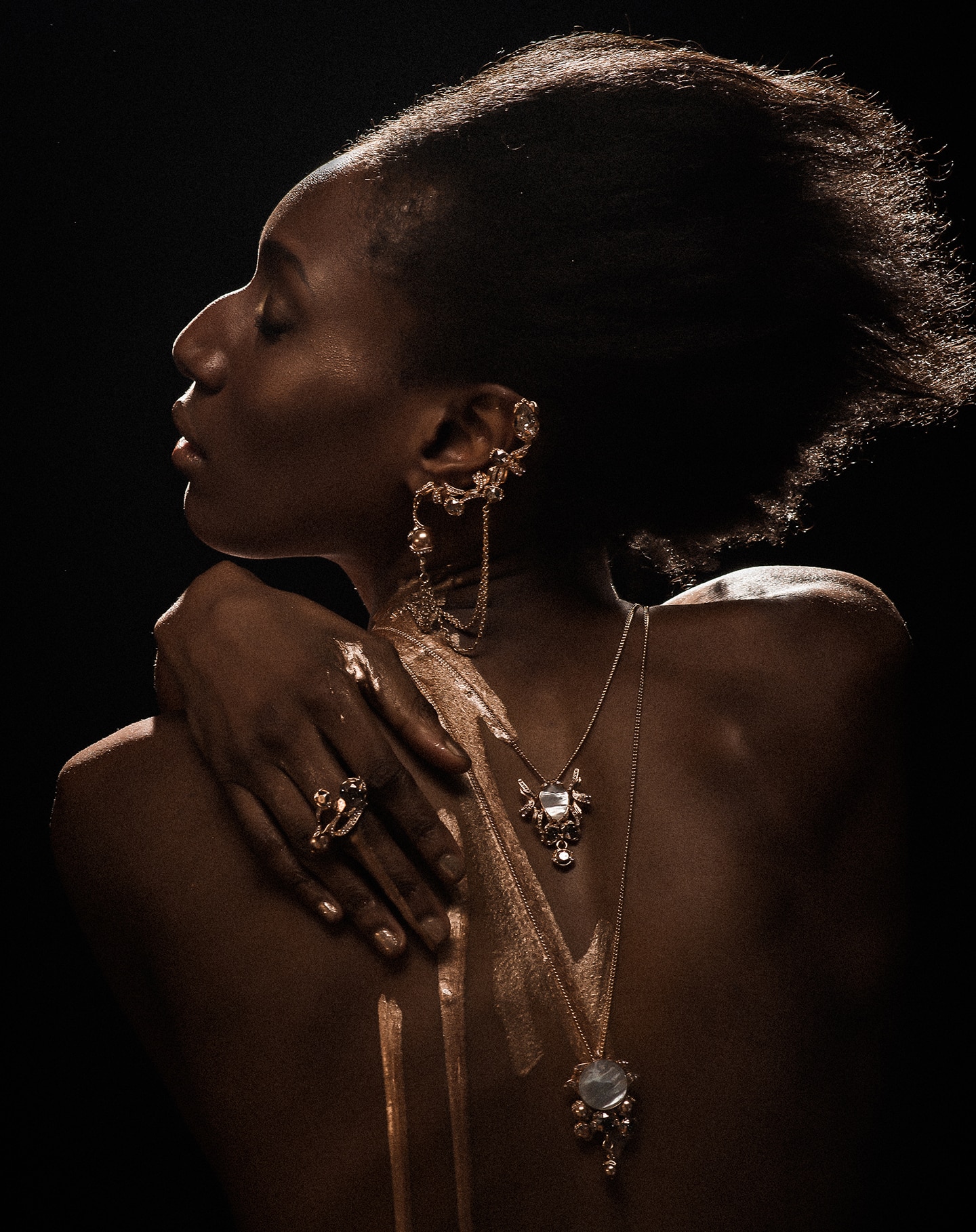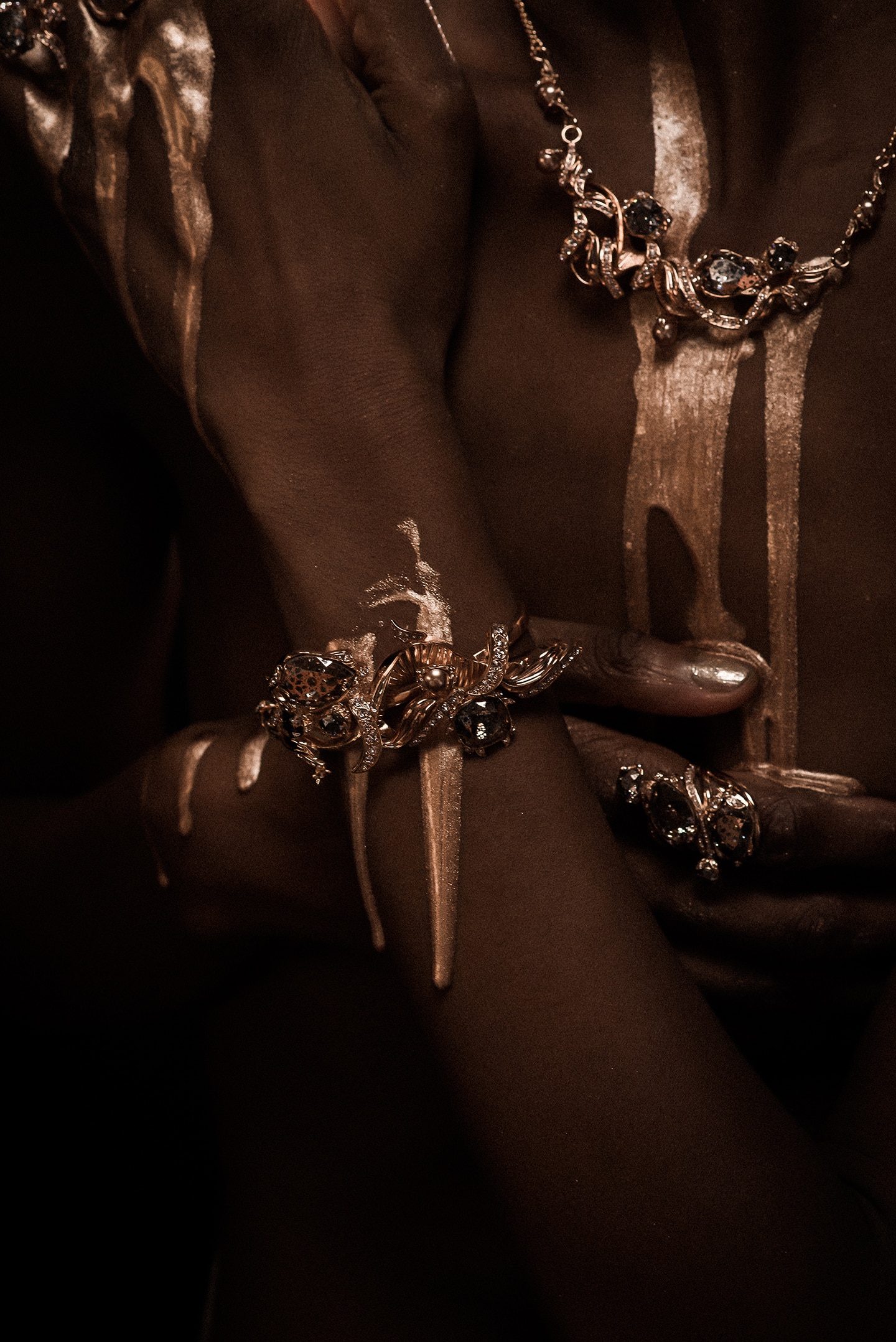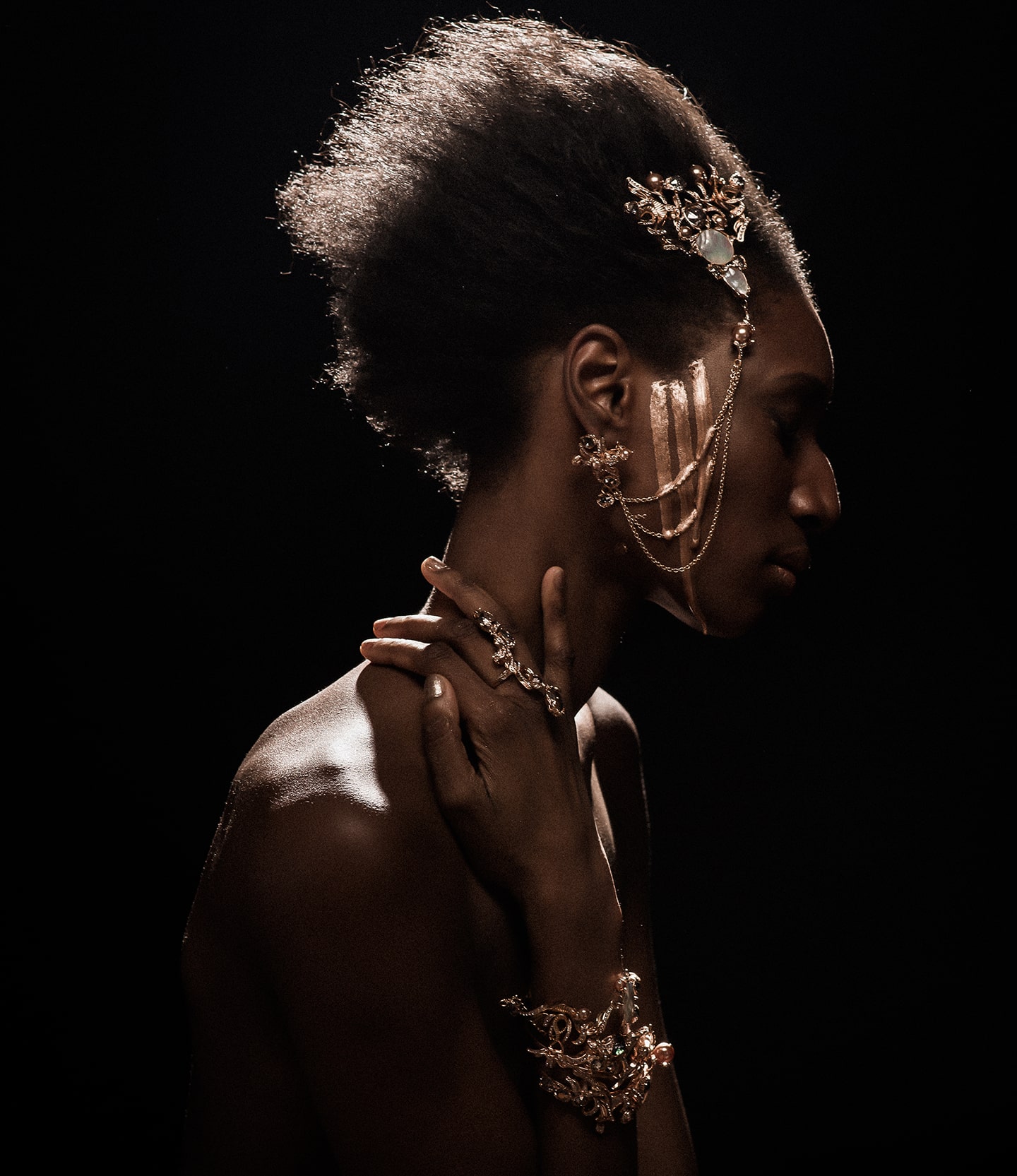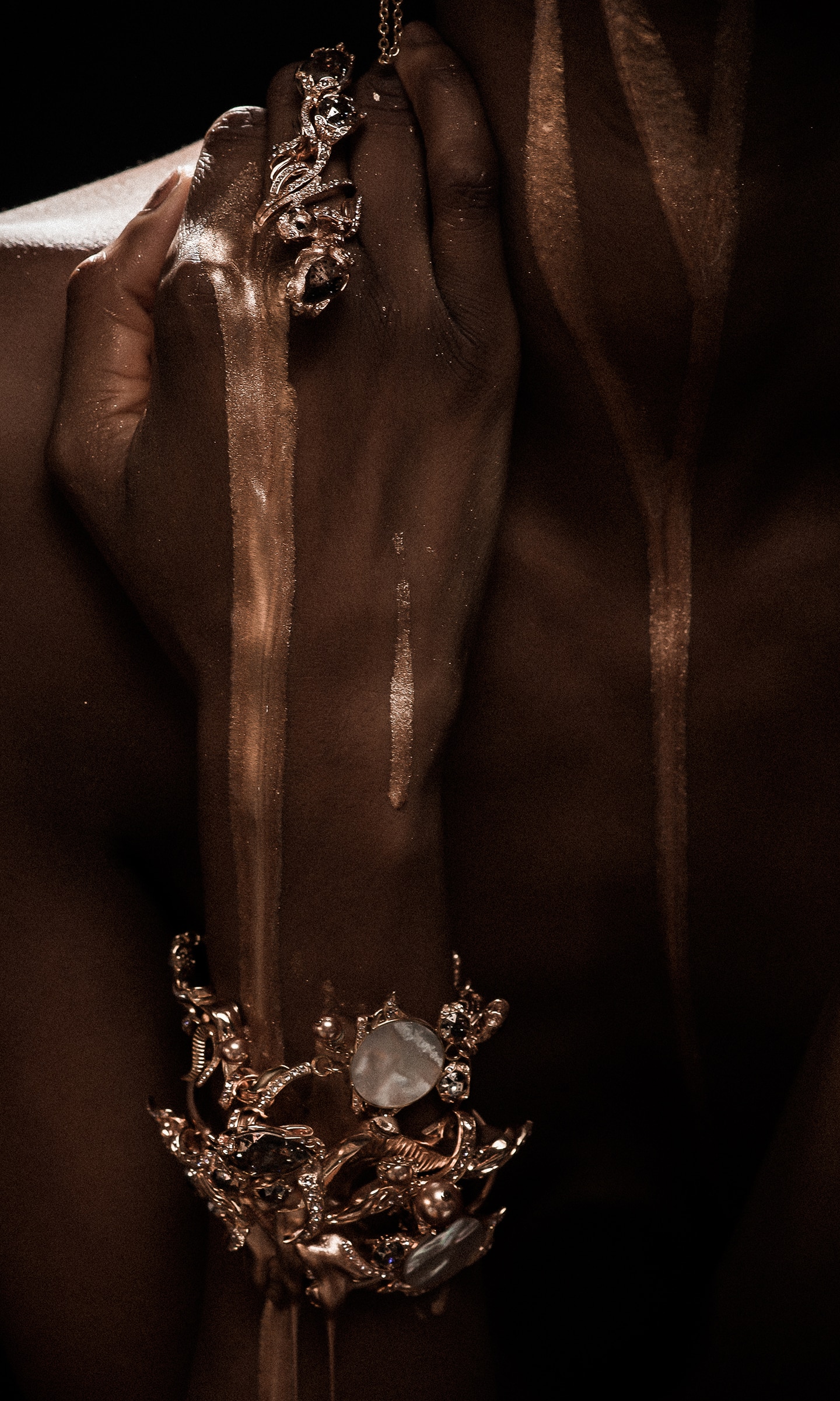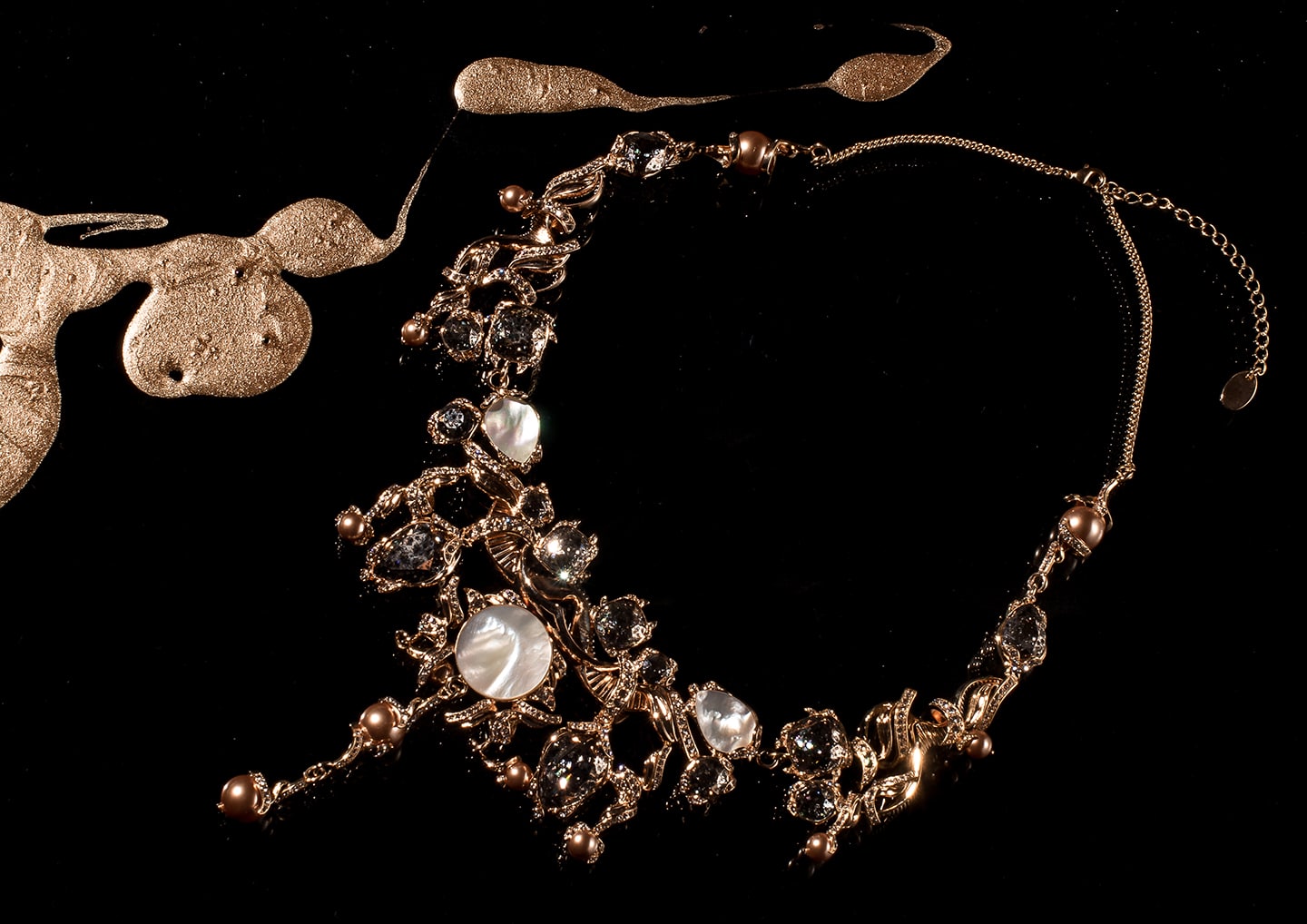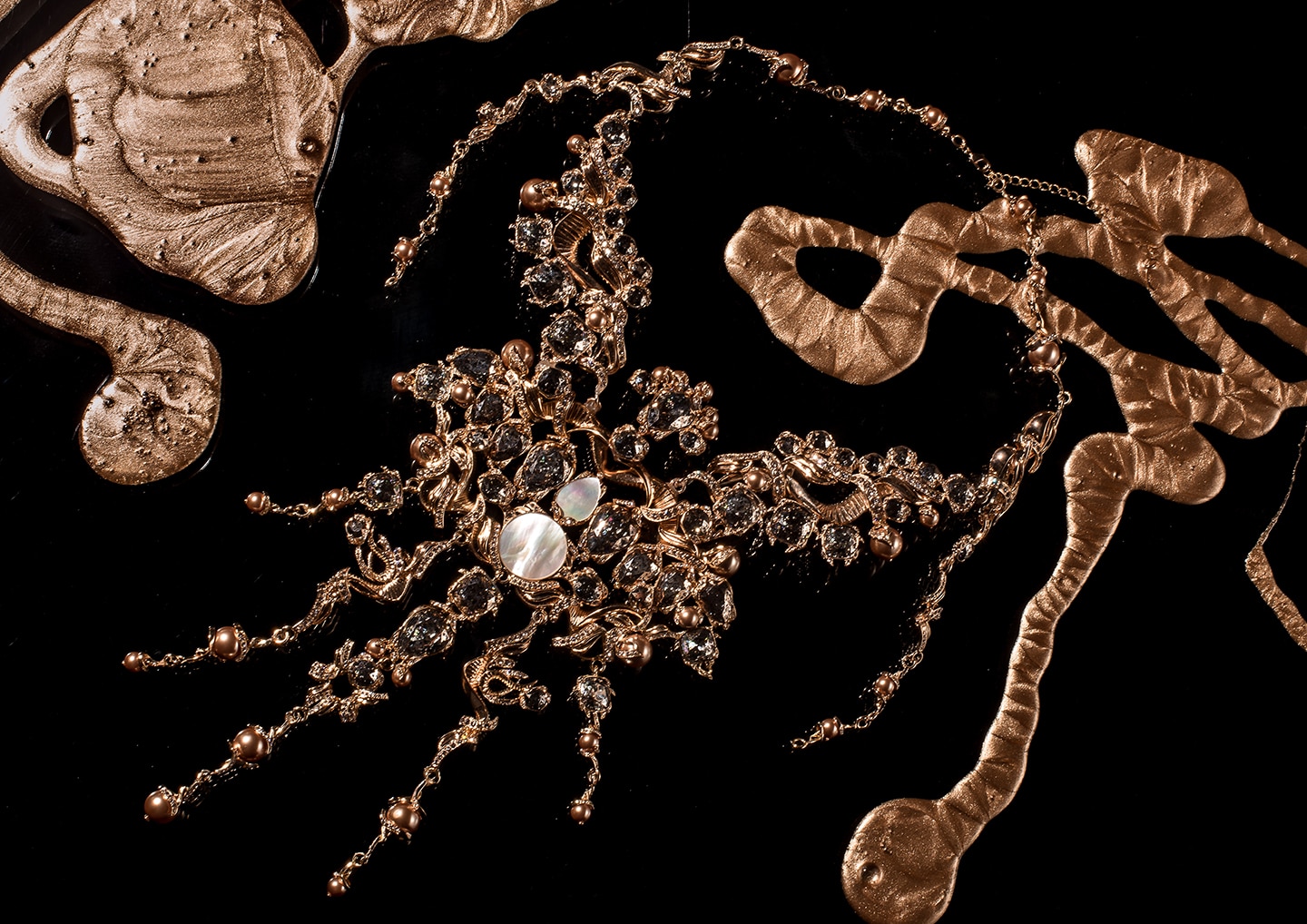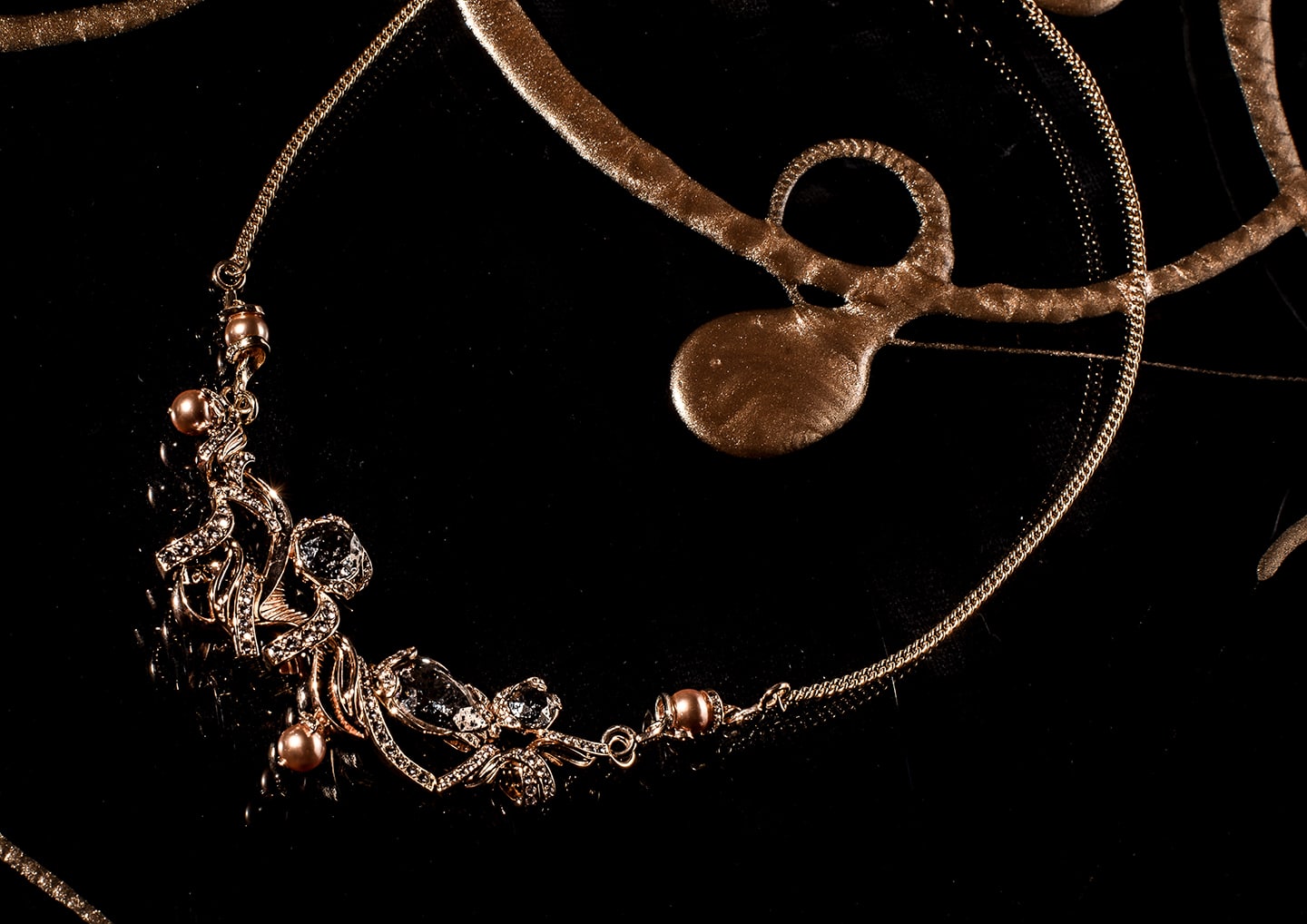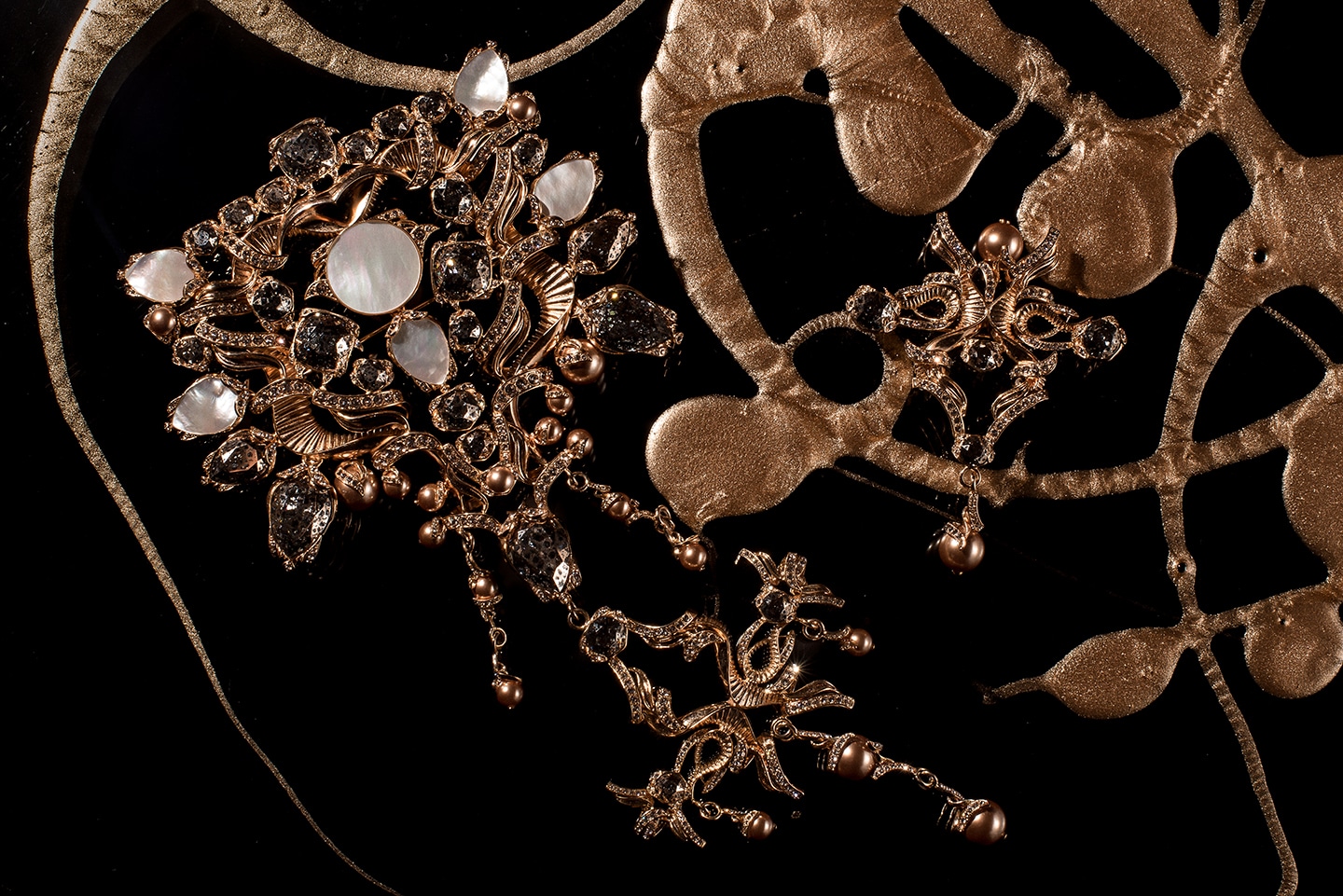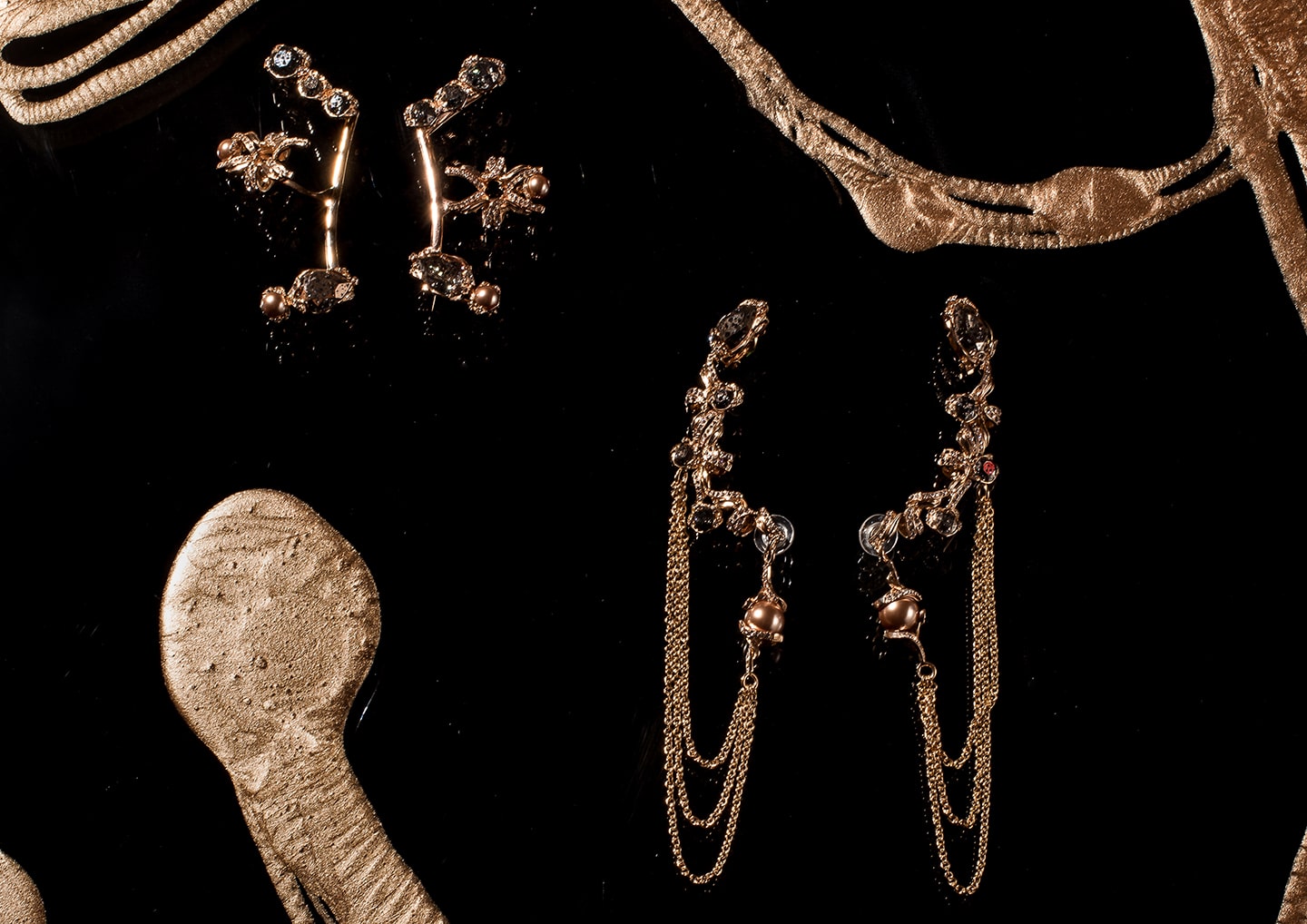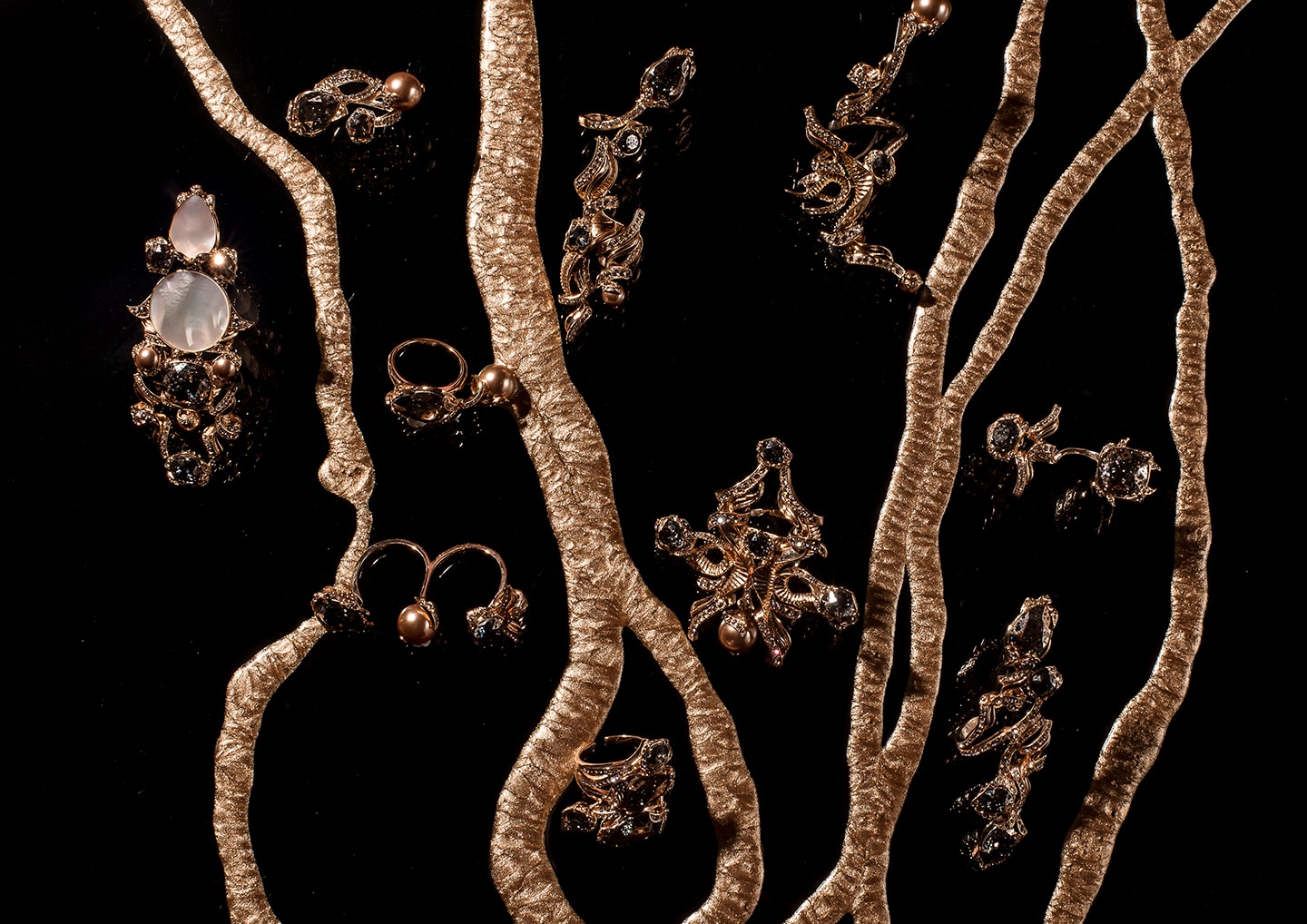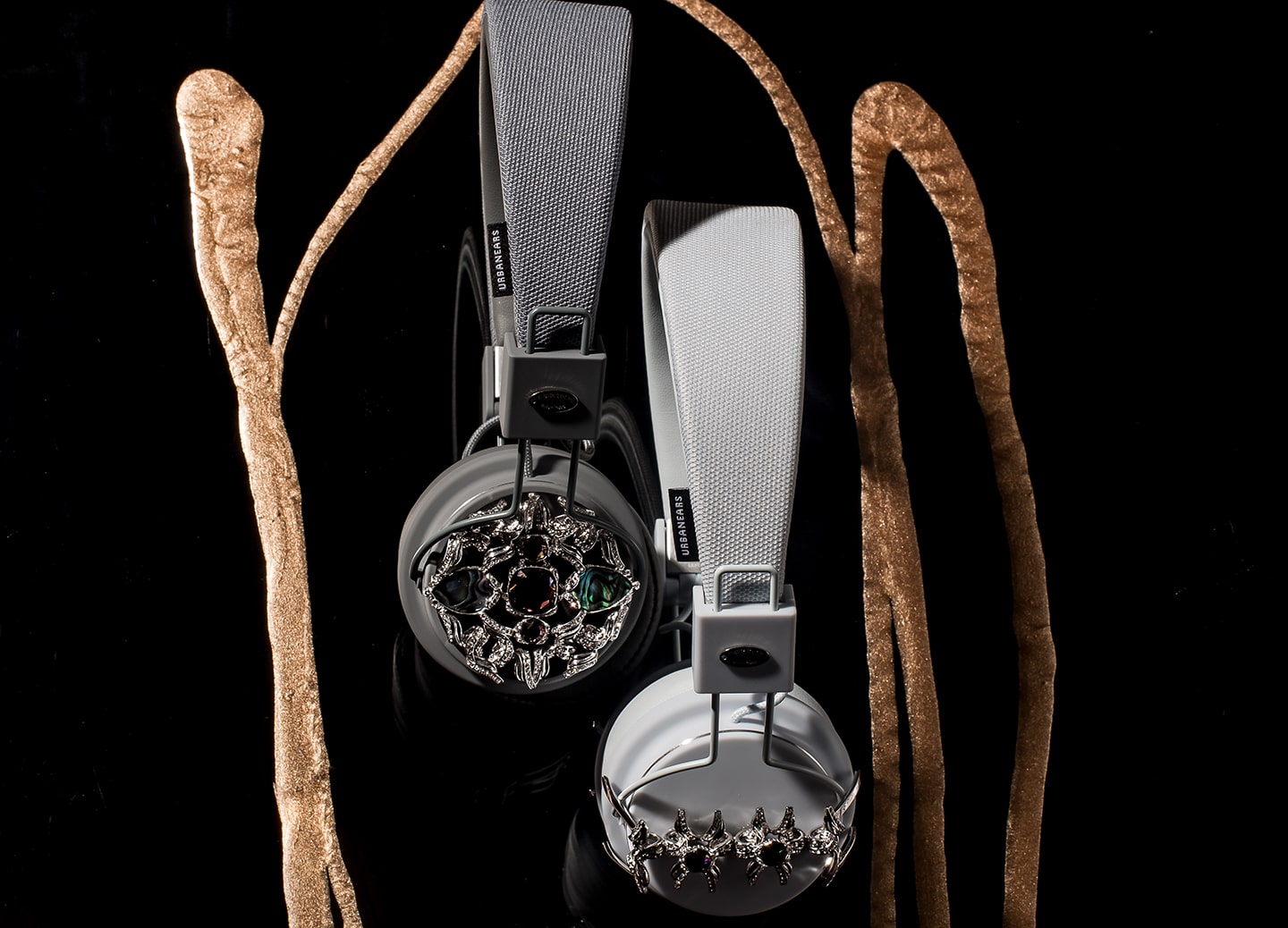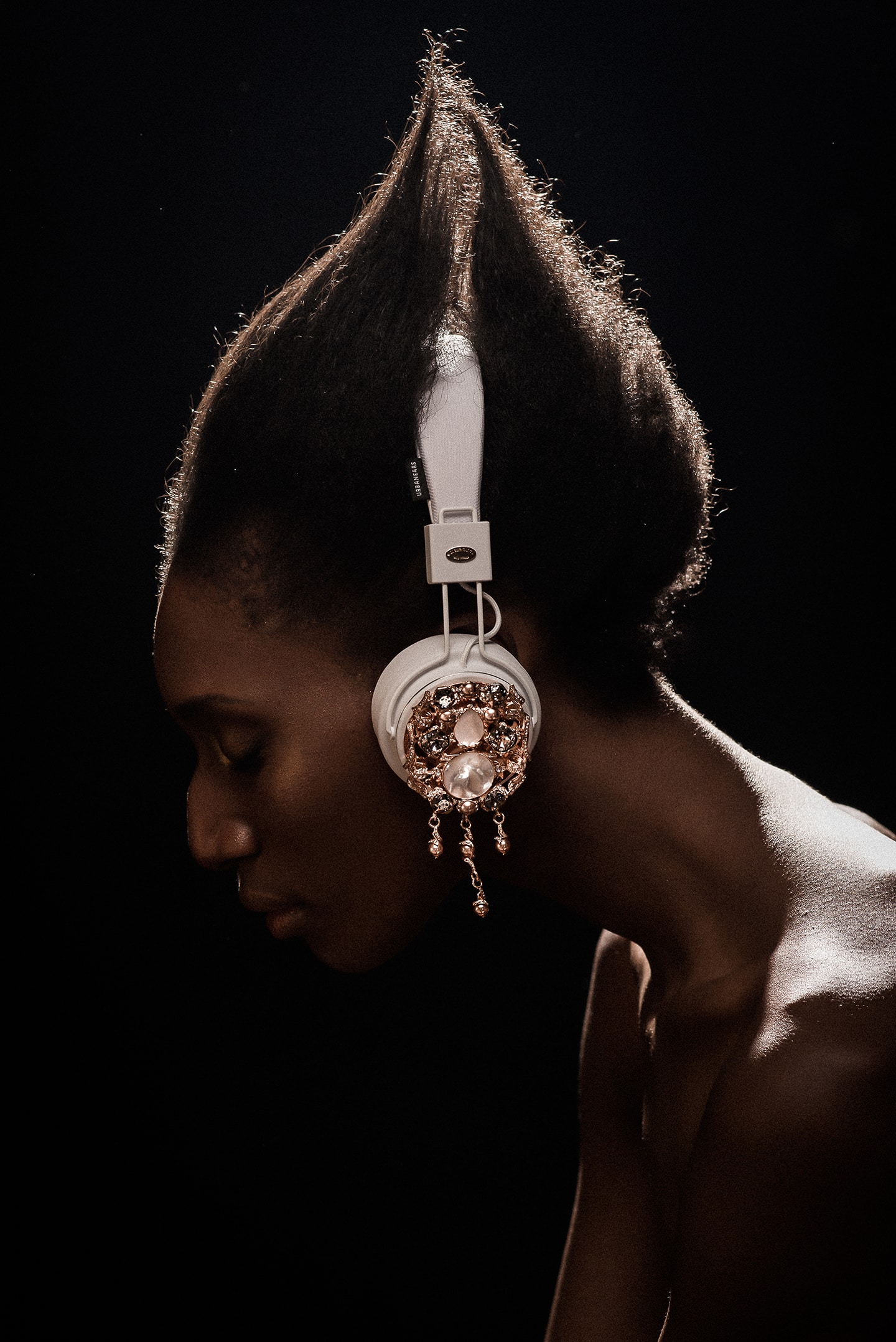 By Accessoires, Collector, fashion, fashion, fashion weeks, News, News, Tendances & inspirations
in
Tags > bagues, bijoux on aura tout vu, boucles d'oreilles, boucles d'oreilles, champagne, clear color crystals, colliers, Crystal Cream, Crystal Rose Gold Pearl, cuff, designers, Fashion Accessories, Haute Couture, Jewelleries, jewellery designers, manchettes, mode, Mother-of-pearl, nacre, on aura tout vu, pfw, pierres rondes, Rose Gold pearl, silhouettes ondulées, silk, ss18, trends, waves and squiggles, Yassen Samouilov en Livia Stoianova